Winners

Outline
We would like to extend our sincere congratulations to every plant that received the award. The TPM Excellence Award was established in 1964, and since then more than 3,400 plants have been awarded.
The TPM Award requires a total of one year for the first and second rounds of judging. In addition, it is necessary for plants to make detailed preparations to receive the award, and it requires a great deal of effort on the part of the plant.
In such a situation, many plants from all over the world have received the award this year. TPM has a history of nearly 50 years, and we are constantly upgrading our products as the industrial world changes. The winners of this year's awards are truly at the forefront of the industry.
Winners
Japan Institute of Plant Maintenance (JIPM) has given the final approval of the result of "2021 TPM Excellence Awards" on 31st January 2022.
Please check the Winners List below.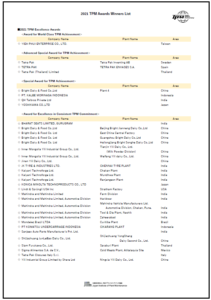 Database
You can see a list of winners, an overview of their activities, and videos from the links below.

Awards Ceremony
Congratulations on receiving the TPM Award 2021!
We had planned to hold an Award Ceremony to share the joy of the award winners with the related parties and assessors. However, due to the spread of the COVID-19 infection, we have decided not to hold the ceremony with the winners in attendance. We regret that we were unable to provide a memorable occasion for this event, and we ask for your understanding.
As an alternative to the ceremony, we would like to prepare a "Ceremony Movie", in which a portion of the program will be broadcast via video. Please see the email that JIPM sent for details.
We hope that you will be able to participate in the ceremony via video.
Commemorative items such as plaques will be shipped separately. We plan to send them out sequentially after April, but we will let you know when the official schedule is decided.
Learning
JIPM provides content that allows you to learn TPM. Please use all means.