Bright Dairy & Food Co., Ltd. Zhengzhou Bright Dairy Co., Ltd.
| | | | | | | |
| --- | --- | --- | --- | --- | --- | --- |
| year | category | company | plant | area | industry | movie |
| 2020 | Category B | Bright Dairy & Food Co., Ltd. | Zhengzhou Bright Dairy Co., Ltd. | China | – | – |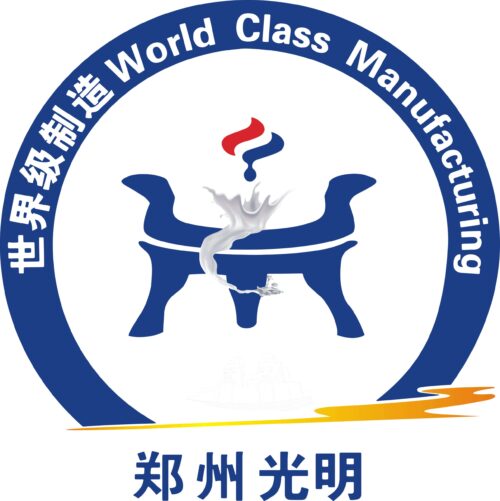 1. Organization Profile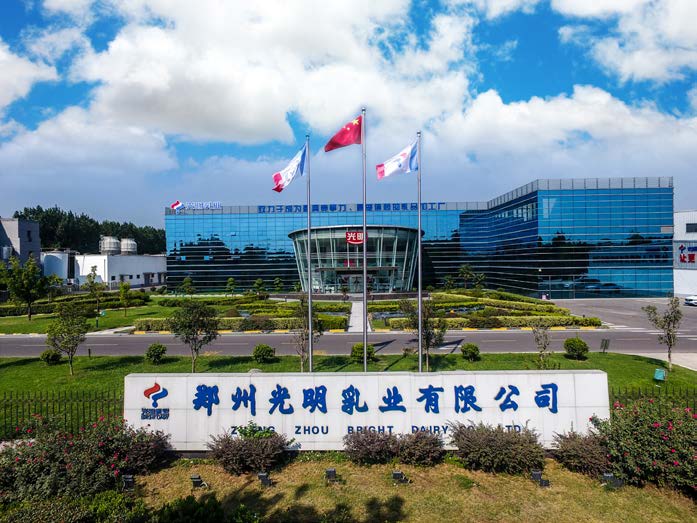 1.1 Introduction of Bright Food (Group) Co., Ltd.
Bright Food (Group) Co., Ltd. (Brigth Food) is a comprehensive food industry group with a complete food industry chain integrating modern agriculture, food processing and manufacturing, real estate and logistics. In 2018, operating income reached 160 billion RMB.
Bright Food has five listed companies, among which Bright Dairy, Jinfeng Liquor, Merlin and Bright Real Estate are listed in China, and New Wright Dairy is listed in New Zealand.
1.2 Introduction of Bright Dairy Co., Ltd.
Bright Dairy Co., Ltd. (Bright Dairy) was established in 1996 with assets of 17.637 billion RMB and sales of 22.563 billion RMB in 2019.
Bright Dairy Co., Ltd.'s mission is "Innovating life and sharing health", and has 18 domestic factories. Bright Dairy is the high-end dairy leader of China , with the national market share of 20%, and among which ambient yogurt share reaches 14%, fresh milk share reaches 41%.
1.3 Introduction of Zhengzhou Bright Dairy Co., Ltd.
Zhengzhou Bright Dairy Co., Ltd. (Zhengzhou Bright) is one of 18 factories of Bright Dairy Co., Ltd., located in Zhengzhou City, Henan Province. Zhengzhou City is located on the plain area and has convenient transportation. The factory is located in the southern part of Shenzhou Road, Xinzheng City.
The factory was up and running since March 2016. As of August 2020, the asset of Zhengzhou Bright reached 630 million RMB and sales reached 450 million RMB, with 206 employees and 6 departments.
1.3.1 Products
There are three product series: ambient yogurt, chilled yogurt, and ambient milk with total 9 products. The main product is ambient yogurt, Momchilovtsi.


1.3.2 Production Process
The production process of ambient yogurt, which is the main product of Zhengzhou Bright, is as follows:


1.3.3 Organization
The factory is under the overall responsibility of the director, and has 6 departments: production, quality control, engineering, personnel, finance, and management. Currently, there are 82 full-time employees, 124 third-party laborers, and 206 total employees;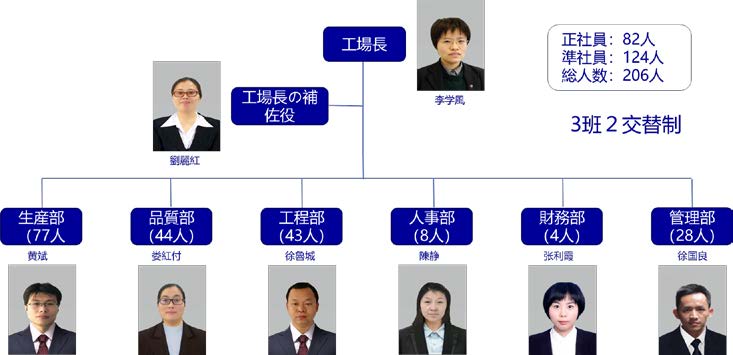 1.3.4 Employee
From the distribution of post structure, it can be seen that front-line employees account for 79%, working age structure distribution, new employees account for 52%; age structure distribution, 77% of employees under 35; education structure distribution, college education accounted for 66 %, Which shows that the Zhengzhou factory is a new factory with high education and youth.

---
2. Milestones on the journey of Manufacturing Excellence
2.1 Reasons for the factory to introduce TPM
The vision of the Zhengzhou Bright is, to become the most competitive and trusted dairy processing plant.
With this vision, Zhengzhou Bright started to impletment TPM tools and methodologies to improve 2018 performance and achieved good results. In order to sustain and expand the result, also to achieve long-term goals, Zhengzou Bright decided to fully launch the TPM management system.
2.2 Factory TPM History
Here are the main events of the factory development:
Nov, 2014, the factory was established
Mar, 2016, production license was obtained
Mar, 2016, the factory was up and running
Mar, 2017, HACCP / GMP / ISO9000 certification was obtained
Oct, 2017, the yogurt product of eight consecutive cups was put into productionIn
Aug, 2017, the TPM project was officially introduced
May, 2018, the TPM launch meeting was held
Feb, 2018, products of 250ml pure milk and plastic bag milk were put into production
Nov, 2018, passed the FSSC22000 system certification
Nov, 2019, Tetra Top production line was added
2020, to apply for TPM Excellence Award
---
3. Benefits Achieved
3.1 Tangible benefits
Since the launch of the TPM management system in August 2017, performance continued to improve. Compared with 2017, 13 KPIs have been greatly improved. The OEE of crtical equipment increased by 12.35%, The In-line defect rate decreased by 43.5%.


3.2 Employee engagement and other intangible results
Employees actively participate in factory management. As of August 2020, the employee participation rate has been improved by 100%, and the number of team members reached 359. A total of 82 teams have been launched, 56 have been successfully closed, and 26 are in progress. Use 12-step improvement, zero-fault seven-step, and zero-defect 7-step methodologies to develop teams. It has realized the elimination of losses, the improvement of efficiency, the improvement of employees 'skills and the improvement of employees' working environment.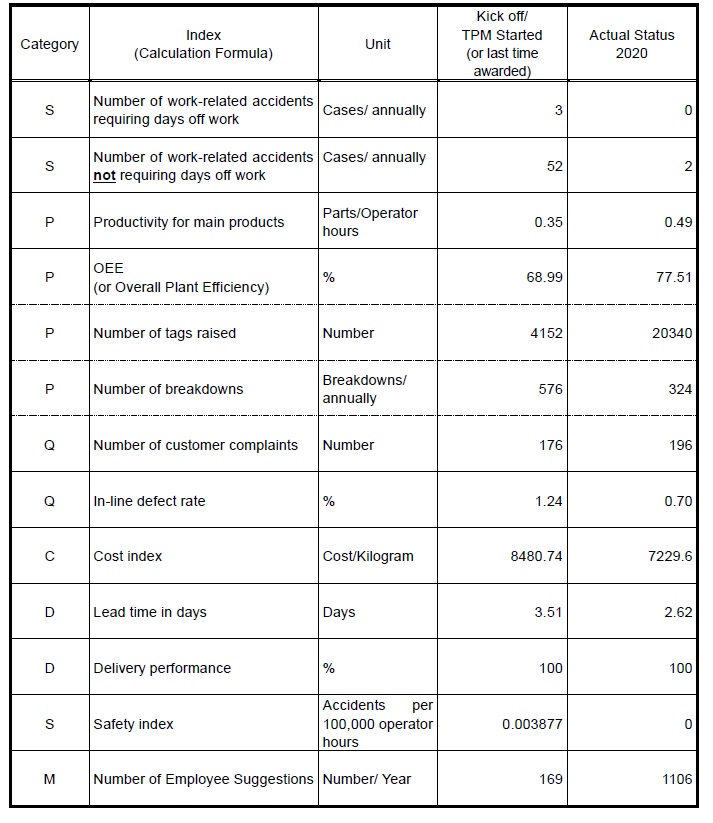 ---
4. Key of our Manufacturing Excellence
The determination by the top management to implement the TPM system has our faith further strenthened.
Based on the vision of 5 "0", TPM policies have been set forth and the relevant indexes have been identified. We also make clear the contributions of TPM activities to help facility manage KMI, KPI and KAI. TPM activities are developed under the guidance of the promotion committee, with full participation of all staff. Both TPM activities and the actual production operation are combined to achieve the KPI as same as the department's objectives. Through the appropriate activation activities, all employees can fully appreciate the pleasure and achievements brought by TPM activities. All employees are engaged to participate in the TPM activities by recognition and rewards, which is also the key to our TPM's proceeding and ultimate success. We will challenge TPM Excellence Award in 2020 and continue to challenge the senior awards. As a result to realize full participation, commitment to continuous improvement, and ultimately become a world-class manufacturer.
---