TTK Prestige Limited Roorkee Plant
| | | | | | | |
| --- | --- | --- | --- | --- | --- | --- |
| year | category | company | plant | area | industry | movie |
| 2020 | Category A | TTK Prestige Limited | Roorkee Plant | India | – | – |

1. Organization Profile
1.1. About the TTK Group:
TTK Group started in the year 1928 as an indenting agency by distributing the products of various international brands in Health Care, Foods, Personal Care Products, Writing Instruments and many ethical products. It started its manufacturing in India by the year 1950 and pioneered in several categories viz. Pressure Cookers, Gripe Water, Maps, Condoms, Heart Valves, Toys and Ball Pens etc.
1.2. About TTK Prestige Limited:
We are India's largest kitchen appliances company catering to the needs of home makers in the country. By understanding the needs and requirements of the Customers, we design and deliver innovative products. We have been forefront in introducing several innovations and safety systems in Pressure Cooker. We demonstrated how one could cook meals in minutes, The healthy way.
List of companies in TTK Group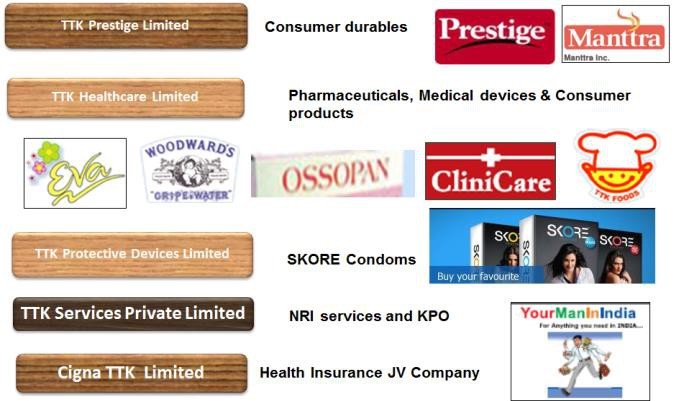 TTK Prestige Limited – Product Range


We have the widest Product Portfolio covering all aspects of Kitchen viz. Preparation before cooking, Food preparation, Kitchen supplements and hardware and thus making it only brand to offer TOTAL KITCHEN SOLUTIONS to the customer. We won various awards and accolades including Consumer Validated Super brand for successive 5 years.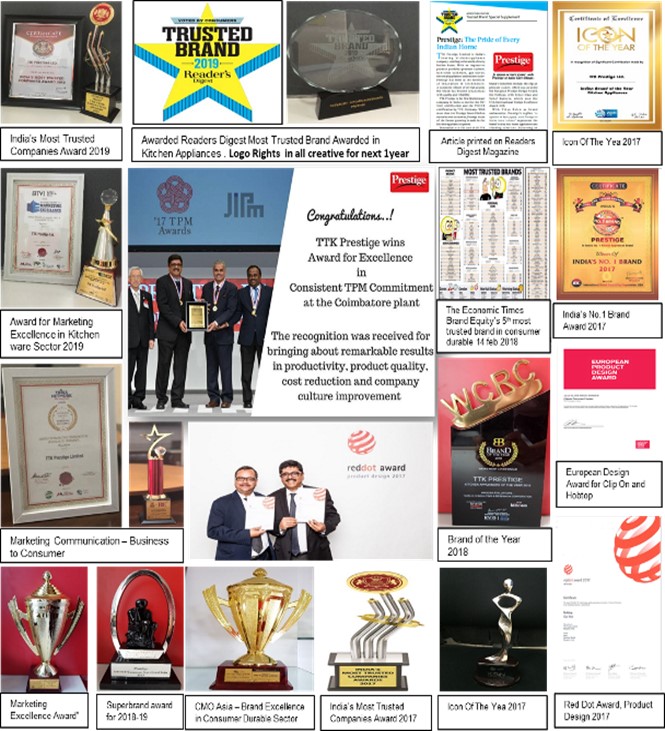 We have 9 manufacturing facilities in India for manufacturing our product variants. We have our Research & Development Center which is recognized by Department of Scientific &
Industrial Research, Ministry Of Science and Technology, Government of India.
TTK Prestige Roorkee plant is located in North India in the state of Uttarakhand; District Haridwar; Town Roorkee. Its location on the map is shown below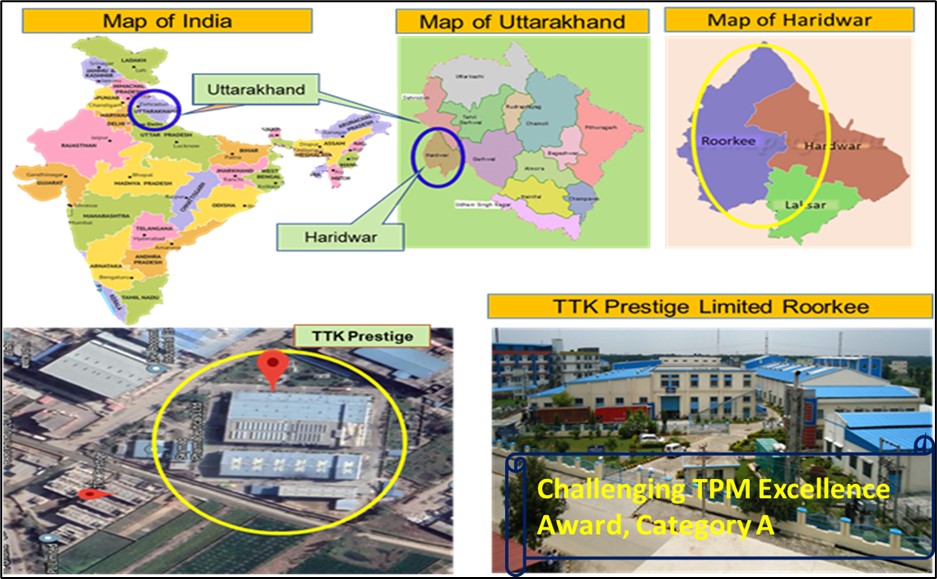 1.3. About Roorkee Plant:
Roorkee Plant started in the year 2007 for manufacturing Aluminum Inner Lid Pressure Cookers with annual capacity of 1 lac. Workforce was new from agricultural background with low educational qualification. Continuous training and strong commitment improved our production capacity to 10 lacs cookers in the year 2015-16. But our market demand was high.
We did SWOT analysis to understand our strengths and weakness. Subsequently we understood that TPM is the best tool for our business improvement. Declaration followed by TPM Kick off was done in Dec 2016. A modern facility was built utilizing the existing and new equipment's. The initial plan was to increase the capacity to 12 Lac per annum by CAPEX / Infrastructure development.
Thanks to TPM Practices and Knowledge, we adopted single piece flow mechanism in forming line with automations, thus improving our manufacturing capacity to 15 lacs Cookers per Annum. We are certified by ISO 9001:2008 QMS and Pressure Equipment. Directive (PED) for CE Marking. Thin staff function supported by corporate team in all aspects is a key factor in our plan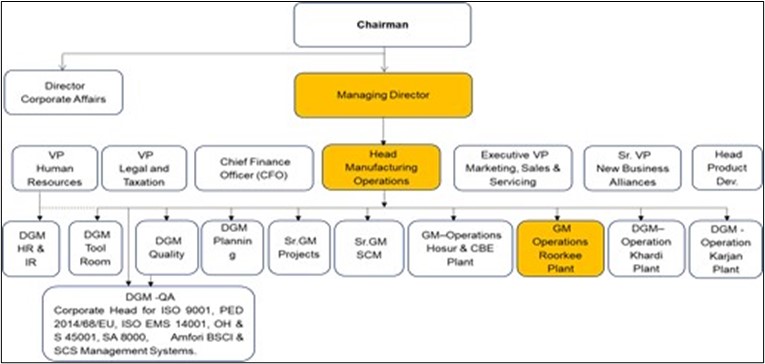 1.4. Plant Layout & Plant Inside Photos: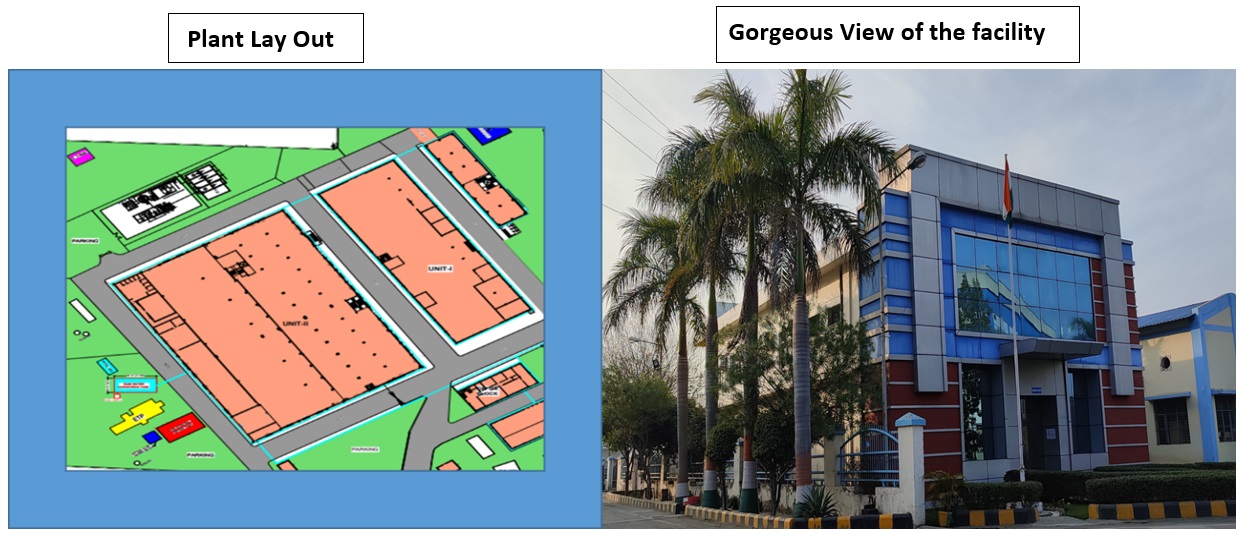 1.5. Main Products at TTK Prestige Limited Roorkee: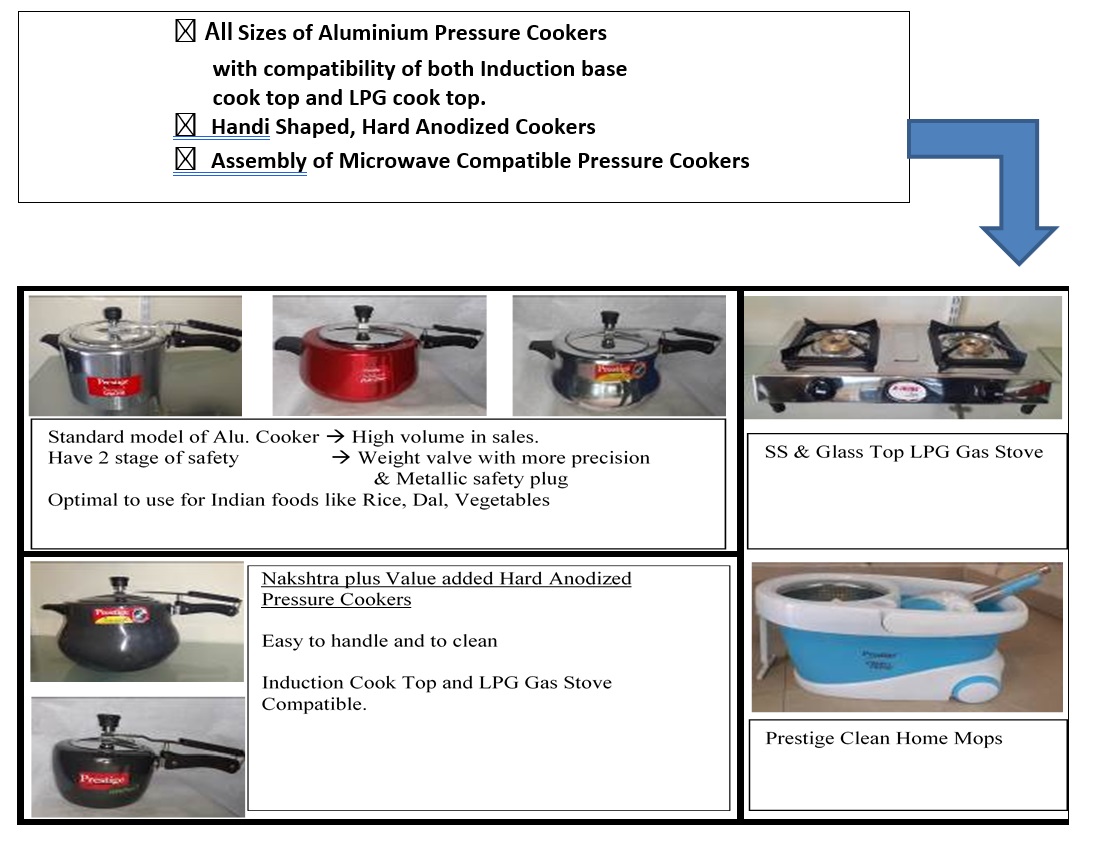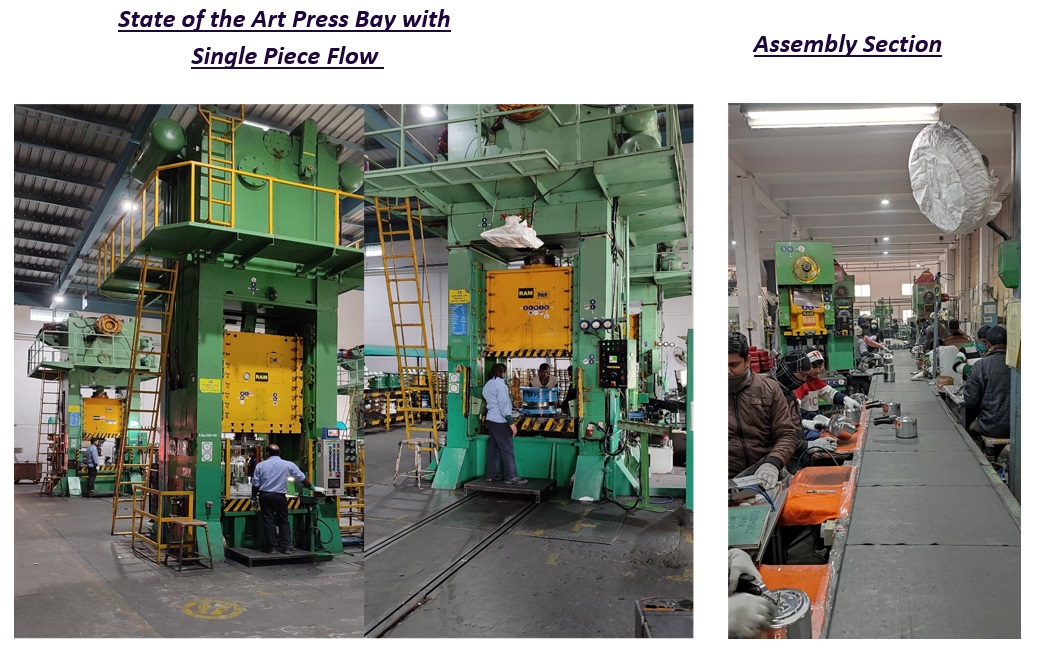 ---
2. Milestones on the journey of Manufacturing Excellence
2.1. Milestones during the Journey towards Manufacturing Excellence:
To achieve Manufacturing Excellence, we took drive from our Vision and Mission and released TPM Quality Policy which motivates our commitment towards our goal. TPM Quality Policy encompasses all our regulatory requirements and Quality Management Systems.
Our Slogan "War On Waste" is the personification of our tireless journey to achieve zero losses.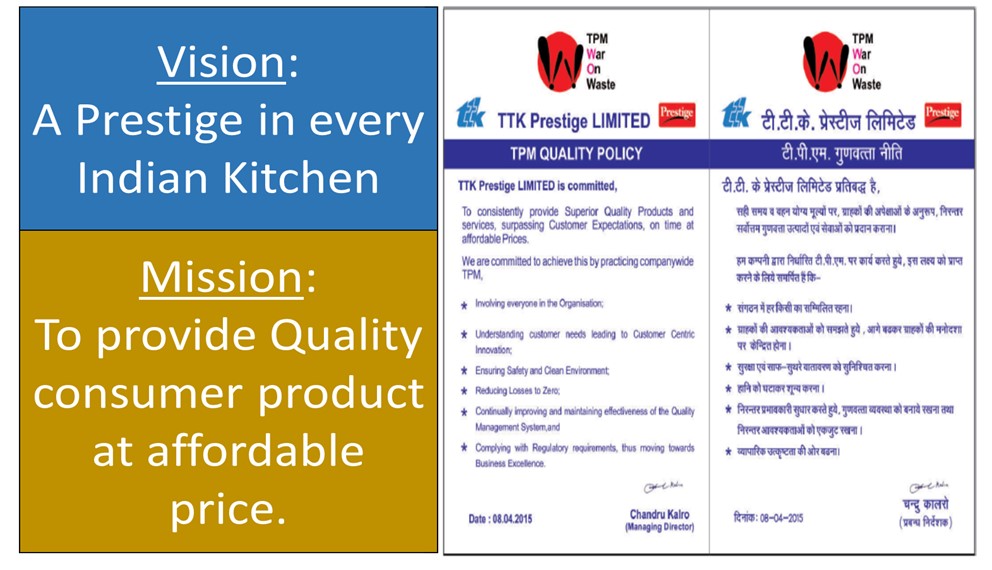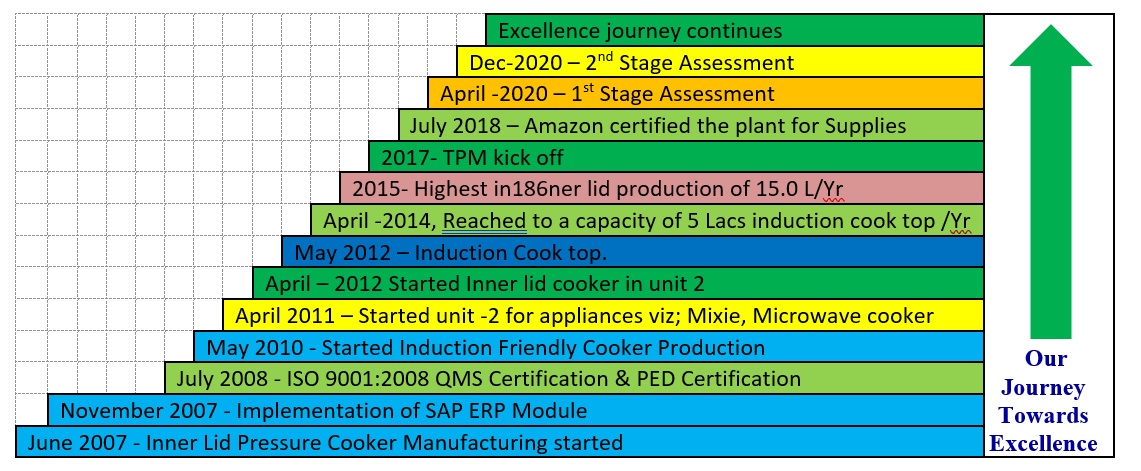 2.2. Business Growth (across all Plants):
By utilizing the 9 manufacturing facilities, the Company's Sales grown from 150 Million during Bench Mark Period to 218 Million in last financial year.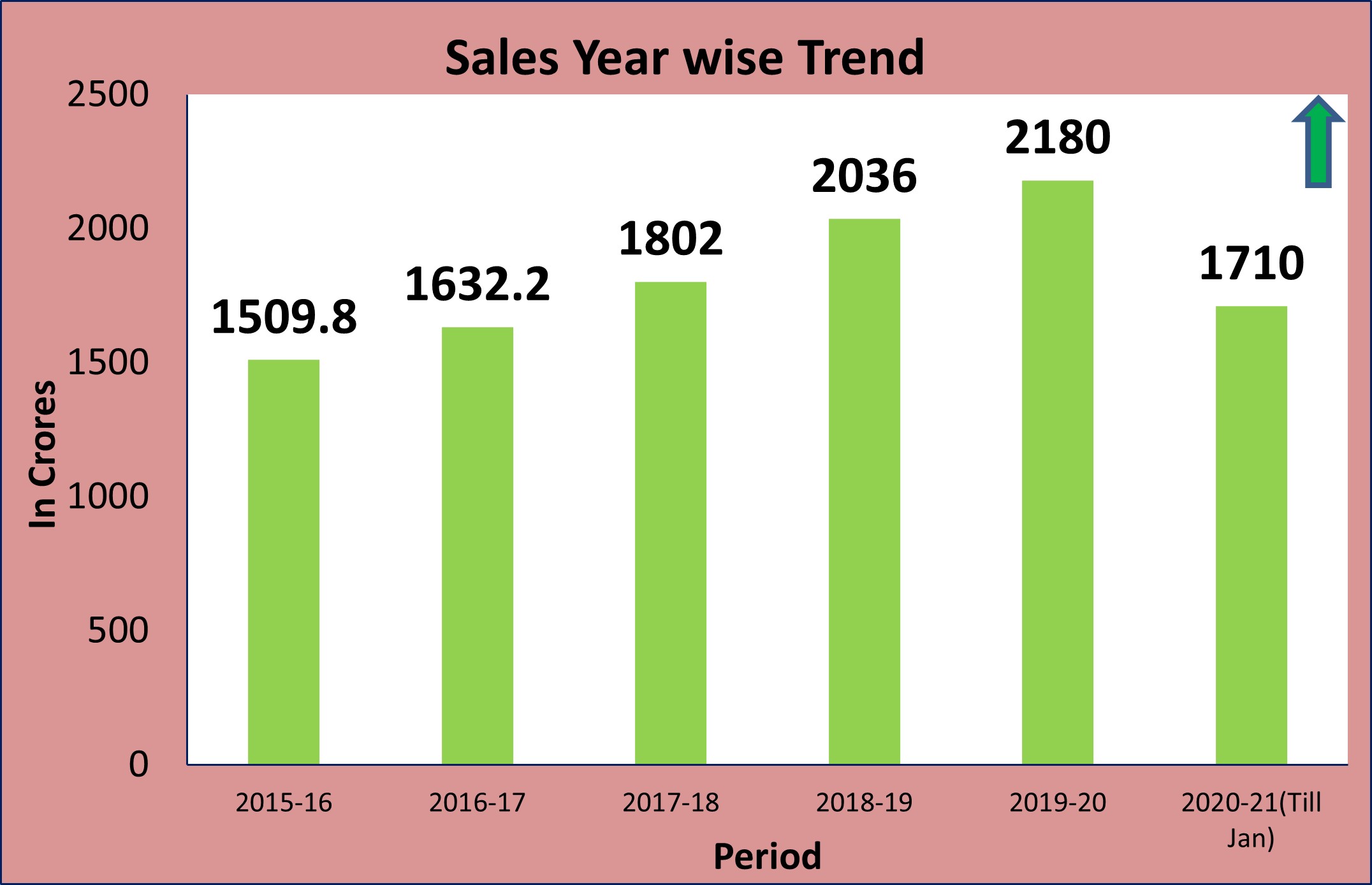 ---
3. Benefits Achieved
3.1. Benefits Achieved:
TPM implementation helped us to make sustainable improvements in each and every aspects of our workplace operations. Our team is now excited by the opportunity to make improvements individually and in teams for enhanced business performance.
According to the rapid changes in the business scenario, skilled and knowledgeable work forces are required in order to achieve the future challenging Targets. The TPM practices encourage our employees to improve their professional developments with many learnings and growth opportunities.
Now, the employees have higher morale, career satisfaction and motivation which help to increase the Productivity
Tangible Benefits:
Following are the tangible benefits achieved in terms of PQCDSM.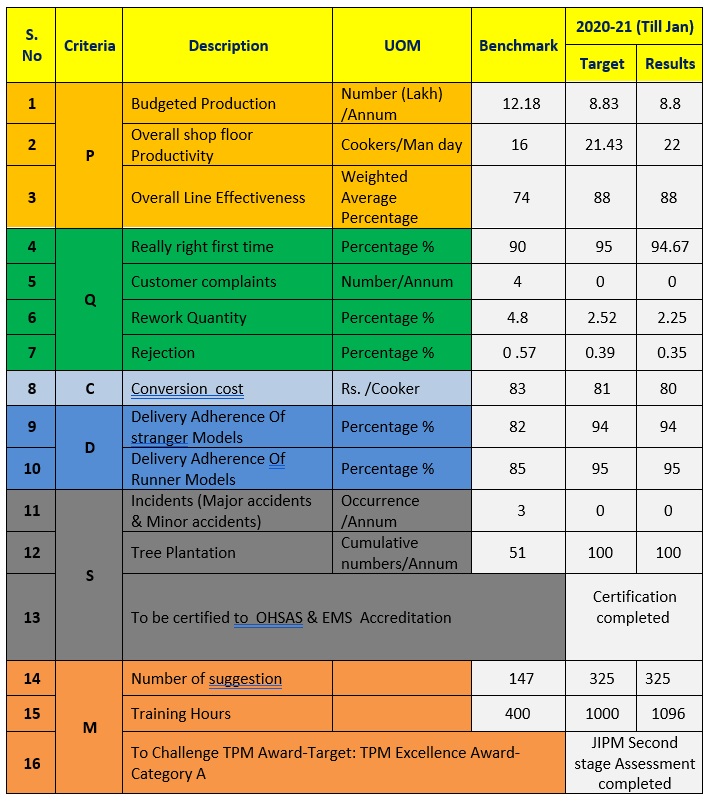 Intangible Benefits:
 Cultural Change is evidenced among employees.
 Shop floor became clean, dry & pleasant to work.
 Improved Ownership and Accountability.
 Visual display and Visual Controls on machines has improved across the plant.
 Safe, Hygienic work place.
 Excellent Team work.
 TPM became the way of our life.
3.2 Status of TPM Award Assessment Achievement Sheet: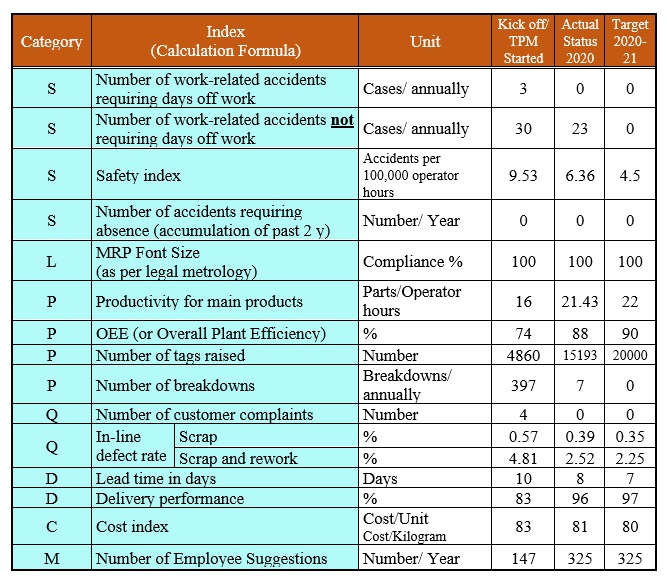 ---
4. Key of our Manufacturing Excellence
4.1. Key of our Manufacturing Excellence
The implementation of TPM in TTK PRESTIGE is definitely one of the driving forces in the success of its journey towards Manufacturing Excellence. It provided sustained business results and positive changes in the behavior of the people.
The key to the achievement of TPM Excellence Category is aligning with the corporate values of TTK PRESTIGE, aiming for Zero Accidents, Zero Defects and Zero Losses, consistently adhering to an efficient review and deployment process to maximize the TPM Approach by Top Management and Site Steering Team.
With TPM as one of its foundations aiming at enhancing the behavior of people, the sustainability of the results achieved is assured.
4.2. Future Plan:
 Involving supply chain management to reduce the inventory further for improving the turnover and profits.
 Involving Tool Room to provide tools right first time and to improve the flexibility in production to respond our customers in a shorter period.
 Implementing Innovative / breakthrough kaizens across the workplace to achieve Zero
Losses.
 Up keeping the momentum of all our employees by maintaining the positive work culture.
 Develop Subject Matter Experts from the shop floor for JH and PM topics.
 Challenge Excellence in Consistency Award in year 2023.
---