Solen Cikolata Gida San. Tic. A.S. Istanbul Plant
| | | | | | | |
| --- | --- | --- | --- | --- | --- | --- |
| year | category | company | plant | area | industry | movie |
| 2020 | Category A | Solen Cikolata Gida San. Tic. A.S. | Istanbul Plant | Turkey | – | – |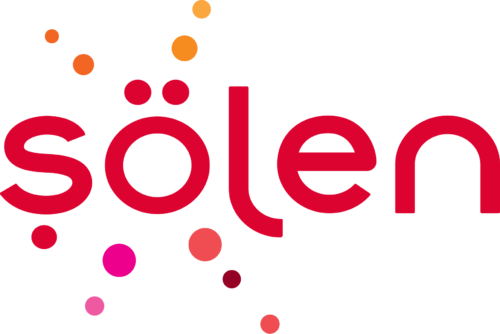 1. Organization Profile
Şölen, one of the brave and innovative companies of Turkey, is taking firm steps towards the future with the power it has obtained from its brands. Şölen, which started each work in its 30-year history full of firsts with the aim of being a global player of the region and the world, has gained significant success in international markets with its brands such as Biscolata, Ozmo, Milango, Boombastic, Luppo, Lokkum and Nutymax.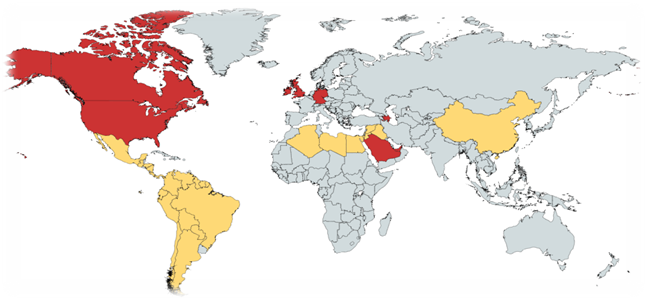 Şölen, which puts person at the center of its work, exports its more than 200 products in snacks, children's products, gifts and treats categories to approximately 120 countries from the United States to Belgium and the Maldives. Having established its own organization in order to be able to exist strongly in the target markets, Şölen currently has regional offices in Dubai, Algeria, Azerbaijan, USA and Saudi Arabia, and regional directorates in Levant Region, Canada, China and Latin America. It recently established its offices in Germany and England.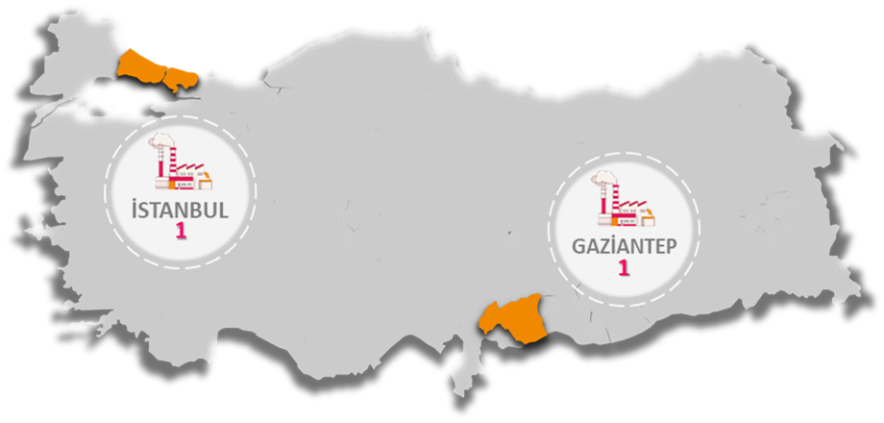 Making a difference in every work it performs with passion and not compromising its values, Şölen makes production at high standards for its consumers from all ages with its nearly 2 thousand employees in its 2 facilities in Gaziantep and Istanbul. Şölen has become a pioneer in its sector and Turkish economy on Industry 4.0 with its dream factory of 120 thousand square meters located in Gaziantep 4th Organized Industrial Zone having equipment and competencies considered as a role model not only in Turkey but also throughout the world. Şölen is the first company in Turkish food sector having R&D center under a single legal entity at 2 different locations with its R&D centers in Gaziantep and Istanbul. Ranking among the top in all lists in its sector both in Turkey and the world, Şölen ranked 57th in Candy Industry TOP 100, one of the most important candy lists in the world.
Şölen was awarded with the "Snack of the Year which Increased its Reputation Most" award in "Snack Sector" category in "The ONE Awards Integrated Marketing Awards" which was organized by the cooperation of the marketing magazine Marketing Turkey and market researches company AKADEMETRE and which measures the increase in the reputation of the brands by observing the activities of them within the year, and with the "Special Award" in Global 100 Awards organized by Platin Magazine with its works in Industry 4.0 field, and it ranked second among the most favorite companies in "Biscuit – Chocolate" category in the survey of Capital Magazine.
Integrating life with its special products during the special days, feasts and at every moment of the day, Şölen works with all its power to turn every moment of the lives of its consumers into a celebration.
1.1. Şölen Organization
Below is the organizational chart that shows the board and directors of Şölen Çikolata. The Board consists of 6 members and one chairman.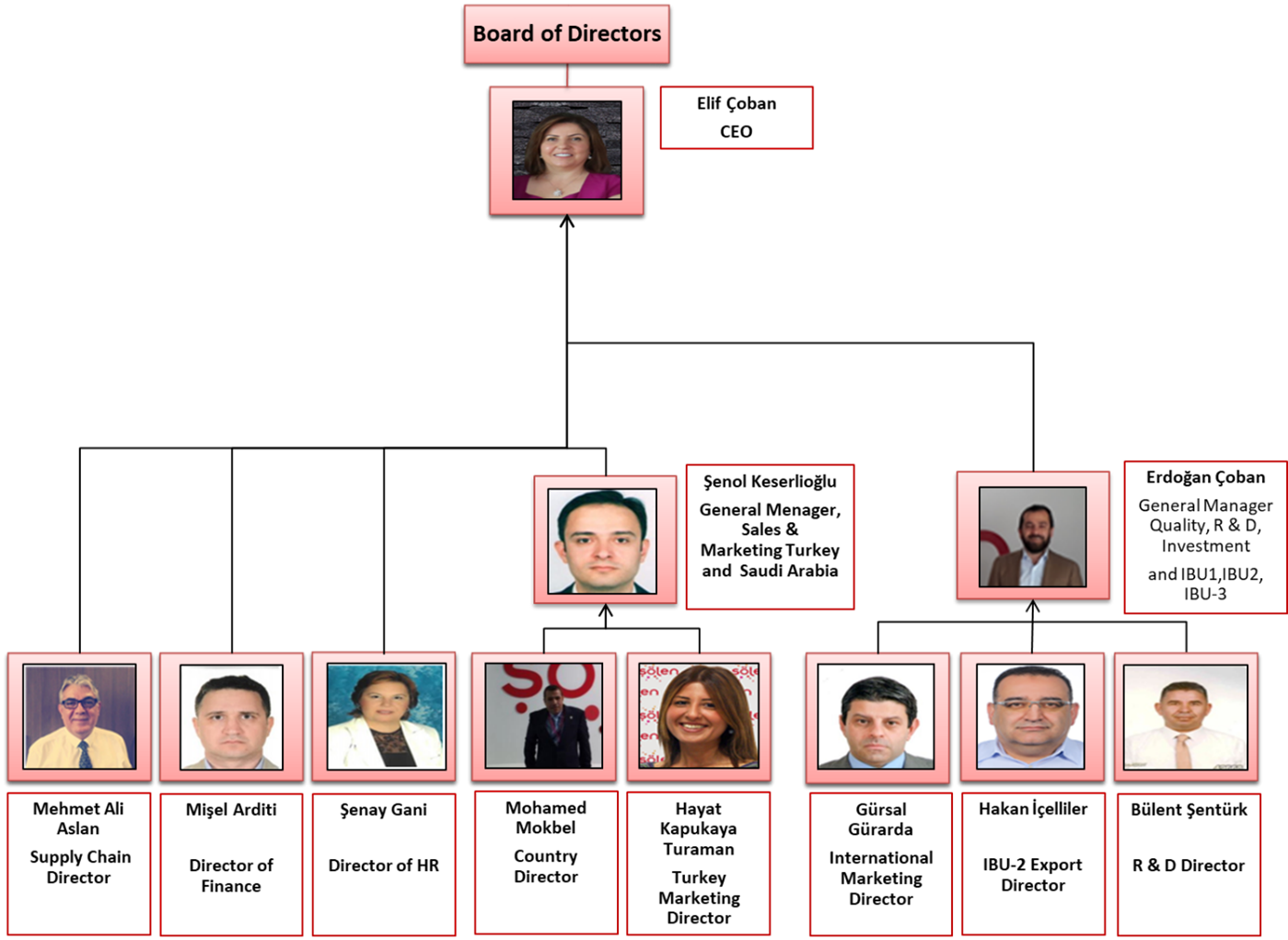 1.2. Şölen Brands & Products
Şölen product family is full of amazing tastes. Covering a wide range from snacks to gift brands, from kids products to Turkish delight, it offers a visual feast chocolate lovers.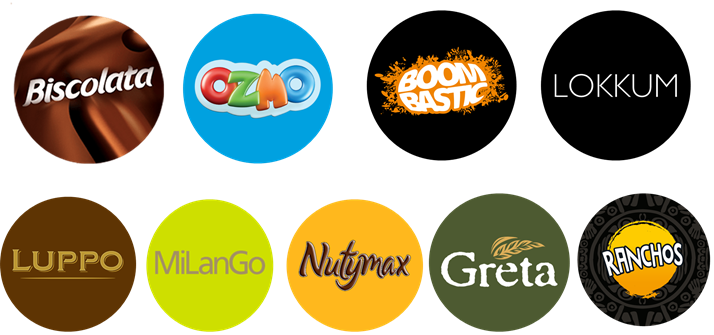 Diversifying its products under the scope of Şölen with Maxbar , Milango and Octavia brands in the treats and chocolate gifts category, Ozmo in kids products, Biscolata in filled cookies and coated crackers, along with Winergy and Duomax in chocolate covered snacks, Mojee in candies, the company is keen on its mission as a pioneer brand of today and the future, creating value for all its snareholders.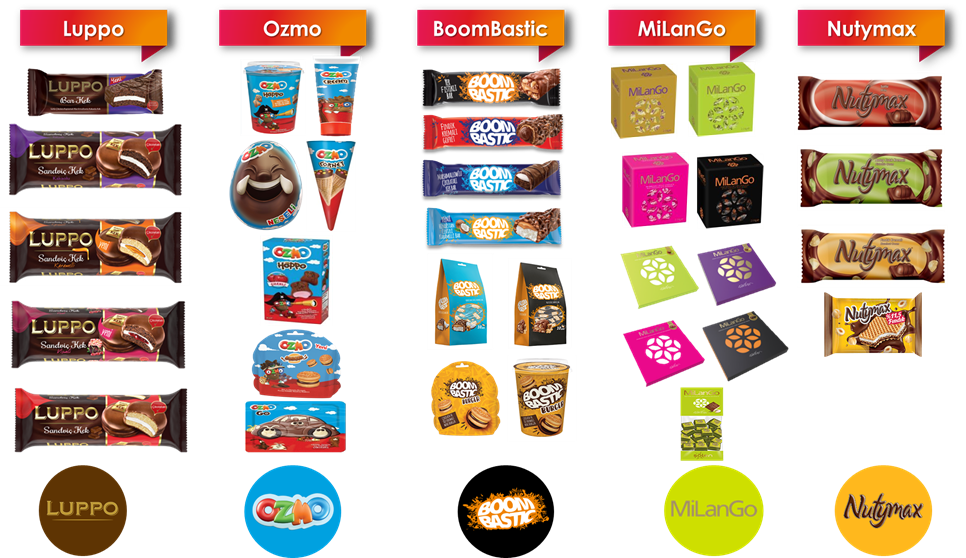 ---
2. Milestones on the journey of Manufacturing Excellence
2.1. Şölen Company Milestones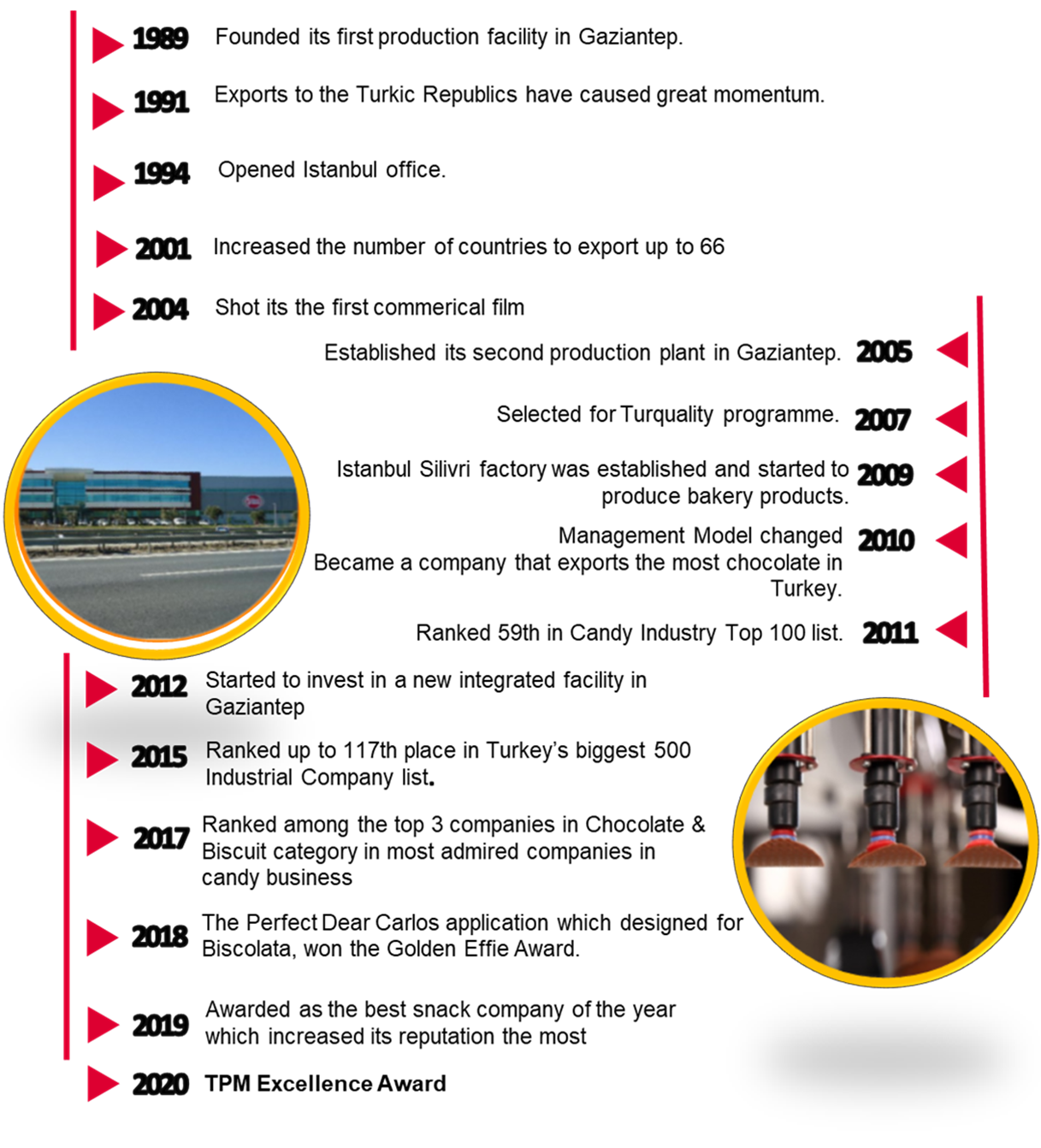 2.2. Şölen İstanbul Plant Milestones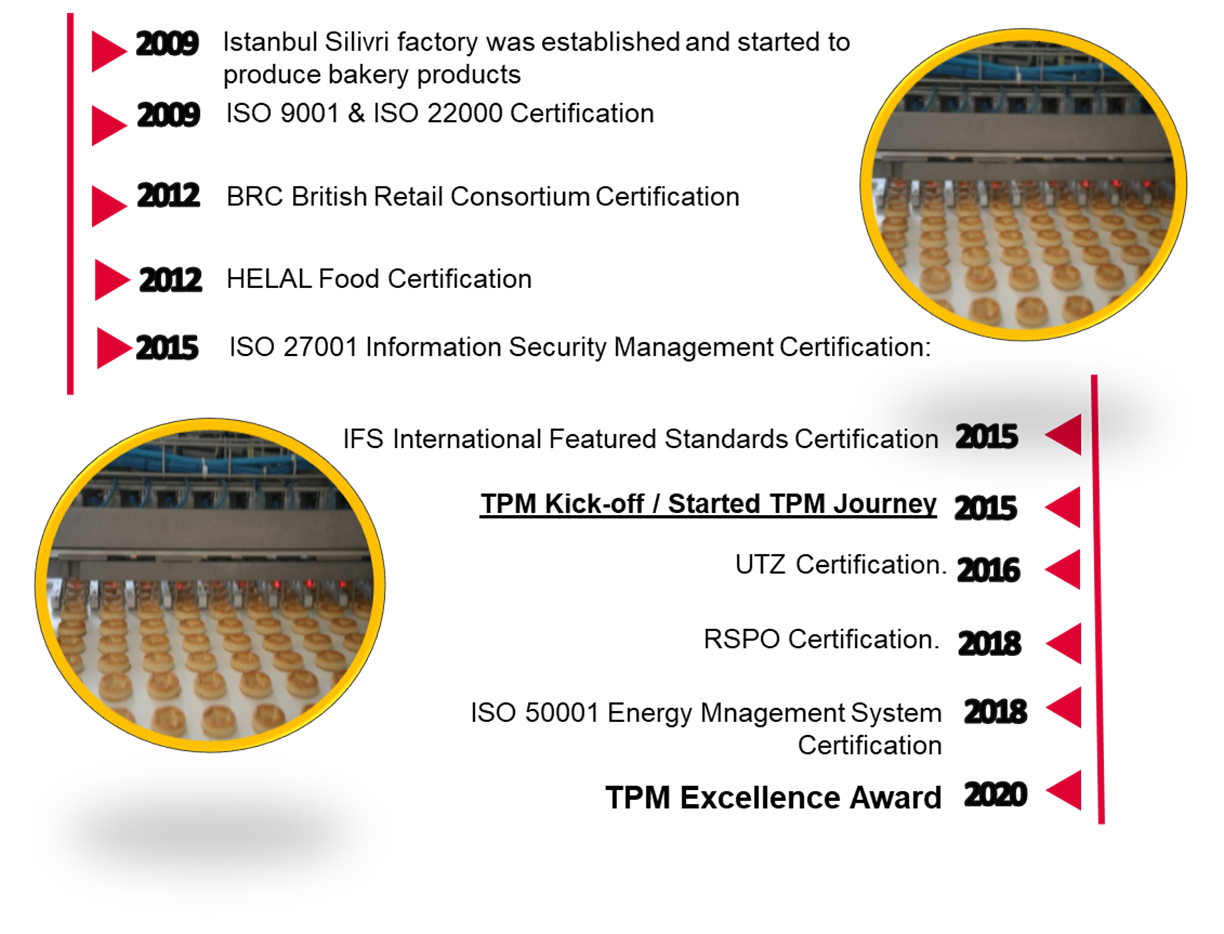 ---
3. Benefits Achieved
3.1. Tangible Effects
• Cost: We have reduced our conversion cost by 18%.
• Productivity: We have increased our productivity by 15% and assembly line productivity by %20. Machine conditions have been restored to basic conditions and improved through Kaizen. We have improved OEE values of our all machines in factory by 7%.
• Quality: In the last 5 years, we have gained new customers with TPM activities. We
• decreased our customer complaimts by 80%.
• Moral: Together with each training, suggestions from blue collars increased. With
• team work, the dialogue between personnel and managers improved.
• People: We have increased information and skill levels of all employees.
As a result of these studies, our plant has become a model for Gaziantep plant. Meanwhile, we had good cost savings and improvement in company culture.
3.2. Intangible Effects
Information sharing and communication development in both horizontal and vertical hierarchical relations.
• Increasing the awareness of all employees with visual management.
• Being conscious of the improvements made, replication.
• Development of knowledge, skills and confidence of employees.
• Develoment in performance measurement system.
• Being concious of loses and decreasing loses with teamworks.
• Both white and blue collars have improved in determining root causes of problems with utilization of analysis methods. "Zero Defect", "Zero Breakdown","Zero Accident"belief is now common.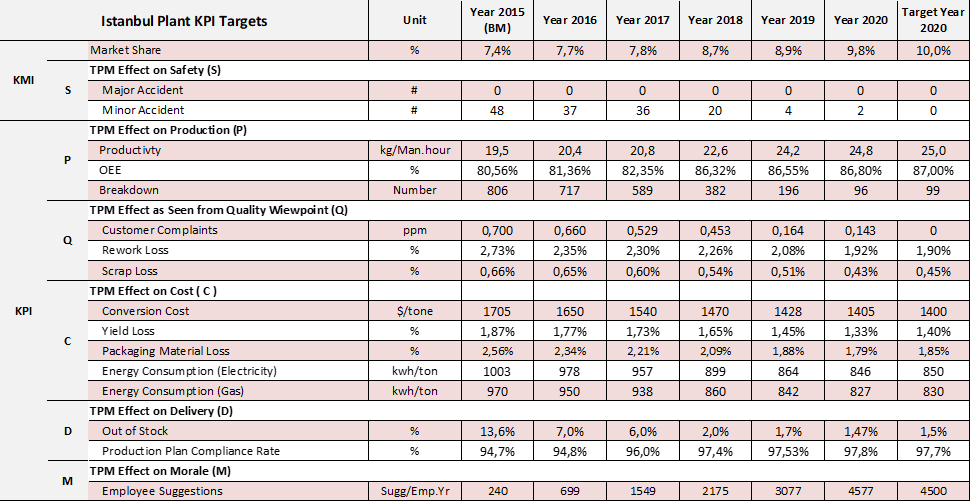 ---
4. Key of our Manufacturing Excellence
In order to achieve our targets, we first aim to have the following principles into our company culture with the help of TPM methodology;
• Deployment of SHE conscious to all workers
• Active participation of all employees in improvement studies
• Expansion of Team Work among employees
• Defining losses correctly and selection of correct Kaizen subjects
• Increase in creativity
• Defining root causes of problems correctly
• Taking quick actions
• Expansion of standardization
4.2. Future Plans
Our future plan is maintaining continuous improvement with the participation of all employees. Also in 2020, we want to receive TPM Excellence Award. We will continue TPM activities through Consistency Award up to the World Class Manufacturer Awards. For this reason, we will add more committees into our TPM Organization such as, SCM – Supply Chain Management Committee etc. Our main aim is to build "Şölen Production System".
---