ROCKMAN INDUSTRIES LIMITED MANGLI
| | | | | | | |
| --- | --- | --- | --- | --- | --- | --- |
| year | category | company | plant | area | industry | movie |
| 2020 | Category A | Rockman Industries Limited | Mangli | India | – | – |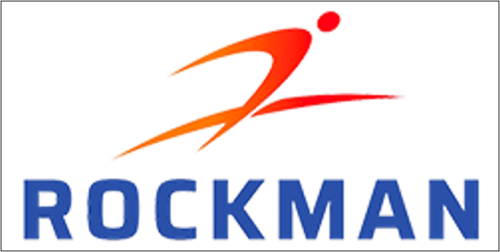 1. Organization Profile
1.1 My Company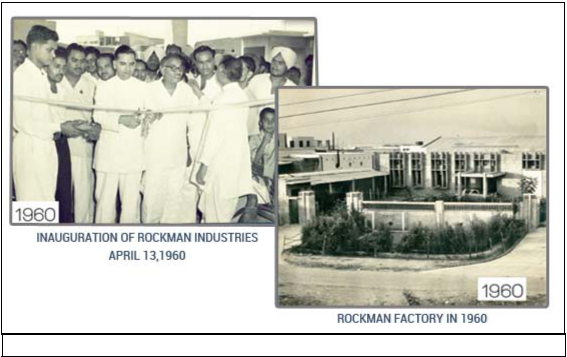 1.1.1 Background of Enterprises group
Hero has been a household name since 1950's in India, synonymous with the words reliability and quality. After the 1947 partition, the Munjal brothers started a small business of manufacturing bicycle components in Ludhiana in North India, in the face of bottlenecks of industrial infrastructure and investments. The Munjal Brothers led a small time manufacturing organization, producing barely 60 cycles a day to become a manufacturing giant, which now churn out 22,000 cycles a day. It eventually diversified into various engineering domains.
As a leader amongst Indian Brands with its customer centric products ranging from simple two wheeler transportation to complex product definitions, Hero has a keen sense of valuing relationships with both partners and customers.
Rockman Industries Limited (Formerly Rockman Cycles Limited) is part of the Hero Group. It supplies auto components to both the Hero Automotive businesses as well as leading auto makers in India and overseas.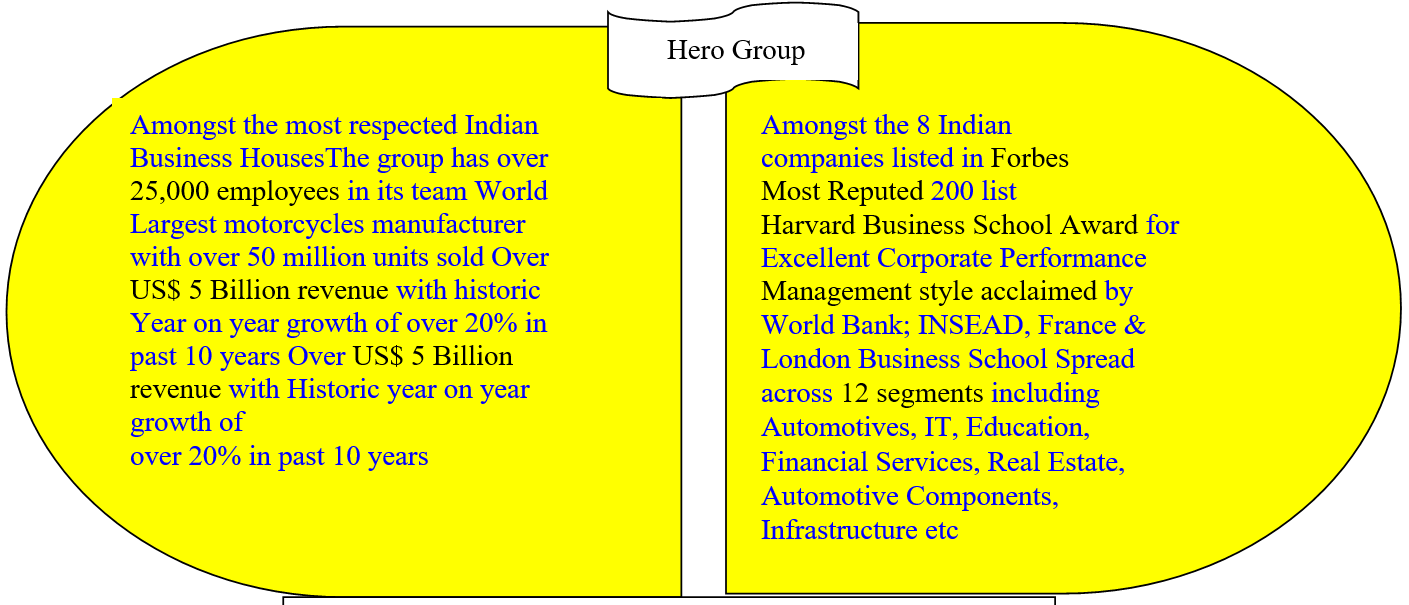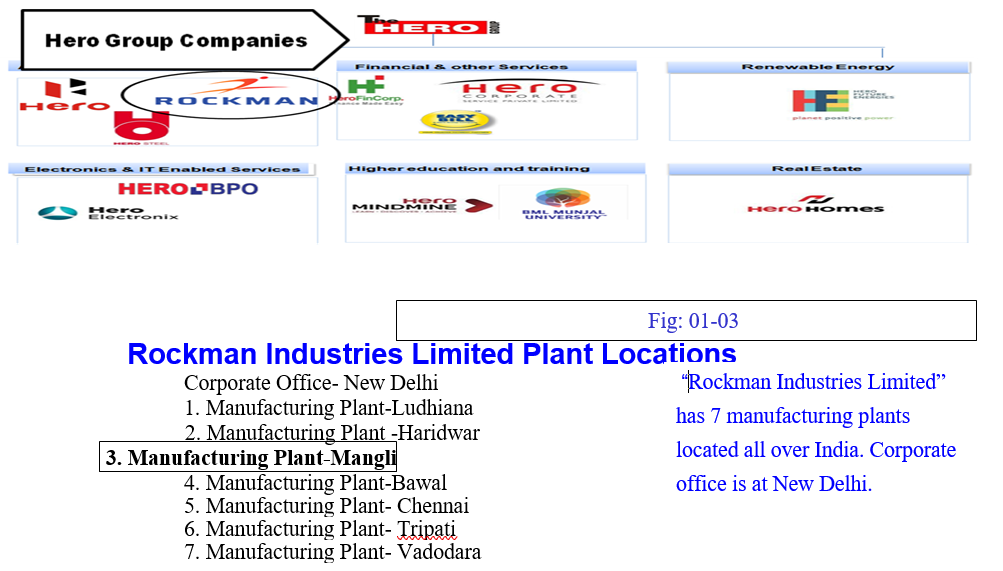 1.1.2 Profile of Company
Rockman Industries Ltd is a part of Hero Group and leading Aluminum Die Casting components, Machined & Painted Assemblies Supplier to world's largest motor cycle's Manufacturer and renowned automobile OEMs.
Having plants at Haridwar, Ludhiana, Chennai & Bawal (Haryana) Rockman has capacity of more than 50000 Ton of aluminum processing annually.
Primary Die Cast components are Cylinder Head, Crank Case, Crank Case Covers, Hub, Brake Panels, Bottom Case of Suspension, Alloy wheels etc. Rockman is Industry is leader in Alloy Wheels with installed capacity of 5.4 Million wheels/annum.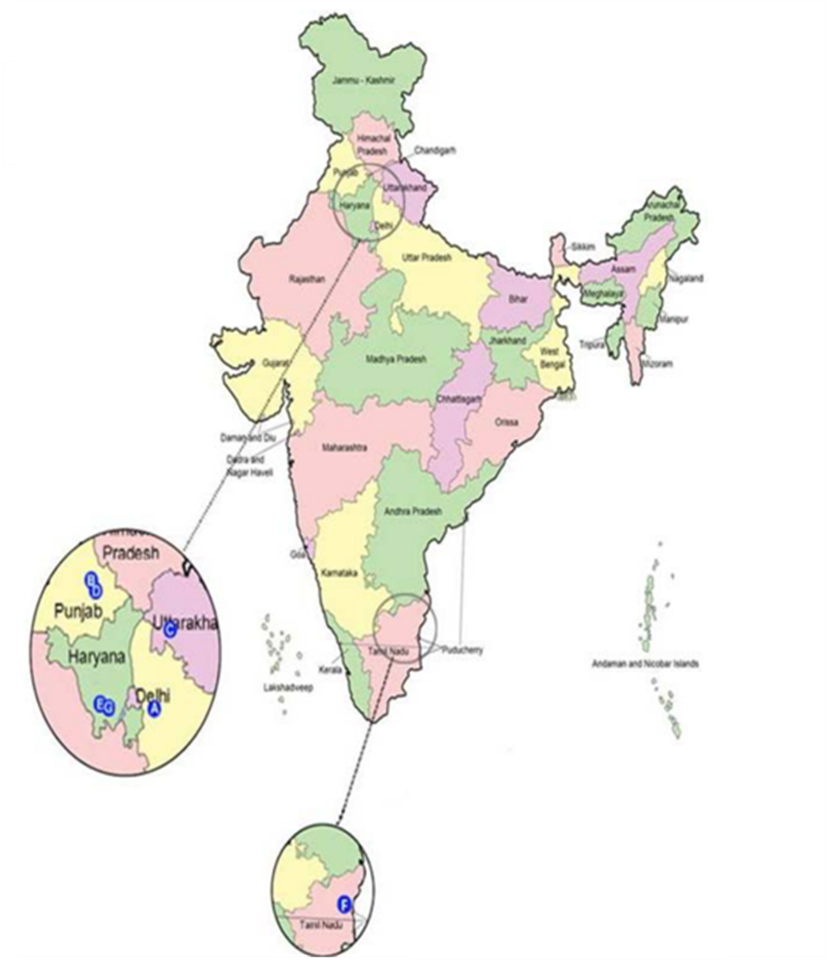 Rockman is also manufacturing Drive Chains and Cam Chains for Motor Cycles; supplying to OEMs and also in after market.
With acquisition of Sargam Die Castings in Chennai (2014), Rockman has now spread its presence in South India and has much larger presence in 4 Wheelers segment.
1.1.3 Company History:
In 1956, our group company – Hero Cycles, started as a bicycle manufacturer and soon became the world's largest and still retains Leadership position with over 22,000 produced every day.
Starting as a component manufacturer for Hero Cycles in 1960, Rockman soon became world's largest producer of chains & hubs with exports to over 40 countries.
The company expanded operations by addition of Aluminum Die Casting in 1999 followed by LPDC, GDC in 2008 and started Exports to various Global Tier 1's.
Acquisition of Sargam Die Casting Company to strengthen technical competence & expanding geographical presence.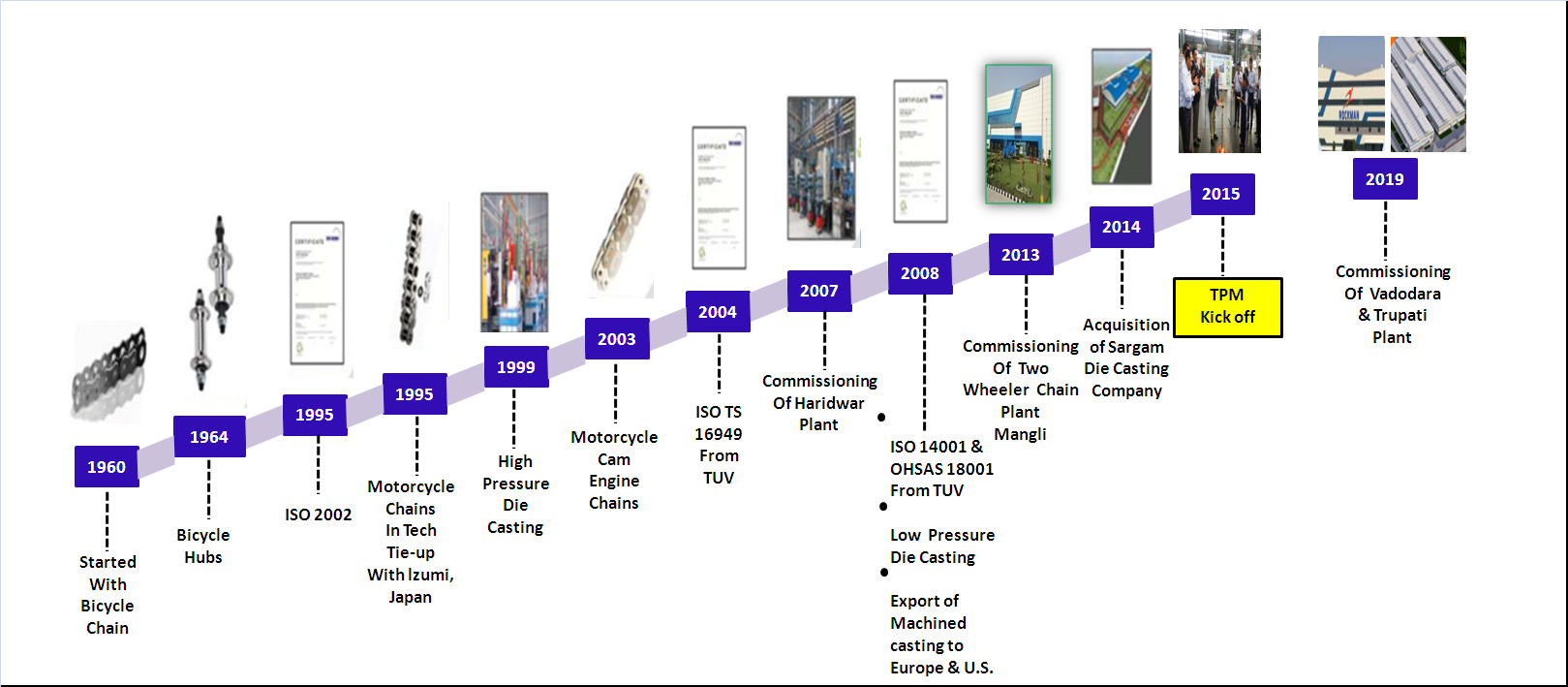 1.1.4 Company Organization Structure:
Rockman Industries Limited is a part of Hero Group and a leading Aluminum Die Casting component, Machined & Painted Assemblies Supplier to world's largest motor cycle's manufacturer and renowned automobile OEMs.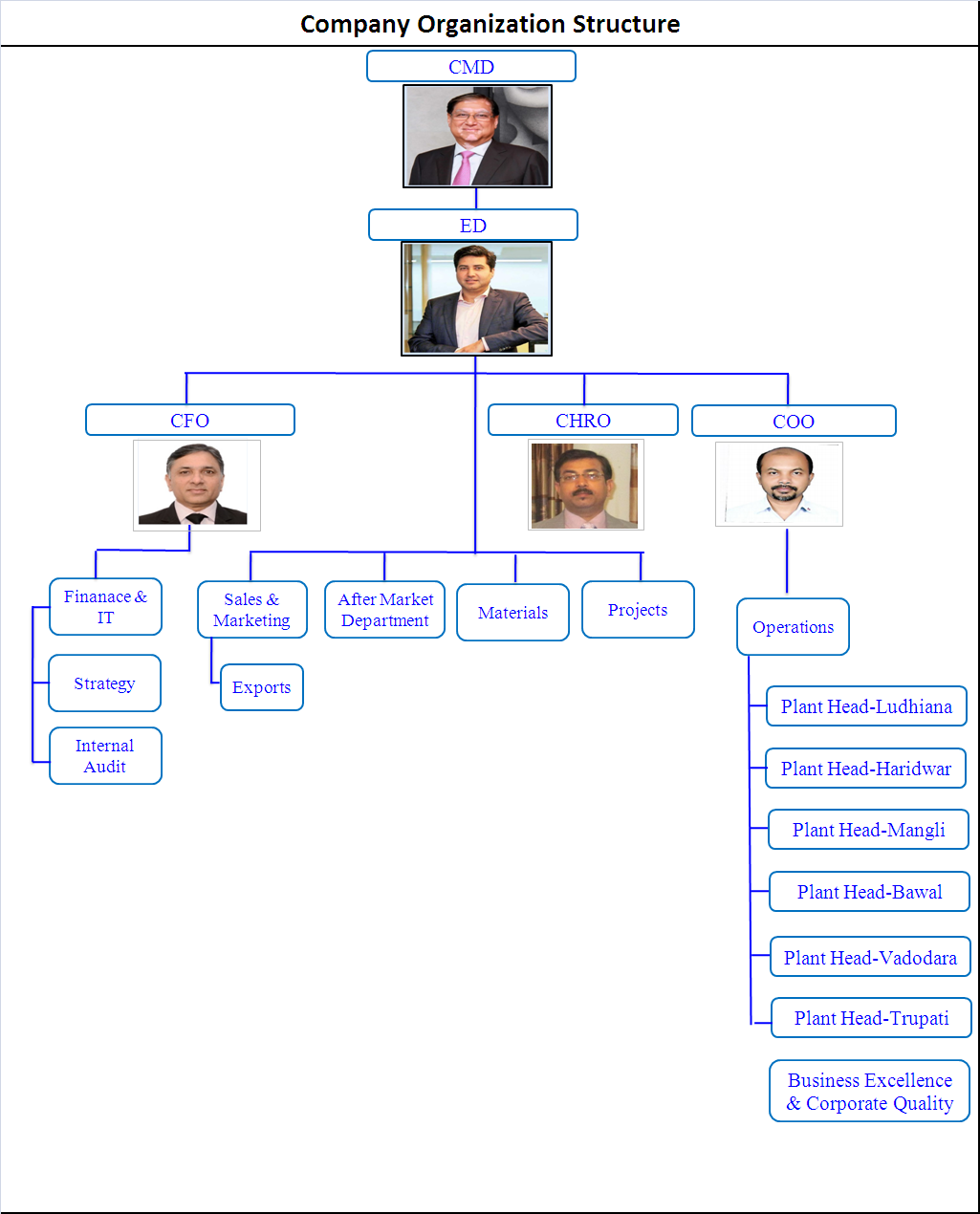 ---
2. Milestones on the journey of Manufacturing Excellence
2.1 Product
We produce Cam Chain & Drive Chain by Component Section (Press, Cold Forging, Bush Curling, Pin Cropping, Pin Grooving) , Heat Treatment, Assembly processes with installed capacity of processing 60,000/ day.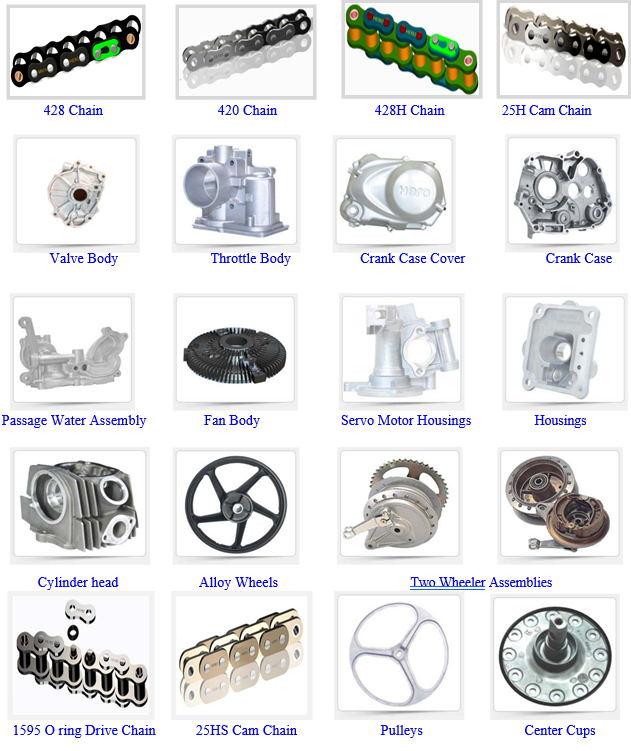 Product Range of Rockman Industries Limited Mangli:
In Rockman Industries Limited Mangli manufactures almost all Cam Chains & Drive Chains of two wheelers.
The products are Drive Chains (428, 420 & 428H) , Cam Chains ( 25H & 25HS) , 'O' Ring Chains (520, 1595 & 428H) & Starter Chain 25H etc.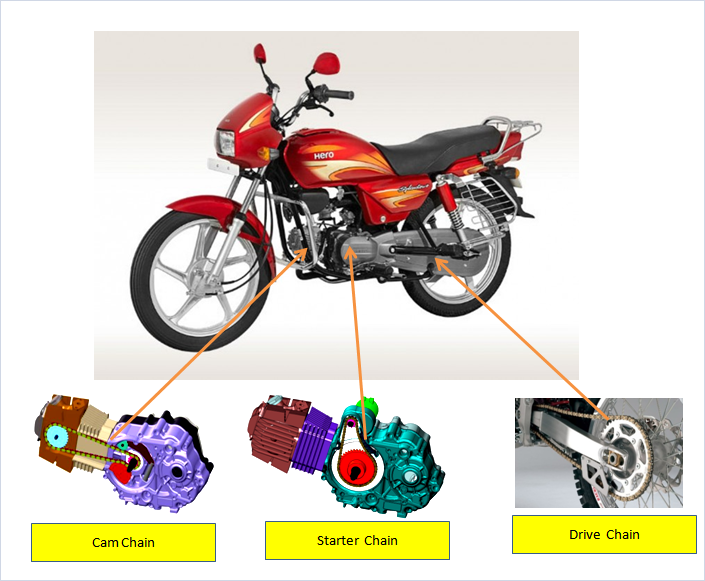 2.2 My Customers:
Rockman Industries Limited supplies its products to Hero Moto Corp and various global automotive companies like Ford, Honda, Mahindra, Tata, ZF, Magna & Magneti Marelli etc.
DOMESTIC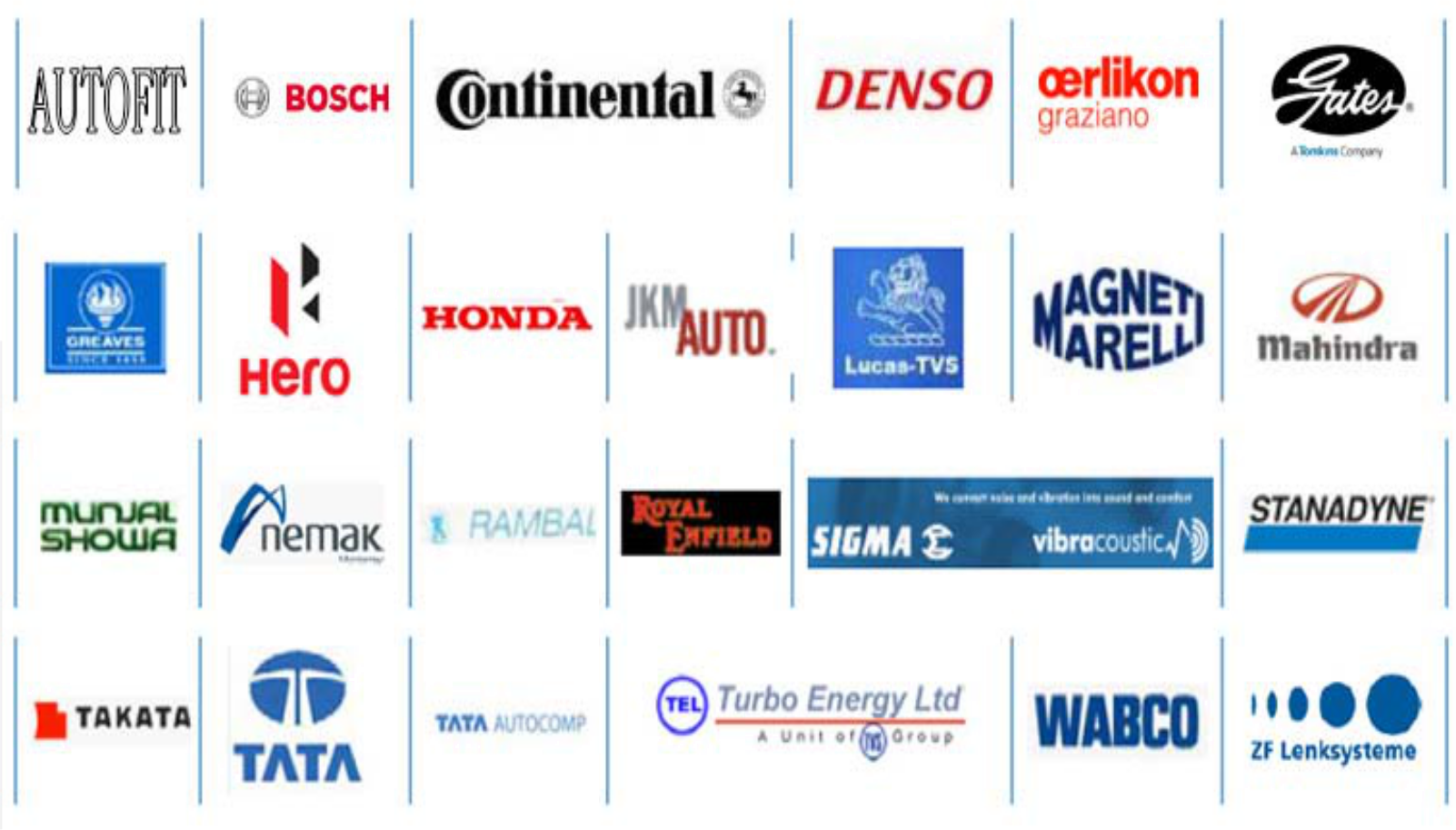 INTERNATIONA L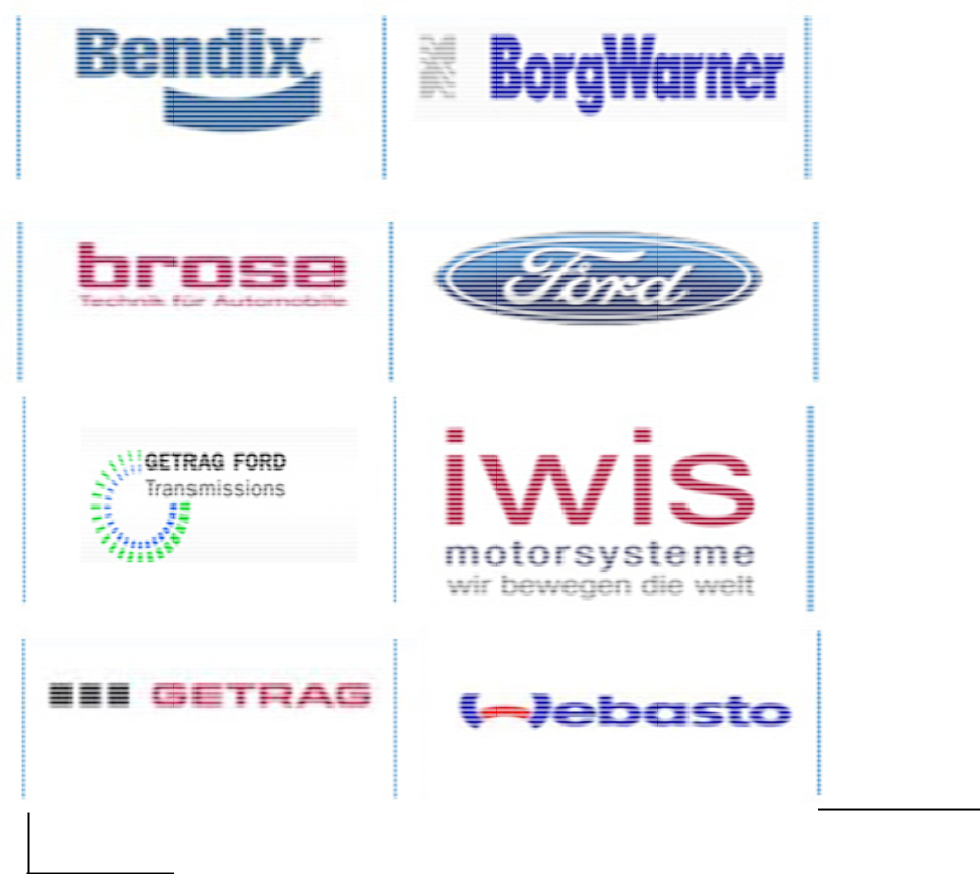 2.3 Outline of my Plant (Rockman Industries Limited Mangli)
Rockman Industries Limited Mangli started its operation in 2013 with manufacturing of Cam Chain, Starter Chain Drive Chain etc.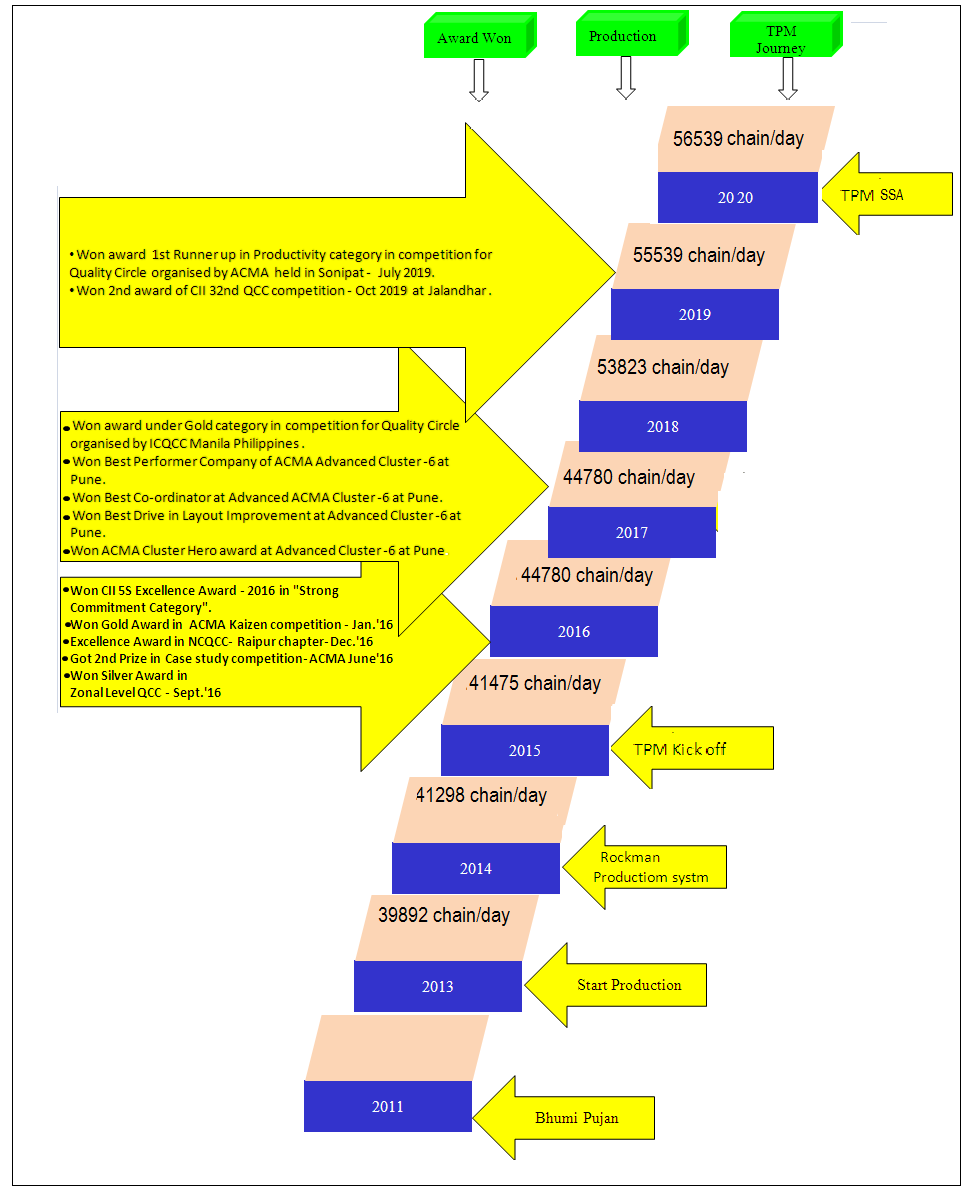 2.4 Plant Organization Structure
This is the Organization structure Chairman, MD, DO ,DCOO, CFO, AVP HR, VP Purchase ,GM BE are at corporate level and rest are at plant level.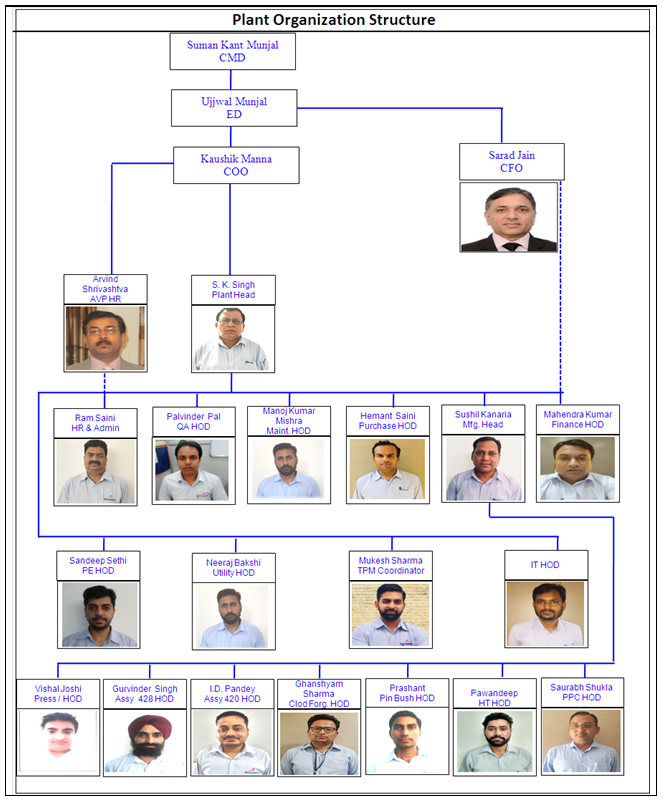 2.5 Working form
The plant works 6 days in a week. Sunday is the "Scheduled Weekly Off". Shift design as 8Hrs./shift and 12 Hrs./shift(Some specific area)
Company Role Manpower = 344 Nos.
Contractual Manpower = 318 Nos.
Total Manpower =662 Nos.
2.5 Employee Profile :-
Minimum Qualification for Operator :-10th(matriculation) Minimum Qualification for Staff :-Graduation .
Average Age :- 25 Years Average Age :- 37 Years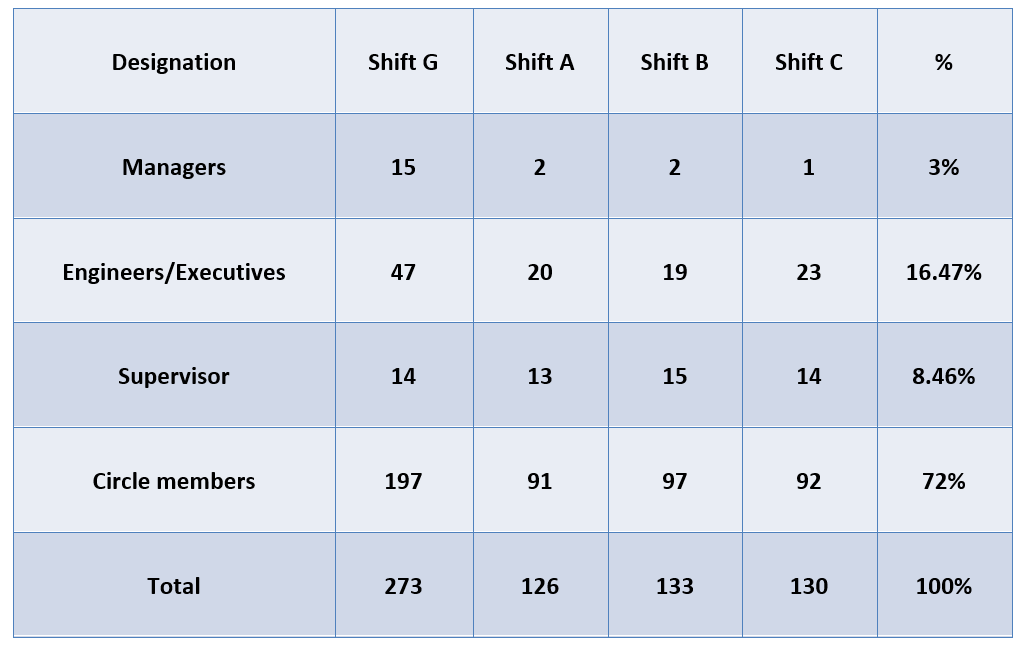 ---
3. Benefits Achieved
3.1 Benefits Achieved
TPM has been adopted as a very important aspect of our business strategy. The implementation of the TPM methodology will help us achieve our business goal of on‐time delivery with the best quality & at the lowest cost. In Mangli plant, TPM deployment has played a critical role of improving people capability in an accelerated manner within a short span of 5 years since Kick-off in 2015. Raw material Steel price inflation by 30% and weak sales made initiatives like TPM more useful to maintain the bottom line. It helped to stay competitive & cost effective in the market. We are No. 2 in Drive Chains & No. 3 in Cam Chains as per overall market share in India.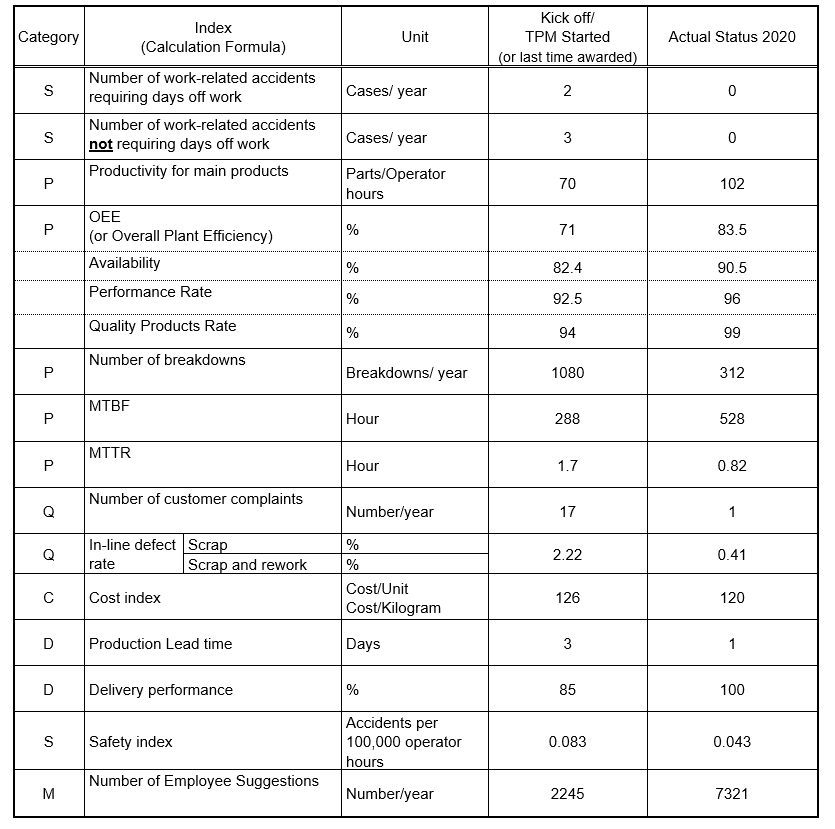 3.2 Production Process
Customer projection received annually & as and when there is some amendment. Monthly schedule received from HMCL (PPC) and daily part wise planning at Rockman. Capacity has been planned based on customer annual projection & expenses accordingly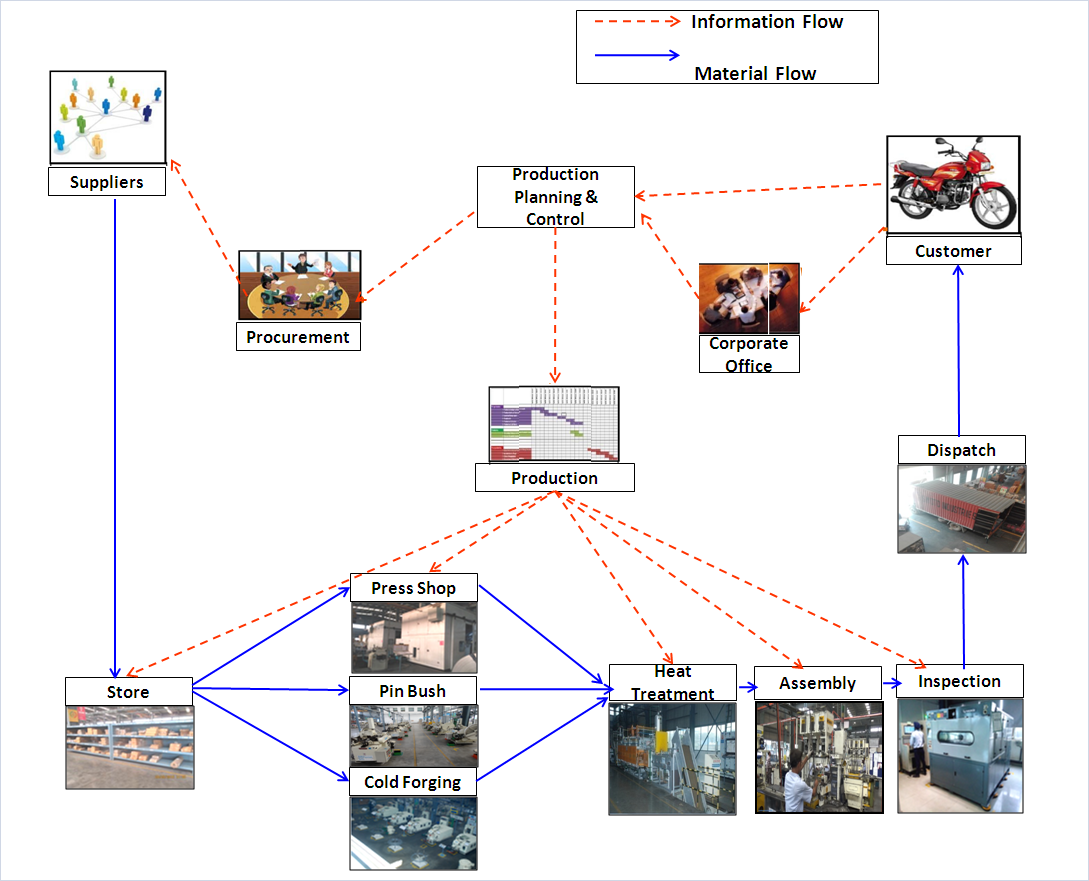 3.3 MAJOR EQUIPMENTS:
There are total 177 equipments and are categorized in A, B, C, D and E category defined in JH Chapter.
Machinery/Equipments and Processes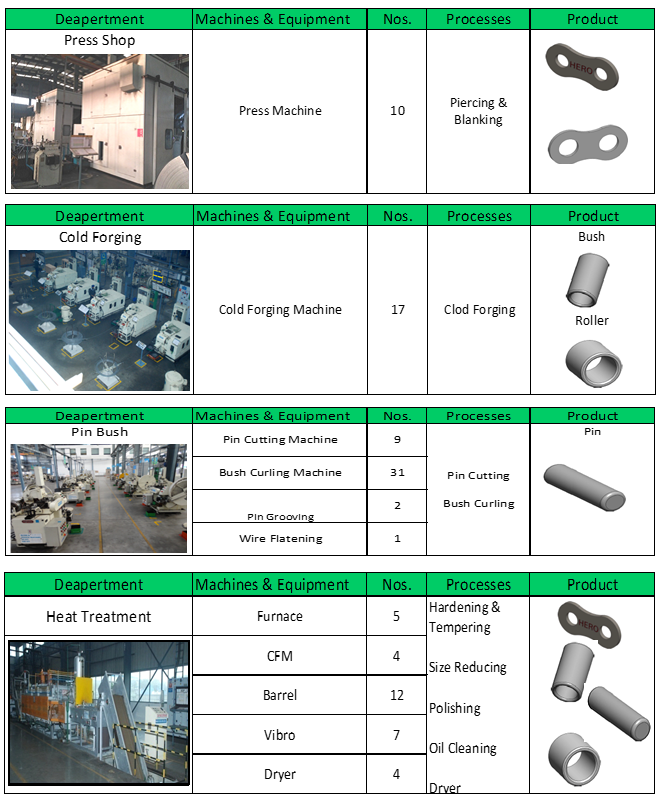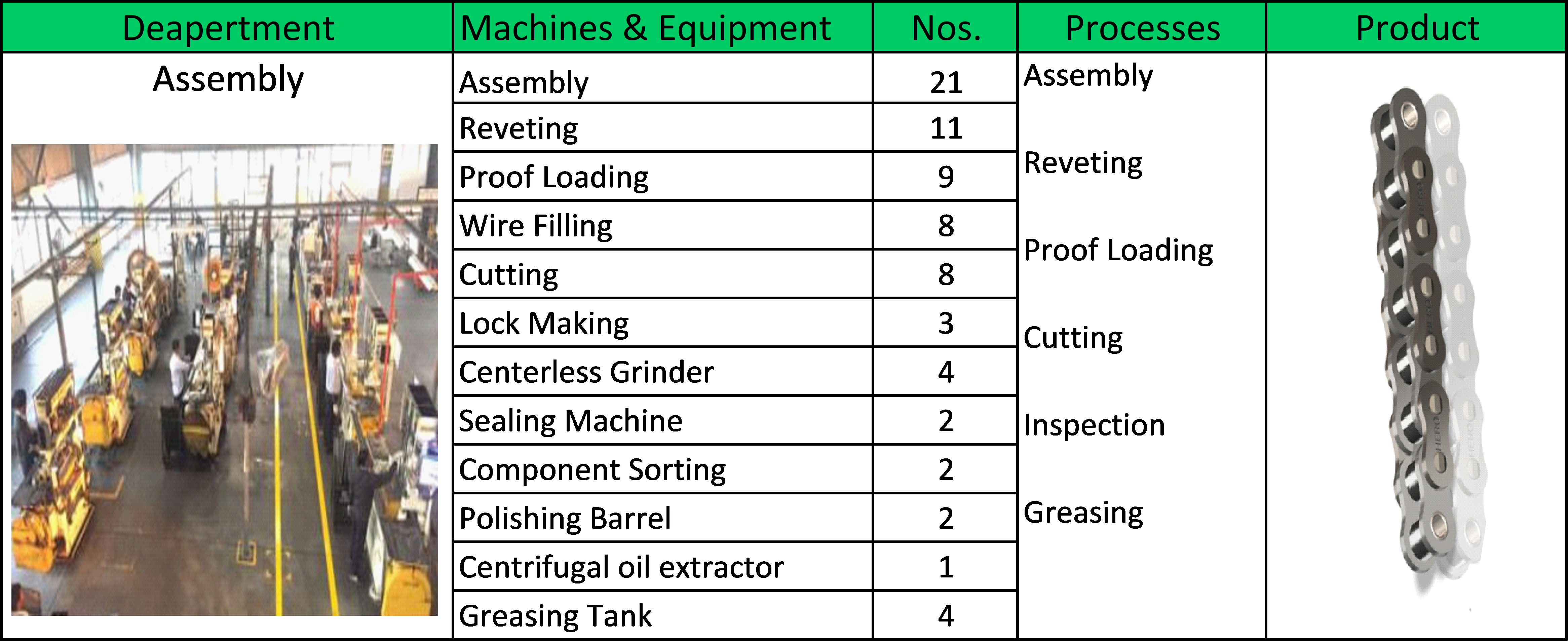 Testing and Laboratory Equipments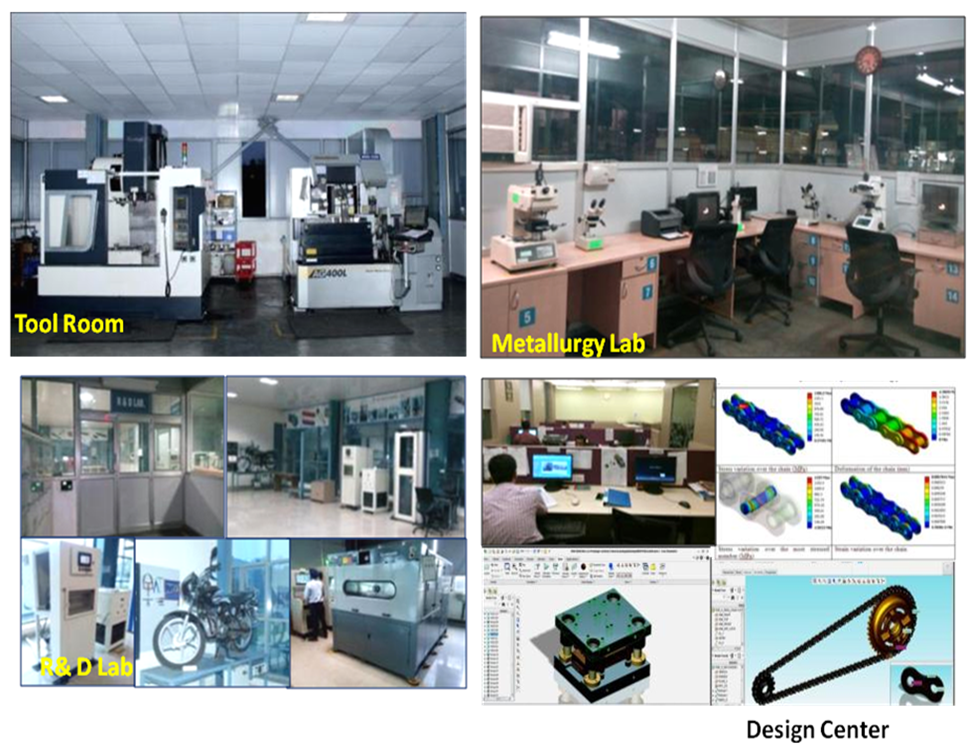 ---
4. Key of our Manufacturing Excellence
---