Owens Corning Owens Corning (Guangzhou) Fiberglas Co., Ltd.
| | | | | | | |
| --- | --- | --- | --- | --- | --- | --- |
| year | category | company | plant | area | industry | movie |
| 2020 | Category A | Owens Corning (Guangzhou) Fiberglas Co., Ltd. | Guangzhou Plant | China | – | – |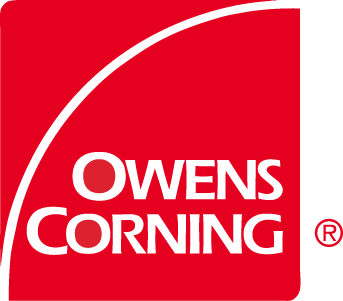 1. Organization Profile
1.1 Company File
Owens Corning (NYSE: OC) is a global leader in insulation, roofing, and fiberglass composite materials. Its insulation products conserve energy and improve acoustics, fire resistance, and air quality in the spaces where people live, work, and play. Its roofing products and systems enhance curb appeal and protect homes and commercial buildings alike. Its fiberglass composites make thousands of products lighter, stronger, and more durable. Owens Corning provides innovative products and solutions that deliver a material difference to its customers and, ultimately, make the world a better place. The business is global in scope, with operations in 33 countries. It is also human in scale, with approximately 19,000 employees cultivating local and longstanding relationships with customers. Based in Toledo, Ohio, USA, the company posted 2019 sales of $7.2 billion. Founded in 1938, it has been a US Fortune 500® company for 66 consecutive years.



1.2 Guangzhou Plant Profile
1.2.1 Owens Corning (Guangzhou) glass fiber co., LTD., was established in July 1994, located in Dongyi industrial park of Guangzhou Economic and Technological Development Zone. It is the first production base invested by Owens Corning in China. The factory adopts the most advanced centrifugal method in the world to produce all kinds of glass fiber products. Our company occupies an area of 33,000 square meters and has two production lines of glass fiber in use with a
production capacity of 28,000 tons.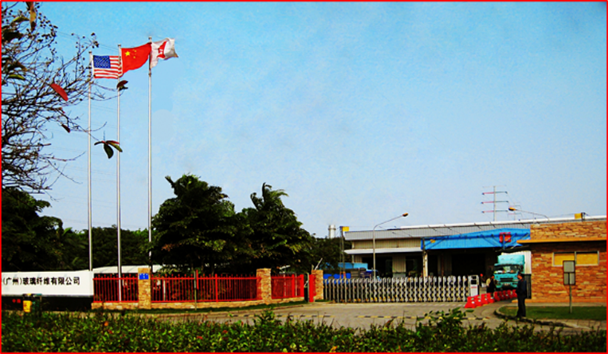 1.2.2 Products and Application: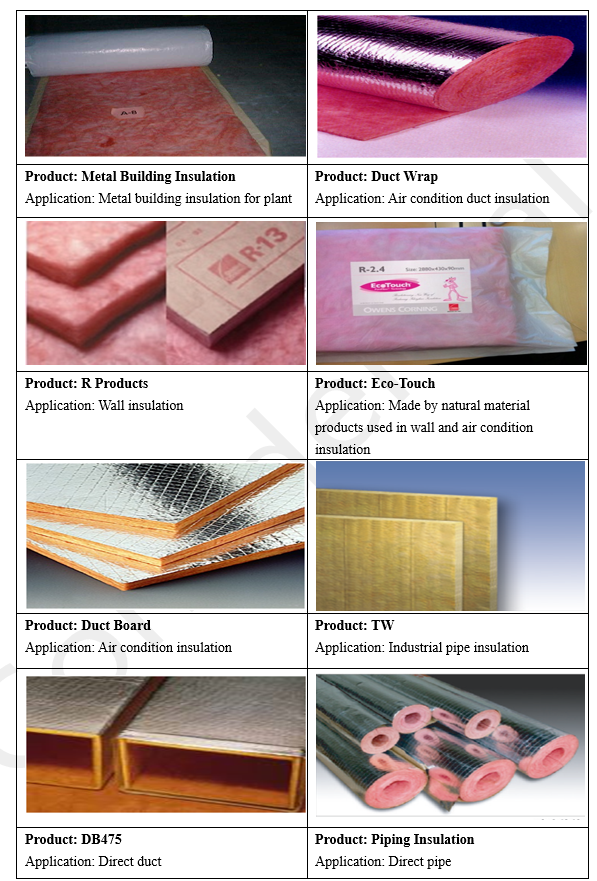 1.2.3 Process and Technology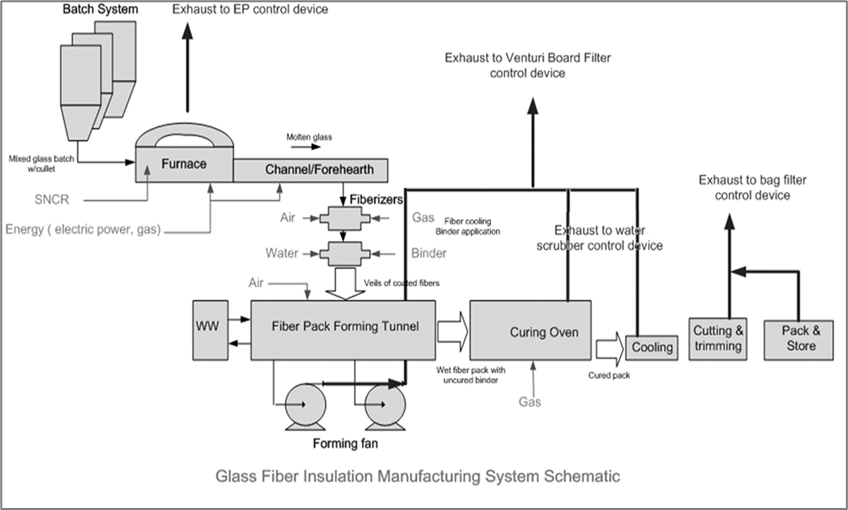 By centrifugation, the molten glass is spun, and thermosetting resin is applied to the production line. Glass wool containing thermosetting resin is formed through drying and curing. After cooling, product is cut the edge according to the needs of the customer then apply facing and shear by chopper, finally packaged into glass wool products.
1.2.4 Plant organization and staff structure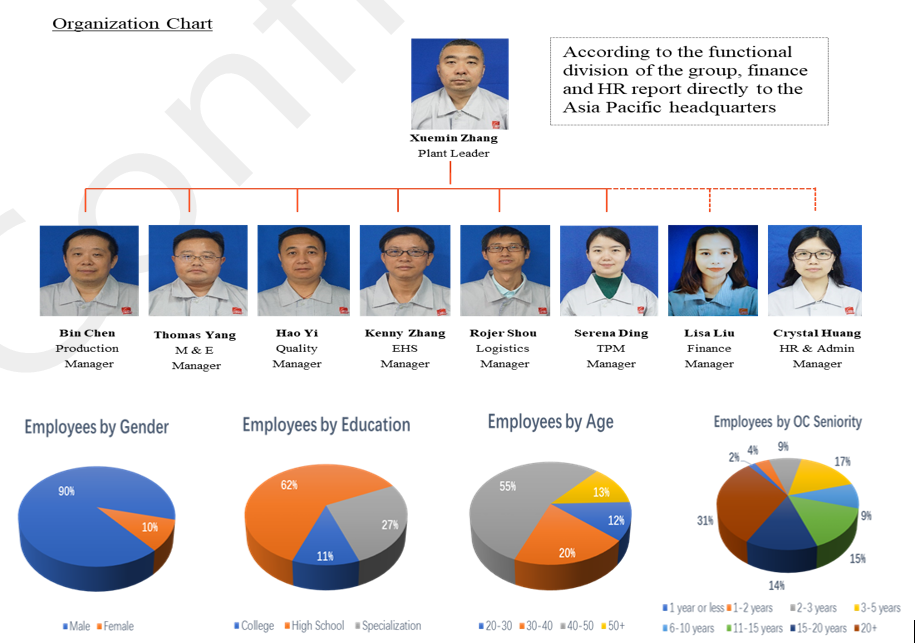 ---
2. Milestones on the journey of Manufacturing Excellence
2.1 Why we do TPM
2.1.1 External requirement
With the increasingly severe global economic situation, the traditional manufacturing industry and construction industry are weakened, which also leads to the reduction of domestic customers' demand for products. It requires enterprises to make a difference with competitive products with low cost and high quality, win the trust of customers. Enterprise launched TPM in 2010. And plant target is award according to the plant.
2.1.2 Internal requirement
Poor environment, deteriorated machine and unsafe working condition caused high operation cost and low production quality.


2.2 Milestone of Manufacturing Excellence of Enterprise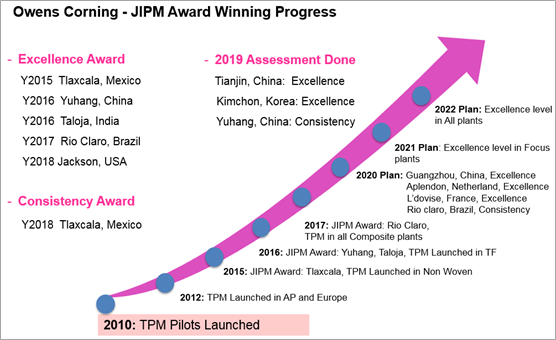 2.3 TPM Journey in Guangzhou Plant
Guangzhou plant has taken TPM as the policy of operation and management from 2016.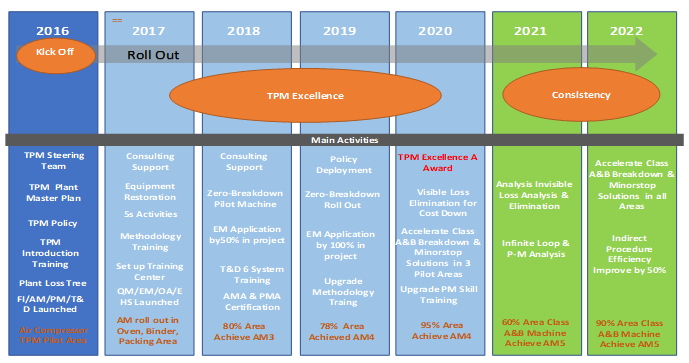 In 2017, launched FI, AM, PM, T&D pillars and 4 pilot areas were rolled out. In 2018, 90% area had been achieved the AM step2, zero BD projects was initiated and launched the rest 4 pillars. In 2019, we focus on site improvement to achieve AM step4 and methodology training upgraded. 2020, we will finish 90% are up to AM4.
---
3. Benefits Achieved
3.1 Company Achievement
Since the launch of TPM in 2016, all aspects of plant operation had been improved significantly. The main operation index as below: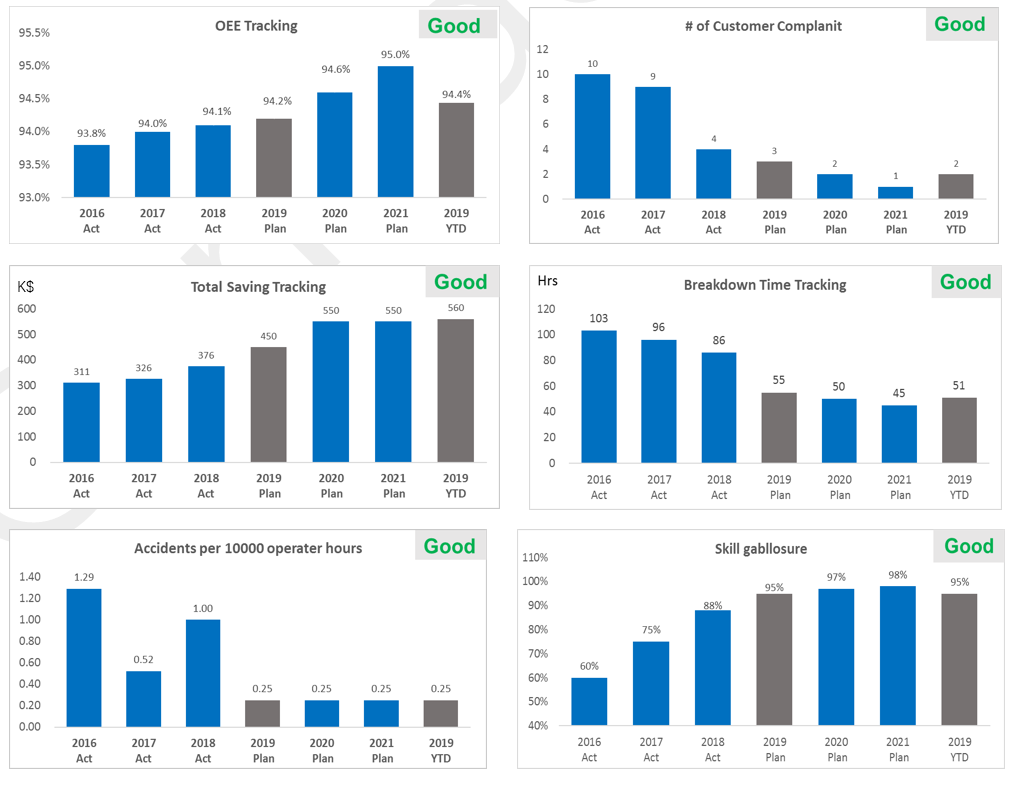 3.2 Intangible achievement
Through the implementation of TPM from top to bottom in the factory, all employees attend in activities. Talent growth activities and TPM incentive policy make people's attitude and skill improved significantly, and push them confident to drive other members forward excellence. Great change of work site also inspired people who work in this place. Employees feel more comfortable, safety and be proud of working here. On the other hand, trough TPM, the machine and process are much more stable than before, so that we can produce the better products. It increases the customer satisfaction and market sharing.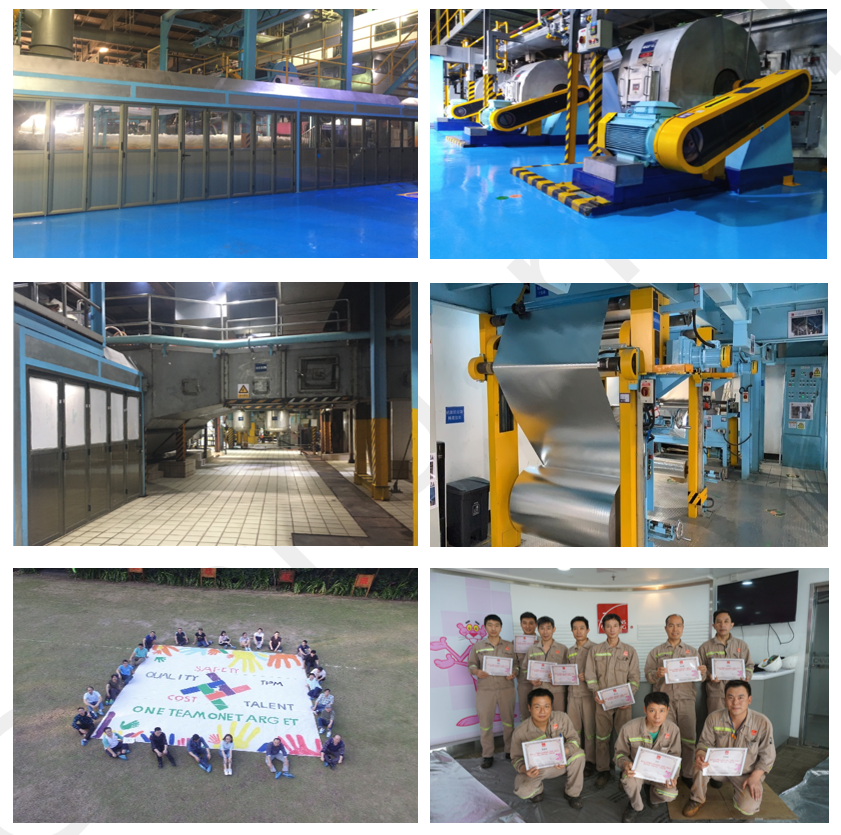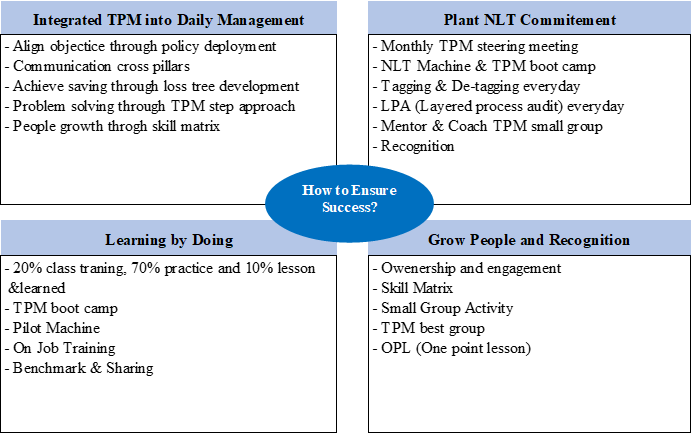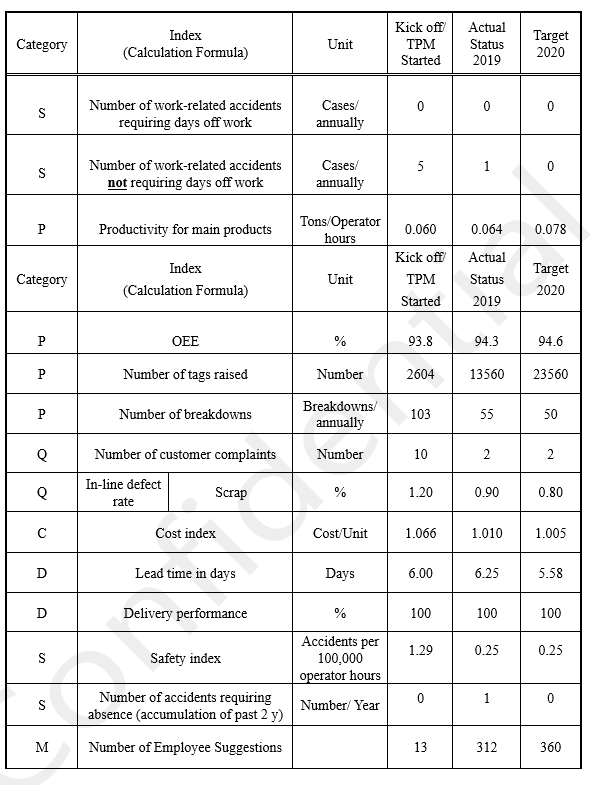 ---
4. Key of our Manufacturing Excellence
4.1 Experience & Gains
Since the introduction of TPM in 2016, the plant operation has been improved comprehensively. Plant ensure the TPM implementation trough four aspects as below. 100% leadership and engagement are the basic for all pillars' success.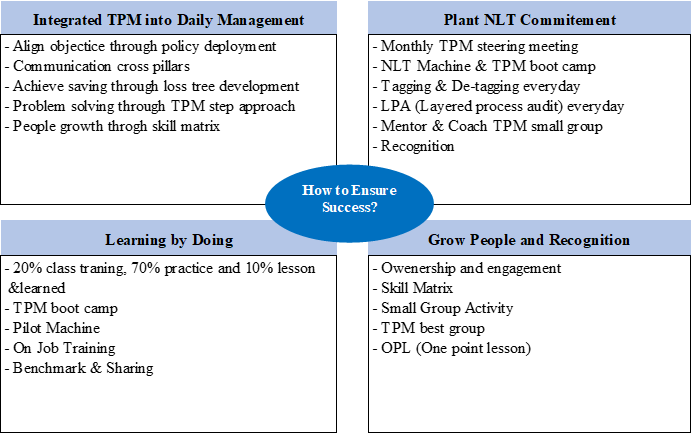 4.2 Next step of future
In future, loss reduction and cost reduction will be the core objectives of plant operation. We will bring more improvement projects through the upgrading of personnel skills and the improvement of autonomous maintenance ability. At the same time, the potential of the equipment will be deeply exploited to realize zero fault in most of areas to reduce the loss and prolong the life of the equipment. Early management is involved in all projects.
---