Jiyuan Yili Diary Co., Ltd.
| | | | | | | |
| --- | --- | --- | --- | --- | --- | --- |
| year | category | company | plant | area | industry | movie |
| 2020 | Category A | Jiyuan Yili Diary Co., Ltd. | – | China | – | – |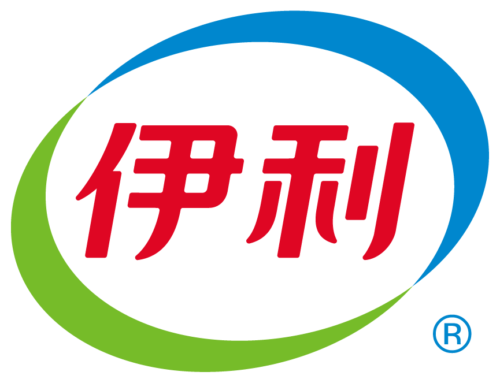 1. Organization Profile
1.1 Company profile
Inner Mongolia Yili Industrial Group Co., Ltd. (hereinafter referred to as Yili Group) is the largest dairy enterprise with the most complete product line. Yili Group is firmly the leader of global dairy industry, ranking first in Asian dairy industry, and also the only dairy enterprise in China serving both Beijing
Olympic Games and Shanghai World Expo. Under the "global coverage" strategy, Yili has made industrial layout in developed dairy areas such as Asia, Europe, America and Oceania. The main products are categorized as liquid milk, cold drink, milk powder, yogurt, cheese and health drink, covering more than 1,000 varieties. In the first half year of 2020, the company realized the gross revenue of RMB 47.528 billion, achieving a high double growth and reaching new highs in Asian dairy industry. Among them, the core indexes, such as gross revenue, net profit, comprehensive market share and consumer penetration rate, have
consecutively ranked No.1 in Asian, and the rate of return on equity continued to lead the global dairy industry.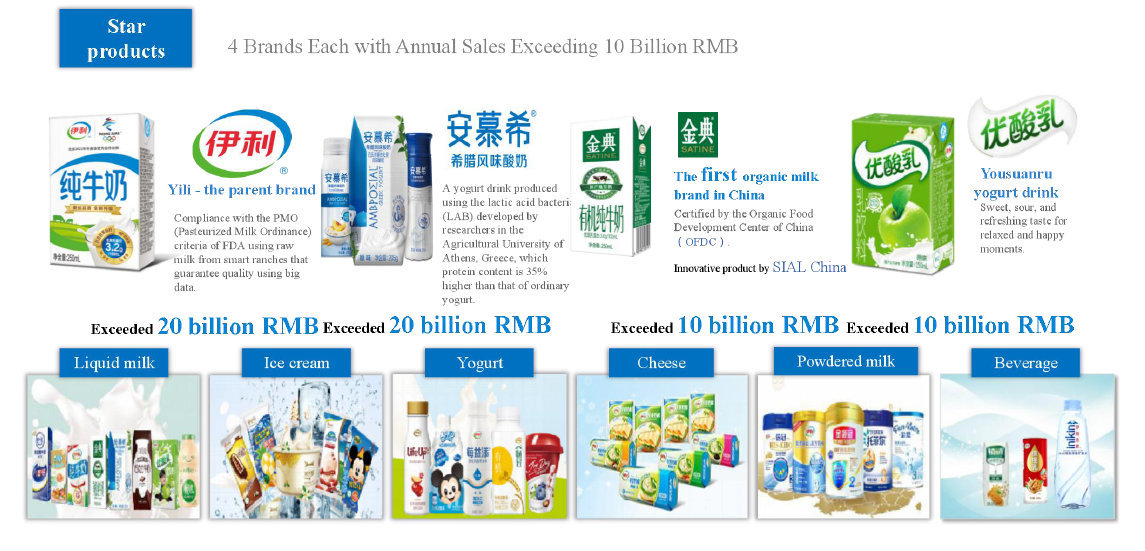 1.2 Plant profile
1.2.1 Brief history of plant
Jiyuan Yili Dairy Co., Ltd. is a wholly-owned subsidiary under the liquid milk business division of Yili Group. The plant was officially put into operation in July 2013, with output ranking eighth among the subsidiaries and output value ranking fifth. There are 22 production lines, all of which have been equipped with advanced equipment and automatic control system at home and abroad. The main products cover pure milk, milk beverage, Ambrosial normal temperature yogurt, cereal milk, QQ star children growth milk and other series of products. The company becomes the dairy enterprise with the highest tax
amount in the central plains. The company has a market share of Star Ambrosial products of 70% in Henan Province. It is the exclusive plant providing oatmeal breakfast milk and it supplies products to the national market.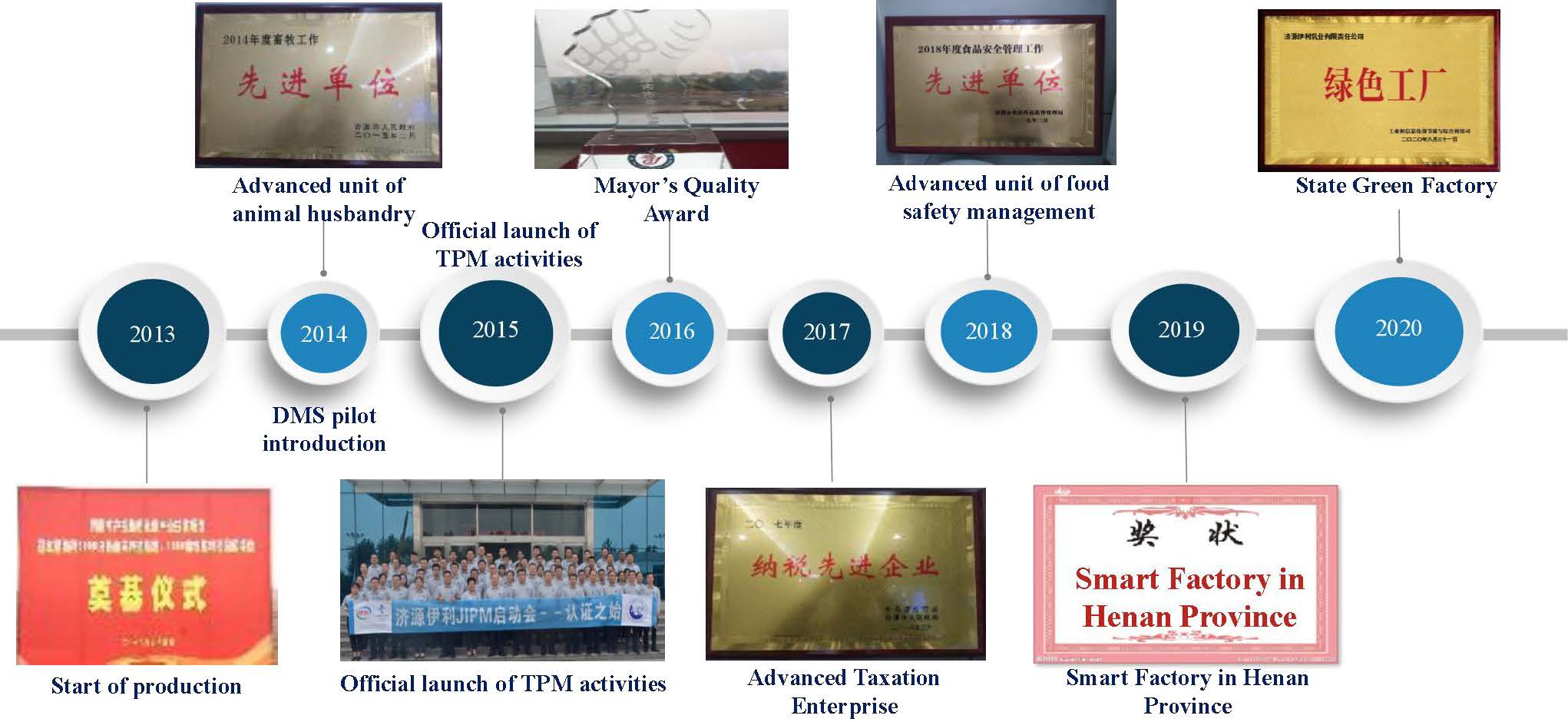 1.2.2 Production process in plant
The production process in plant is as follows: raw milk receiving and storage → milk cleaning → pasteurization → additive addition→ UHT sterilization → filling → packaging.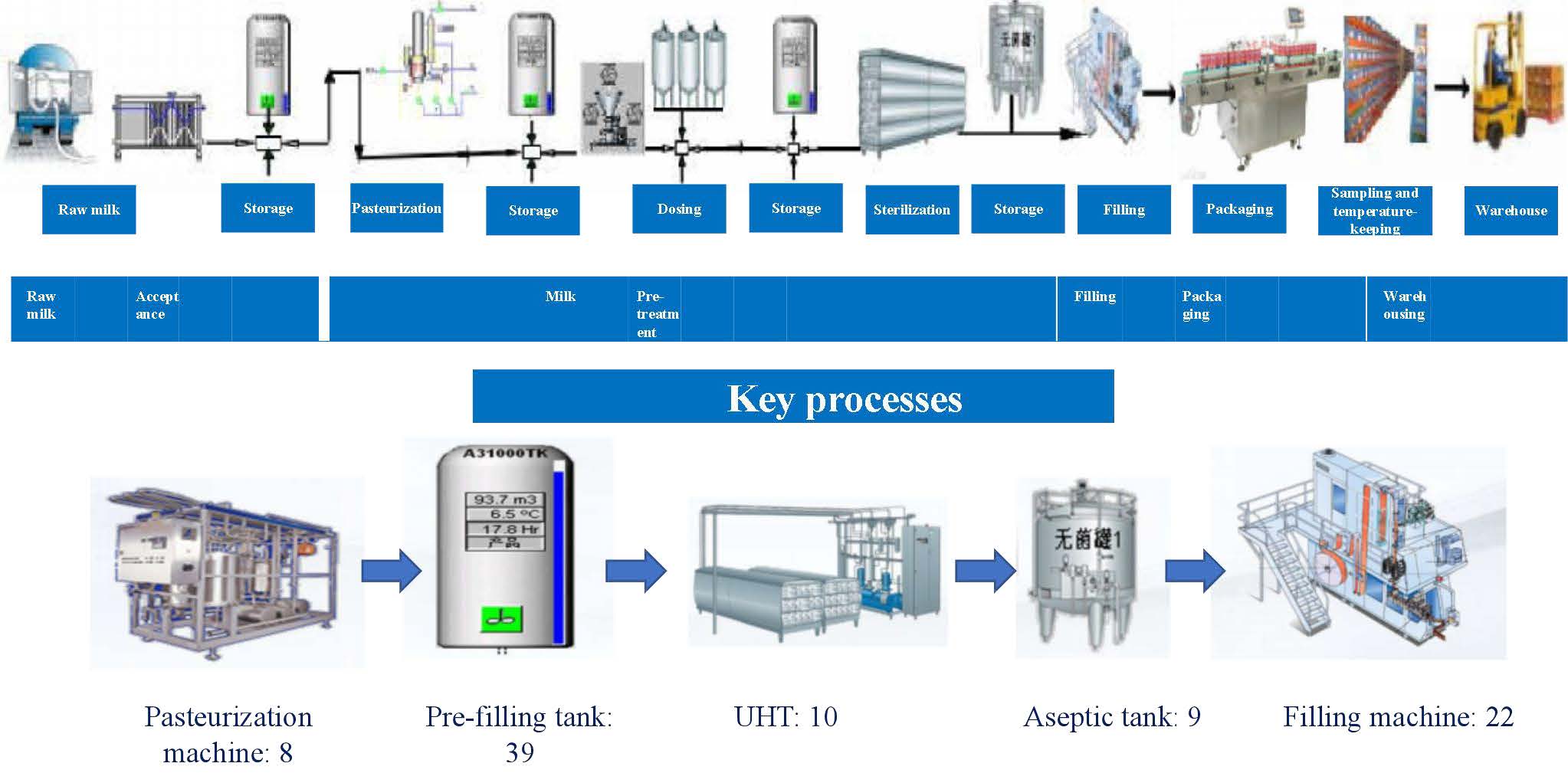 1.2.3 Plant equipment & products
The workshop is equipped with 22 filling production lines, 6 kinds of machines and 9 series of 20 varieties, with daily output of 1,500 t.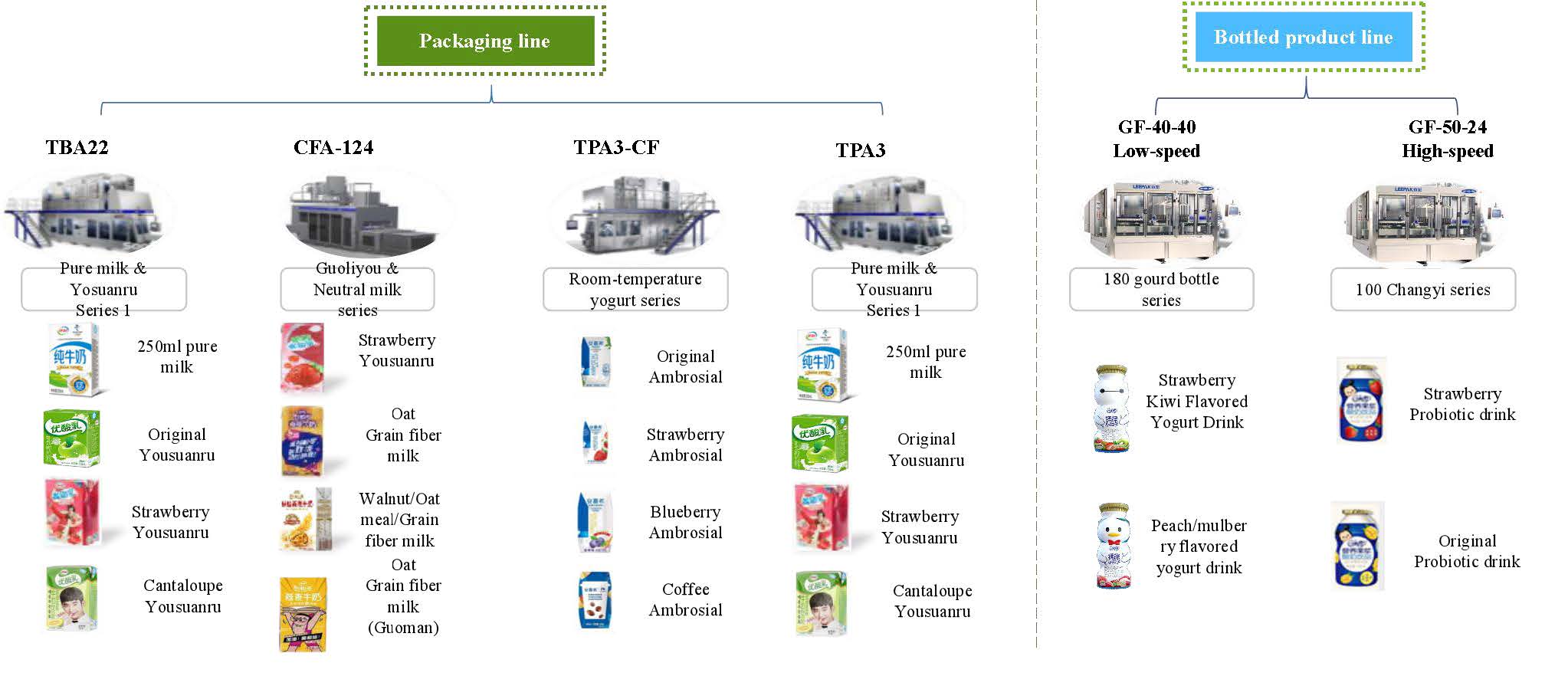 1.2.4 Plant organization
The plant management organization is composed of general manager, deputy general manager and other 10 departments, including production department,
equipment department, technology department, personnel administration department, safety department, energy department, finance department, storage and transportation department, supply department and TPM promotion group.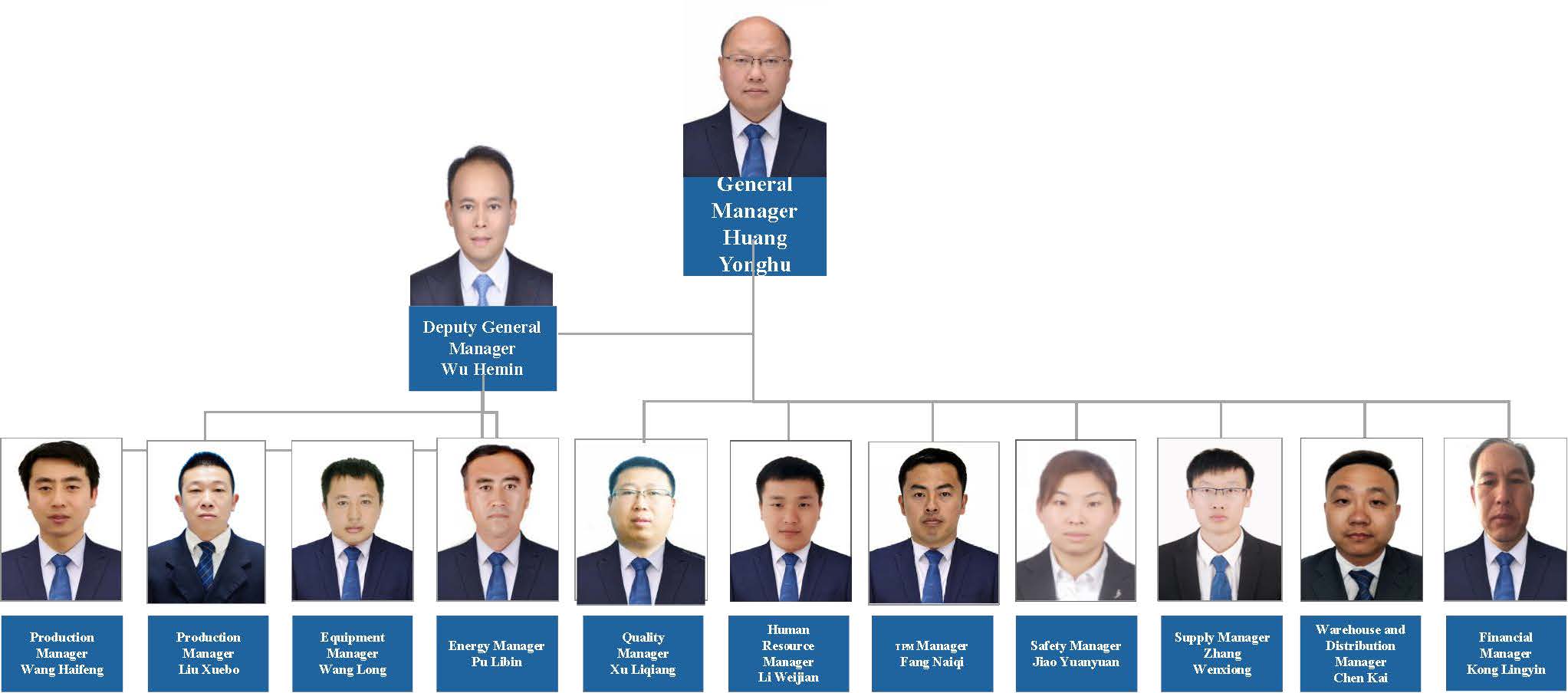 1.2.5 Employee profile
There are 863 employees, 30.7% of them are under 30 years old, 50.2% of them have college education or above, 64.3% of them have more than 5 years
of working experience, and 79% of employees are direct labor.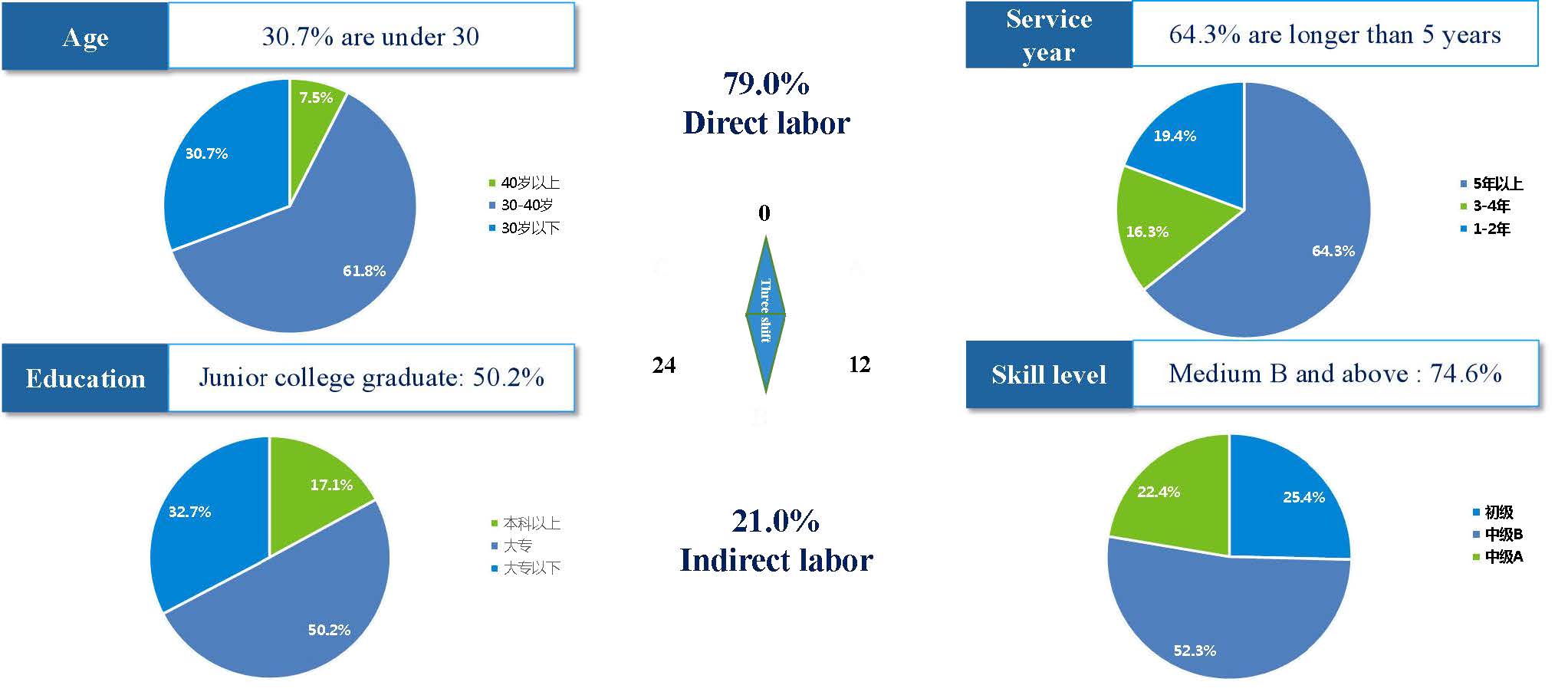 ---
2. Milestones on the journey of Manufacturing Excellence
2.1 TPM introduction background
According to the vision and objectives of Yili Group and the Business Division, and based on the current situation of the plant, we conducted SWOT analysis
on the internal and external environment, formulated Jiyuan Yili strategy and the vision to "become the most cost effective plant of Yili Group". In order to
realize the plant's vision, we introduced the TPM management system in October 2015, which is an advanced continuous improvement system in the world and realizes continuous improvement through total involvement, zero loss and philosophy of prevention. We will continue to apply TPM as a tool to realize the plant's strategy.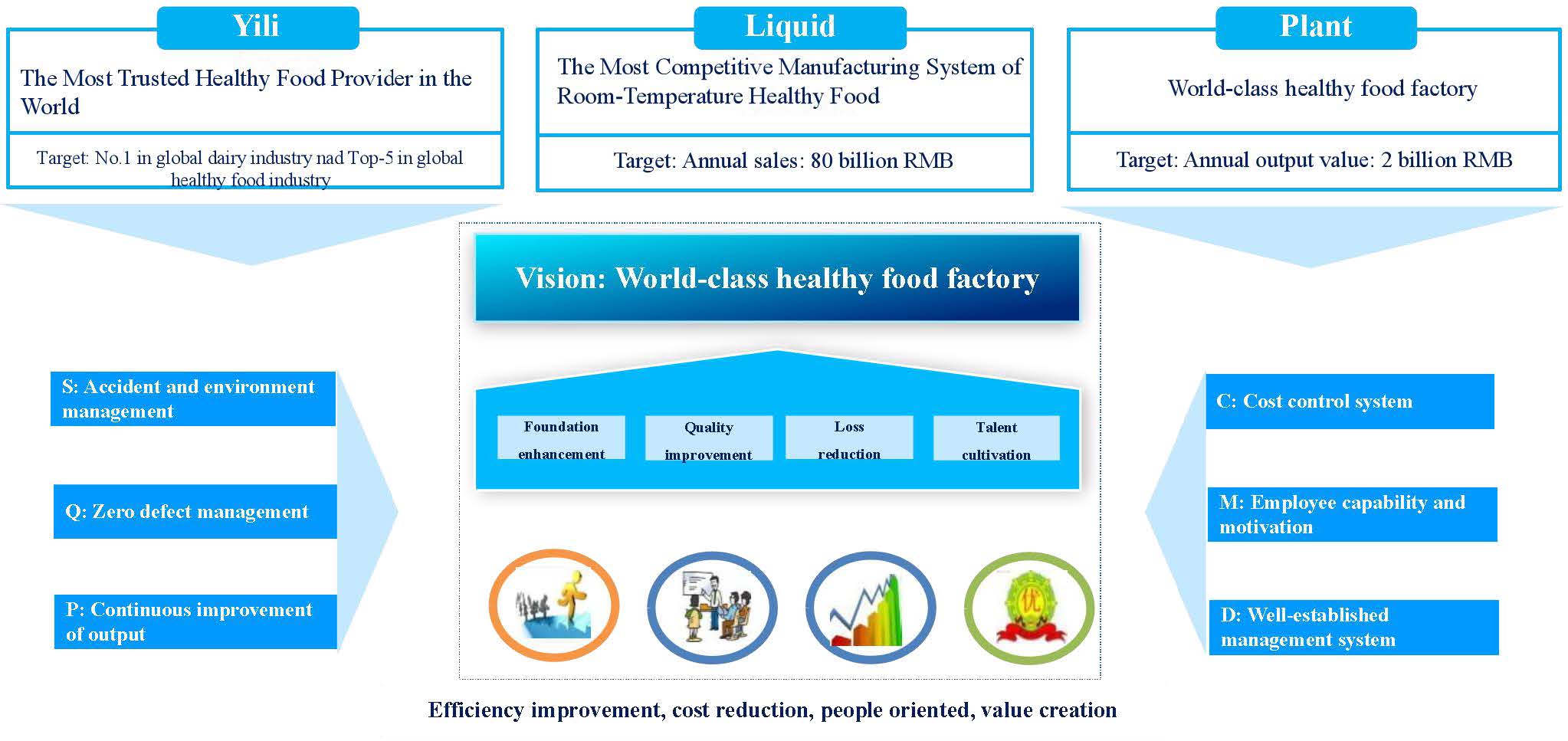 2.2 Plant TPM history
In 2014, the plant imported part of TPM tools and methods, carried out group improvement actions, and laid the foundation for the introduction of TPM
activities; in 2015, TPM was officially introduced into the plant, and FI and E&T pillars were first launched, in 2016, PM, AM, QM, SH and ENV pillars were
launched; in 2018, OM and EM pillars were launched; through TPM activities, the plant has achieved steady improvement in performance and employee
morale. Therefore, we plan to win TPM Excellence Award (class A) in 2020 and continue to win JIPM awards at all levels in the future.

---
3. Benefits Achieved
3.1 Tangible Outcomes



3.2 Intangible outcomes
① It has improved the employee's understanding and application ability of TPM methodology and improved their awareness of improvement.
② Departments are working more closely together and team cohesiveness is improved.
③ A safe and comfortable working environment has been created and staff morale has been improved.
④ The plant has initially established a set of management system for continuous improvement.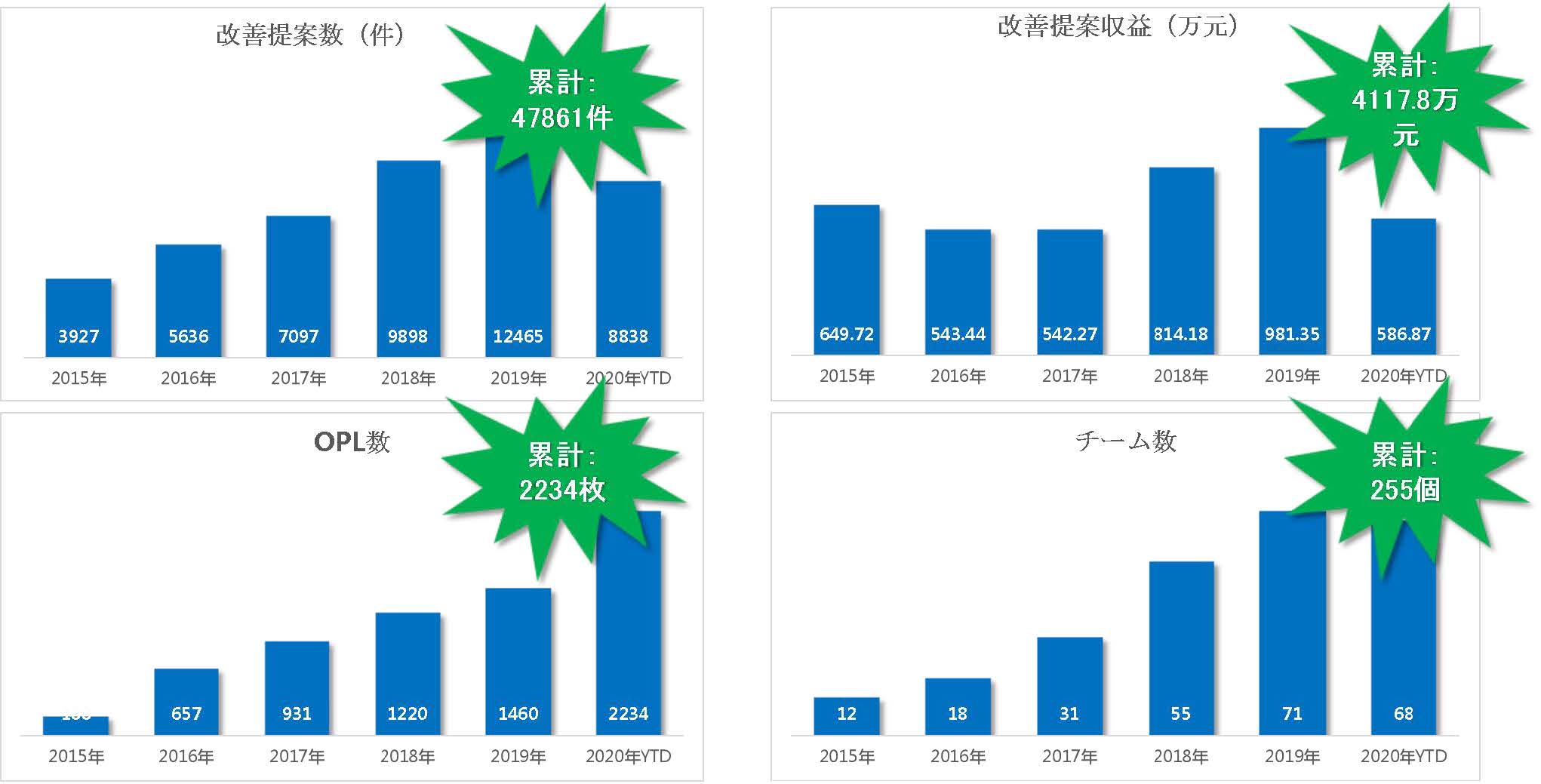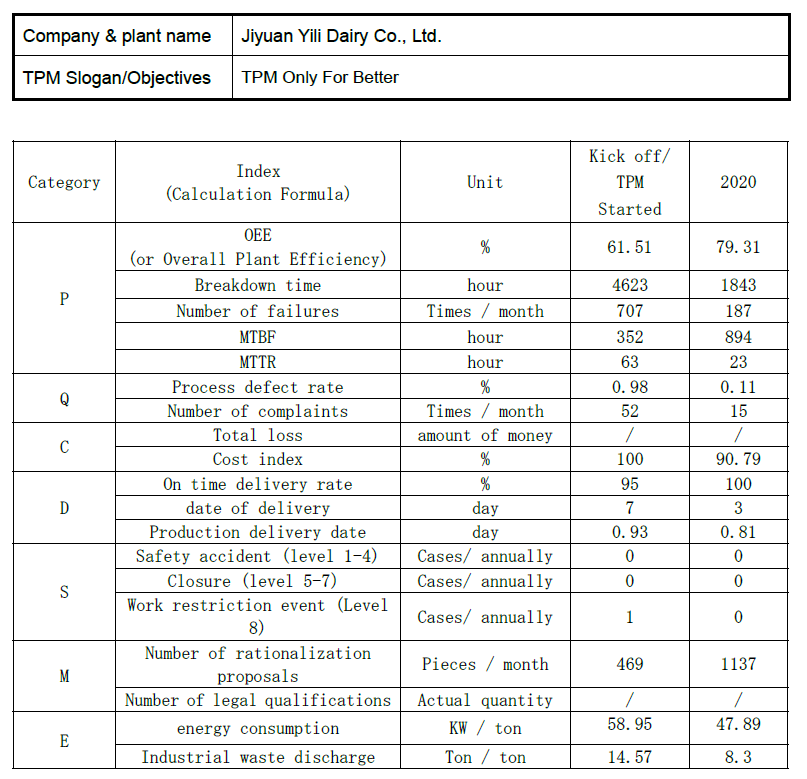 ---
4. Key of our Manufacturing Excellence
① The Business Division and the plant management attach great importance to and insist on the promotion of TPM.
② Departments are working more closely together and team cohesiveness is strong.
③ TPM improvement activities are closely integrated with daily work.
④ A standard methodology is applied for continuous improvement.
⑤ TPM reward system is established to promote the involvement in TPM activities.
---