Jinzhong Yili Dairy Co., Ltd.
| | | | | | | |
| --- | --- | --- | --- | --- | --- | --- |
| year | category | company | plant | area | industry | movie |
| 2020 | Category A | Jinzhong Yili Dairy Co., Ltd. | – | China | – | – |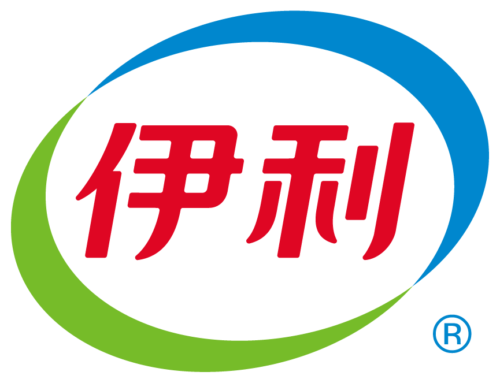 1. Organization Profile
1.1 Yili Group
Yili Group is the largest and most comprehensive dairy company in China in terms of product lines. In the first three quarters of 2020, Yili Group has an operating income of RMB 73.77 billion with a net profit of RMB 6.044 billion, bucking the trend to achieve solid growth in performance. Among them, the core indicators such as total operating income, net profit, comprehensive market share and consumer penetration have been ranked first in Asia, and the ROE continues to lead the Asian dairy industry.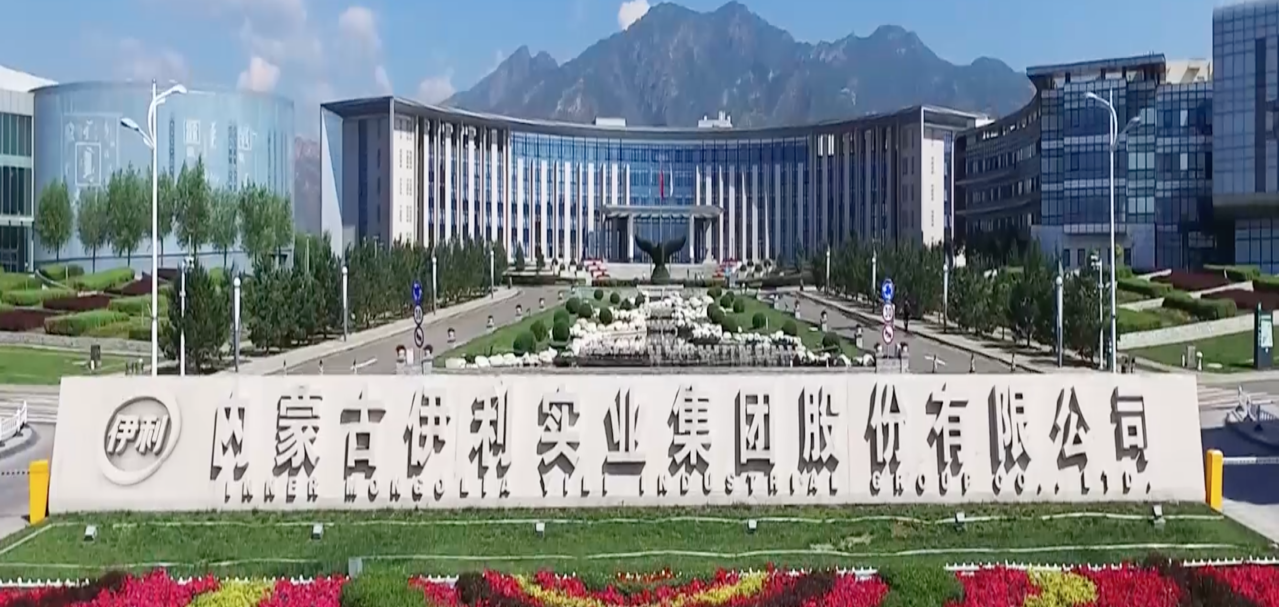 1.2 Plant Overview
1.2.1 Brief History of Jinzhong Yili
Yili Group Jinzhong Yili Dairy Co., Ltd. is located in Jinzhong City, Shanxi Province, China. It covers an area of 190,000 square meters, with a total project investment of 522 million yuan, and is the largest dairy products manufacturer in Shanxi Province. Jinzhong Yili was put into operation in 2015 and TPM was introduced at the same time. Each pillar was introduced one after another in 2016. We accepted the TPM Excellence Award Category A on October 16, 2020.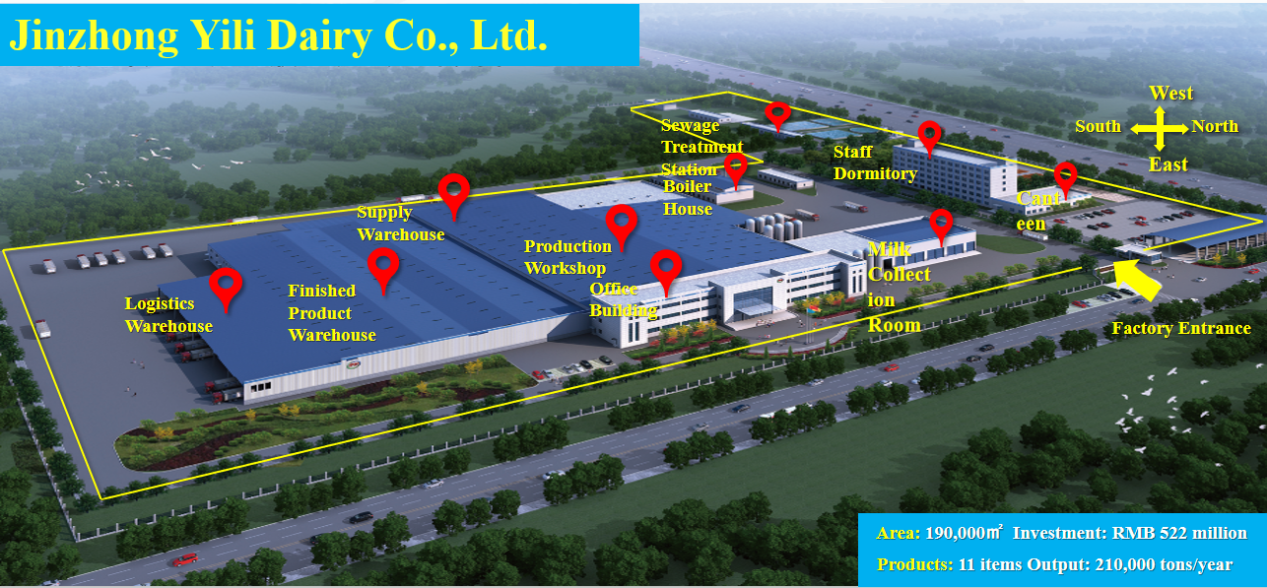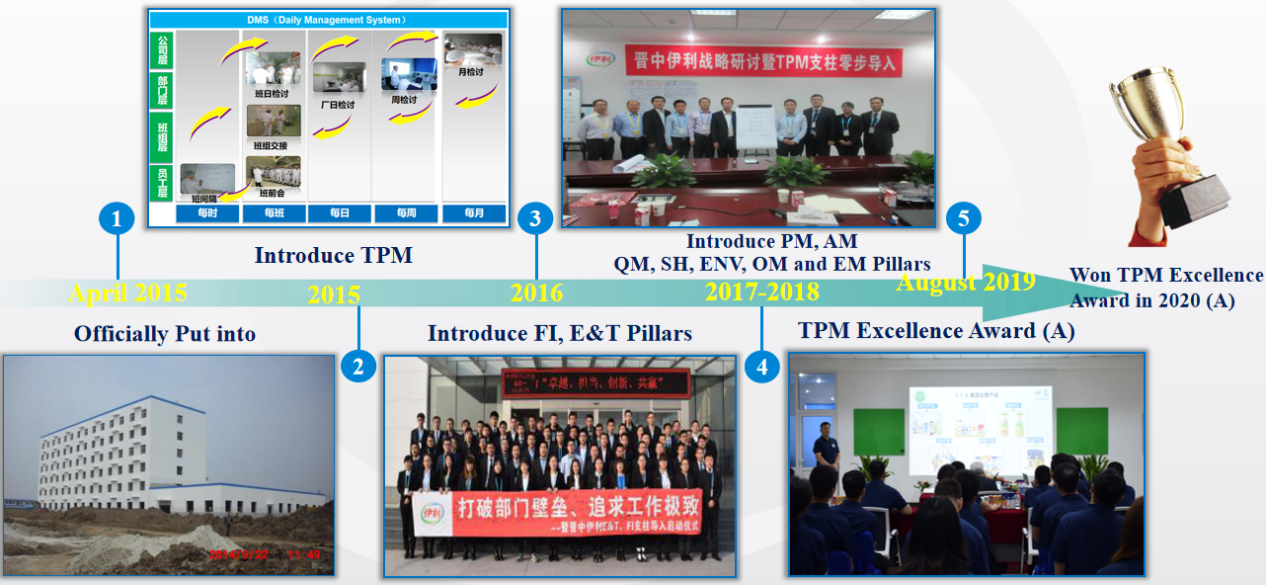 1.2.2 Production Process
Production process: Raw milk inspection and reception → pre-sterilization, pasteurization and standardization → batching and testing → pending storage → ultra-high temperature sterilization → aseptic storage, aseptic filling → packaging and conveying → storage and shipment.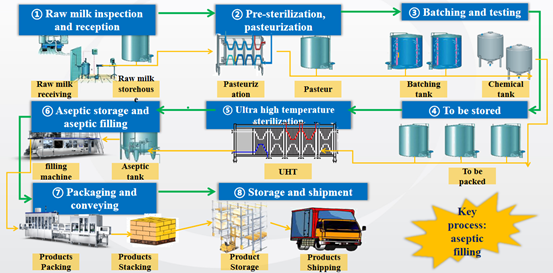 1.2.3 Equipment/Product
The factory has 18 production lines, 2 Tetra Brik Aseptic lines, 8 Tetra Diamond Aseptic lines, 6 Tetra Prisma Aseptic lines and 2 Bailey lines, producing 11 items in 4 sizes.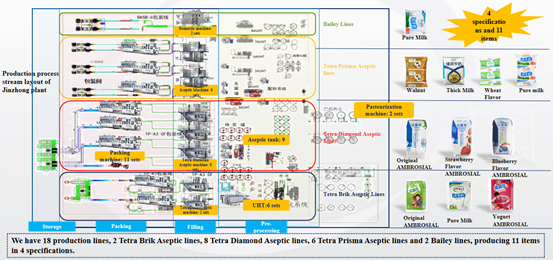 1.2.4 Plant Organization
There are 11 departments under our plant, including safety department, production department, technology department and equipment department.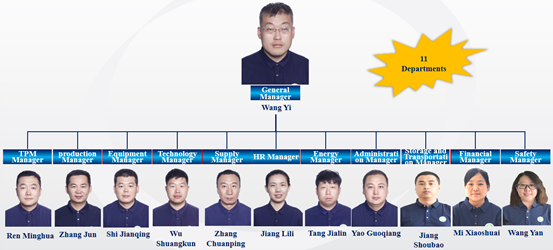 1.2.5 Employee Overview
The average age of the employees in our factory is 28.22, and they are young and energetic. Among them, employees with college education or above account for 65%, who have high academic qualifications and strong execution ability. Employees with intermediate B or above account for 47%. Employees with working experience of less than 3 years account for 44%, whose working experience and skills are insufficient.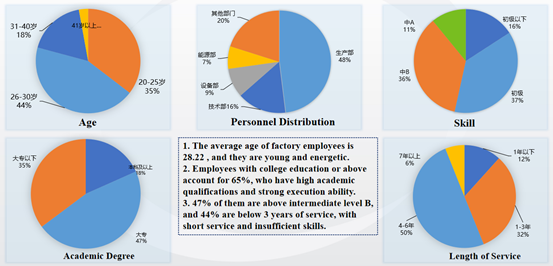 ---
2. Milestones on the journey of Manufacturing Excellence
2.1 Reason for Introducing TPM
Our vision is to be the most reliable health food provider in the world, so our plant must become a world-class health food manufacturing plant. We combined the factory SWOT analysis and formulated the factory strategy: ensuring safety; improving satisfaction; enhancing skills; increasing profit. We introduced TPM in order to realize our strategy.


2.2 TPM Milestones
Our factory introduced the basic work such as proposal, DMS, standardized operation and 5S one after another in 2015. After the official launch of TPM in 2016, we introduced nine pillars such as focus improvement, education and training, and equipment maintenance. We accepted the assessment for the TPM Excellence Award (Category A) in 2020 and will continue to strive for JIPM awards at all levels in the future.


---
3. Benefits Achieved
3.1 Tangible Results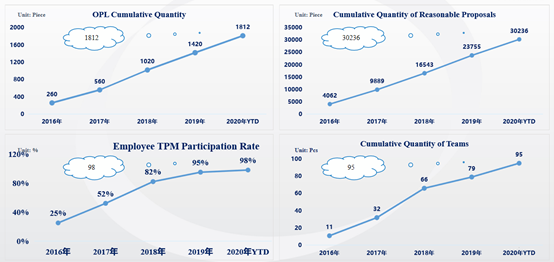 3.2 Intangible Results
①The understanding and application abilities of TPM have been increased among employees.
②Collaboration between pillars has become closer, bringing greater cohesion in teams.
③Our operators are more willing to receive training and adhere to the standards more strictly.
④A management system with continuous improvement in factories has been established.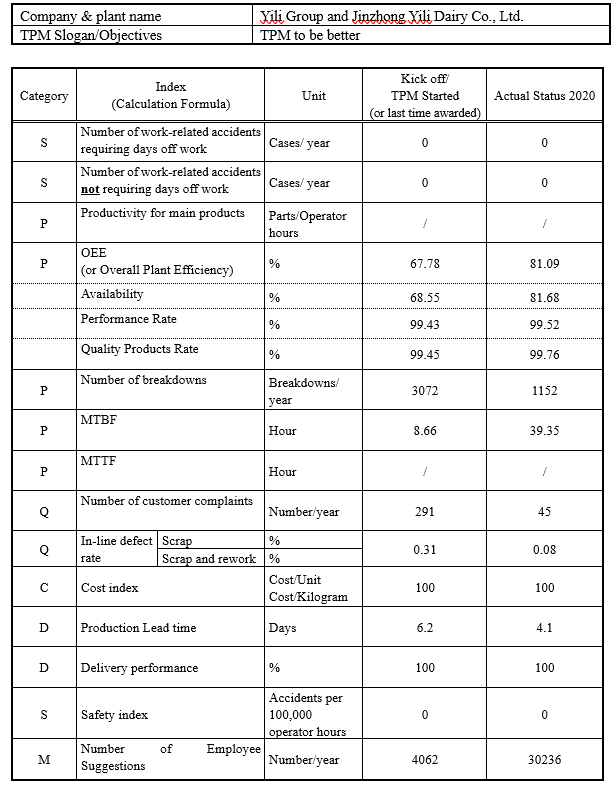 ---
4. Key of our Manufacturing Excellence
 Our general manager and all levels of management personnel's attention and persistence to TPM.
 Closer collaboration between departments through TPM activities.
 Integration of TPM activities with daily work.
 Continuous maintenance and improvement by applying a standard methodology.
 Establishing TPM incentive system to drive more people to participate in TPM activities.
---