Guangdong Yili Dairy Co., Ltd.
| | | | | | | |
| --- | --- | --- | --- | --- | --- | --- |
| year | category | company | plant | area | industry | movie |
| 2020 | Category A | Guangdong Yili Dairy Co., Ltd. | – | China | – | – |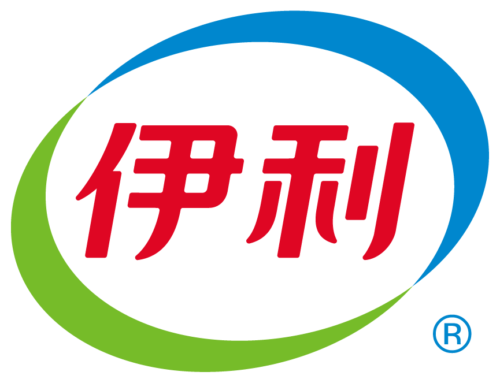 1. Organization Profile
1.1 Company Profile
Founded in 1956, Yili Group has gone through three stages of development. According to the latest list of the world's most valuable brands, Yili Group has become the second most valuable food enterprise in the world and retaining the first in Asia. We add credo of Yili is the quality on the enterprise vision,100% devoted to the highest standard of safety and health .Yili Group has 98 subsidiary companies, and established research and development institutions and subsidiary companies in Europe, North America and Oceania, realizing the global network distribution. The Group has six business divisions: milk powder, cold drinks, liquid milk, yogurt, cheese and beverage, covering six categories of products including yogurt, cheese, liquid milk, cold drinks, milk powder and health drinks. In 2018, the Group's business expanded to the domain of plant protein and energy drinks. In 2019, Yili's operating revenue was up to RMB 90.223 billion and its net profit hit RMB 6.933 billion. With the growth in both revenue and net profit, Yili was ranking first in Asian dairy industry.As one of the 36 subsidiaries companies under the liquid milk business division of Yili Group, Guangdong Yili is the only liquid milk production plant in South China of Yili Group.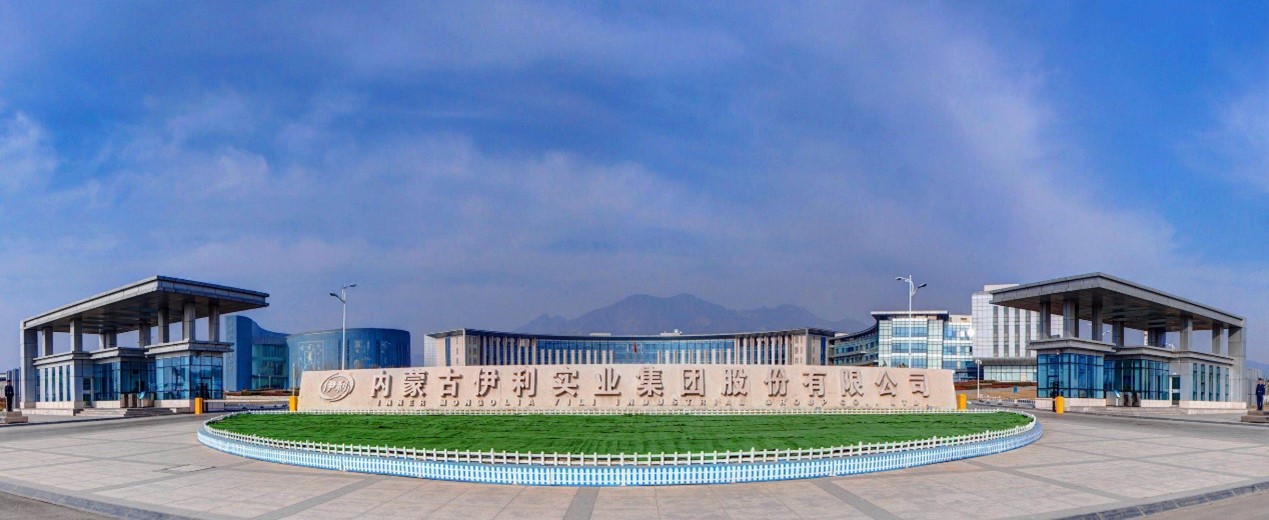 1.2 Plant at Jinan
Guangdong Yili is located in Huizhou City, Guangdong Province, covering an area of 133,300 square meters. Design capacity is 1,200 metric tons per day.


1.2.1 Company brief history
In 2012, the foundation was laid, yogurt was put into production in 2013, QQ Star brand was put into production in 2014, and TPM was introduced in 2015. In 2017, Guangdong Yili was awarded the second-class enterprise of Guangdong Provincial Safety Production Standard. In order to continue meeting customer's needs, new pineapple cheese products were produced in 2019.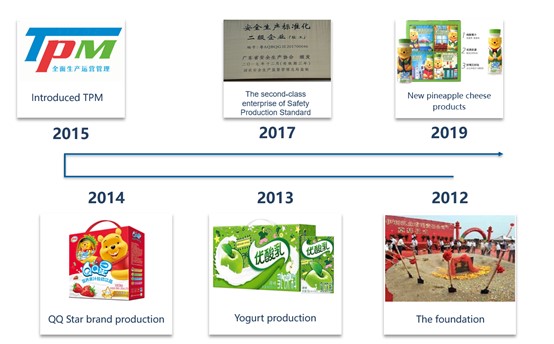 In 2020, the production quantity reached a new record. In order to continue meeting customer's needs, two new TPA3 production lines were added, with an estimated production quantity of 368,000 metric tons in 2021.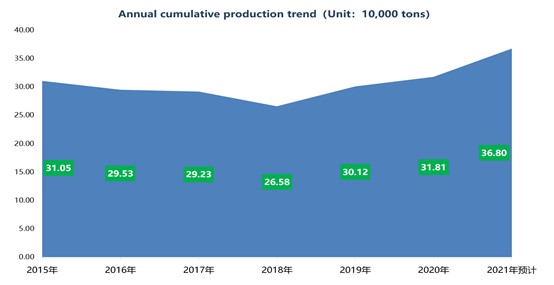 1.2.2 Equipment and Products
In order to ensure that the products meet the food safety requirements, the company imported high-end inspection equipment from Japan, Germany, and the United States, more than 500 items were inspected cumulatively. The production process is divided into four stages: raw material receiving, pretreatment, filling and packaging, and storage. All the products are produced by advanced equipment at home and abroad. There are 12 production lines in total, which can produce 10 kinds of products such as brick type and HDPE200 square vase, etc.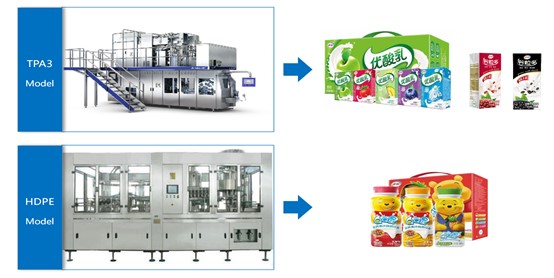 1.2.3 Organizational structure
The company has 11 departments, including safety department, production department, equipment department, technology department, TPM improve team, etc.


1.2.4 Employees
There are 544 employees, with an average age of 32 years old, among which 53% are college degree or above, and 72% are direct department staffs. 59% of employees have worked for more than five years, the stability of staffs meets the needs of the factory.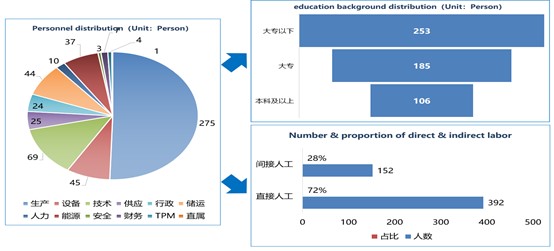 ---
2. Milestones on the journey of Manufacturing Excellence
2.1 Why we introduced TPM?
Yili group's vision is "Be the most trusted global healthy food provider", in order to support group's vision, liquid milk business division set the turnover target of 80 billion yuan in 2020. For achieving the target of liquid milk business division, the factory determined its strategy of "enhancing safety and environment, improving quality, controlling cost, increasing efficiency and cultivating the talents" through the SWOT analysis.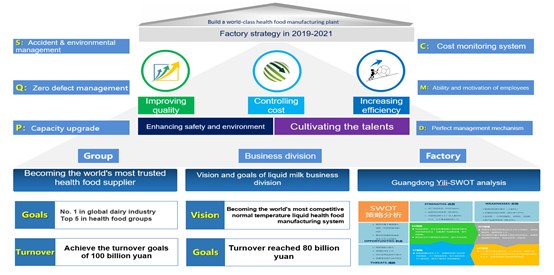 In 2014, we successively introduced OEE system, DMS, standardized operations and other basic work. In 2015, TPM was officially launched, and FI/E&T/PM/AM/QM/SH/ENV/EM/OM pillars were respectively developed. In order to verify the effect of TPM promotion, we applied for TPM Excellence Award (A) category certification in 2020 and passed the preliminary examination. In 6 years, from point-type improvement to standardization and systematic improvement, the pattern of our improvement campaign has been initially formed finally. Following the TPM campaign continues to develop, we determined to pass the TPM Excellence Award (A) category in 2020 and continue to challenge the TPM Continuing Excellence Award in 2022.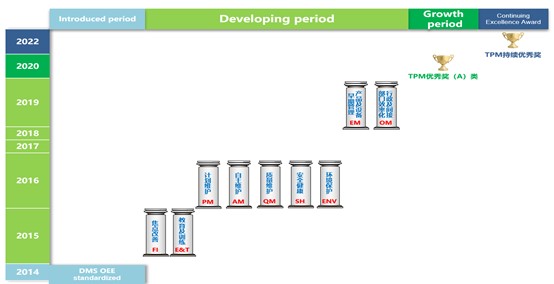 ---
3. Benefits Achieved
3.1 Tangible benefits: Improved performance
The cumulative profit margin up to now by 2020 is 10.61%. In terms of quality – no food safety incidents, the complaint rate was 0.022%, and the number of complaints was 15, ranking the top three in the Business Division. In terms of efficiency -OEE reached 86.95%, ranking the first in the Business Division. In terms of cost – the cost index per ton reached 87.19%, ranking the first in the business division.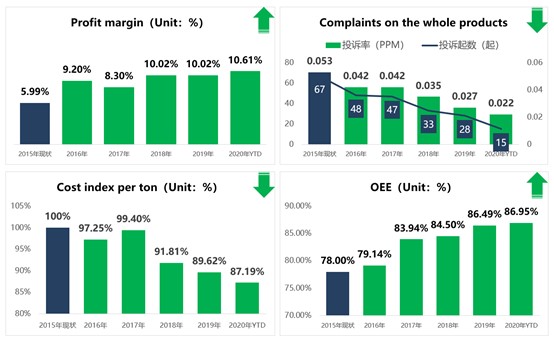 3.2 Intangible benefits: Improved performance
Create a safe, healthy and comfortable working environment.
Enhance employees' awareness of improvement and strengthen communication between departments.
Employees share TPM achievements independently, improve their recognition of TPM, and gradually put TPM tools into practice.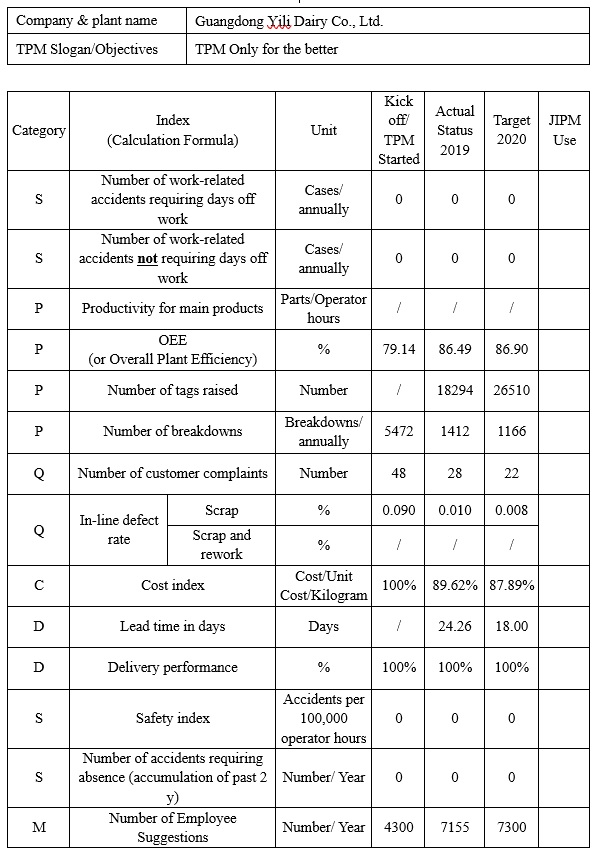 ---
4. Key of our Manufacturing Excellence
4.1 Developing at present
Factory management pays attention to and insists on TPM.
Departments work more closely together.
Integrate TPM campaign into routine work.
Through TPM campaign, we can change employee's awareness, promote performance, improve employee's enthusiasm and integrate into corporate culture.
4.2 Future plans
According to the requirements of certification conditions, expanding, reviewing the pillar activities, check the missing and fill the vacancy. Expand the scope of supply chain according to the requirements of certification conditions. Develop the management of preventive activities comprehensively and make it visualized. Regard the FI pillar as the leading role, find the bottleneck, establish zero defect and zero fault mode, and regard zero as the goal, achieve the result of zero complaint and zero fault loss. TPM promotes expert training and improves expert training!
Integrating market demand with the corporate's ability to produce innovative products or production methods. Establish a production system which can respond to new products or multiple small items in a timely manner. Organize professional education courses for employees for the purpose of developing the managers to understand business, finance, technology and skills. Manage the operating resources (people, material, capital and intelligence), build an pioneer integrated system for dairy industry.
---