Essae Digitronics Private Limited Weighing Systems | Precision Forged and Machined Components Plants
| | | | | | | |
| --- | --- | --- | --- | --- | --- | --- |
| year | category | company | plant | area | industry | movie |
| 2020 | Category A | Essae Digitronics Private Limited | Weighing Systems | Precision Forged and Machined Components Plants | India | – | – |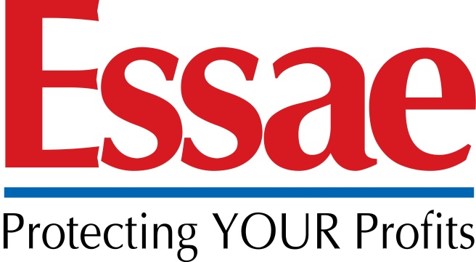 1. Organization Profile
Essae Digitronics belongs to the esteemed Essae Group of Companies that was founded in 1965 with a vision of serving society by supplying quality products that provide high value for money. The Essae Group of companies is currently engaged in the manufacturing and marketing of Electronic weighing scales and systems, Auto Components, Electronic Cash Registers, Bar Coding and Scanning Systems, PCB Assemblies etc. One of the group companies – Essae Chandran Training Institute is engaged in enhancing the knowledge of Indian Organizations in the realms of Quality Management. With 11 manufacturing facilities in Bangalore, Pondicherry and Goa and over 68 Marketing outlets across the country, Essae Group is a progressive business conglomerate.
Essae Digitronics Private Limited established in 1996, an ISO 9001:2015 and ISO TS 16949:2009 certified company, comprises of eight manufacturing plants and eleven branch offices across India, headquarters in Bangalore. Our business focus includes manufacturing and marketing of Truck Scales, Transient Weighing Products, Rapid Load-out Systems, Machined Components, Speedo Hub Drive for Automotive Sector. The name of the group Essae comes from the initials of the founders S.A.Chandran and S.A.Venkatesan i.e. Essae.
---
2. Milestones on the journey of Manufacturing Excellence
Vision of Essae Digitronics will be admired by its Stakeholders and will be recognized as a Compelling Company to Buy, Work, Invest and Associate. The Purpose of Essae Digitronics is to enhance the Quality of Life of Stakeholders by being Obsessive with Quality of Products to earn Customer loyalty.
In today's competitive scenario, to achieve business excellence in all the spheres, it needs team work and TPM is one of the best manufacturing practices followed by world's successful companies.
In 2015, the motivation to initiate TPM activities in the company was provided by our Independent Director of the Board, Mr. J. Srinivasan-Former Managing Director of TTK-LIG (JIPM TPM Excellence award winner) and member on the board of TPM Club of India. Even to this day, Mr. J. Srinivasan continues to mentor our organization in this journey of TPM adoption.
TPM Journey drives Essae Digitronics shall implement TPM Practices with 'Shradha'(Commitment) in order to achieve seven zeros indices in our manufacturing practices. I.e., Zero Accident, Zero Breakdowns, Zero Defects, Zero Delays, Zero Inventory, Zero Noncompliance and Zero waste.
TPM Journey started in February 2015 with 6 Manager Model Machines, demonstrated by a team of competent and committed managers to the operators. Essae Digitronics launched TPM activities on 22nd Jan 2015 with formal Kick-Off held in presence of Mr. J. Srinivasan-Former Managing Director of TTK-LIG and our customers.
---
3. Benefits Achieved
TPM Implementation at Essae Digitronics, there been major changes in the company's culture, first one was better ownership KPIs among the team members, second cultural change that we had was that people were knowing what and how to approach the improvement and third cultural change was they were able to achieve results far better than before. Below are few tangible benefits on key business results in terms of PQCDSM.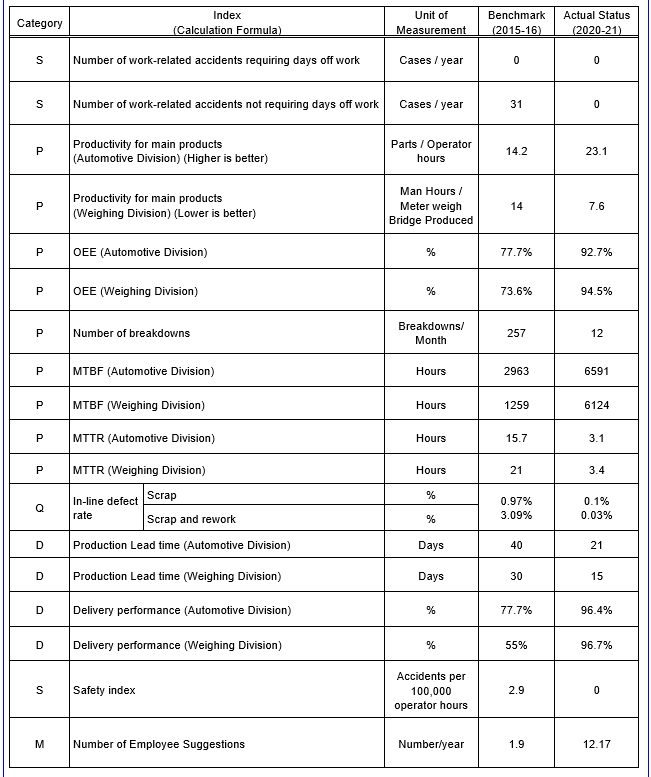 Employee Involvement and Motivation and Other Intangible benefits:
-Enhanced ownership and accountability from employees
-Excellent Team work
-High level of Motivation
-Better Upkeep of workplace
-Improvement in employee satisfaction levels
-Improvement in Skill levels and Enhancement of Knowledge
-Sharing of Knowledge and experience
---
4. Key of our Manufacturing Excellence
The Key to our manufacturing excellence is lies in continuous improvement activities and periodic review of pillar activities and results to meet the business results.
Future Plan:
• Involving supply chain management to further reduce inventory for improving turnover and profits
• Implementing innovative / break through kaizens across work place to achieve "ZERO" losses
• Up keeping the momentum of all employees by maintaining the positive work culture
• Integrating TPM to sales and service functions
• Application of Industry 4.0 across all business functions
---