C.P. VIETNAM CORPORATION TIEN GIANG FACTORY BRANCH
| | | | | | | |
| --- | --- | --- | --- | --- | --- | --- |
| year | category | company | plant | area | industry | movie |
| 2020 | Category A | C.P. Vietnam Corporation | Tien Giang Factory Branch | Viet Nam | – | – |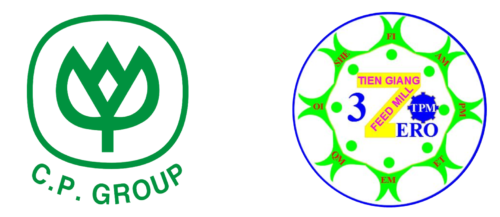 1. Organization Profile
1.1 Company Profile
1.1.1 CPV History
C.P. Corporation (Charoen Pokphand Group) was established in 1921 in Bangkok, Thailand. Now it is a multi-industry manufacturing corporation and one of Thailand's strongest corporations in the field of industry – agriculture and food processing. C.P. Group started in Vietnam in 1988, has representative office in Ho Chi Minh city. In 1993 C.P Breeding ltd., Co was established. Its Head office is in Industrial zone Bien Hoa 2, located in Bien Hoa city, Dong Nai province. In 2011 it changed name to C.P Vietnam Corporation (CPV).
Major business sectors include:
– Animal Feed
– Aqua Feed
– Breeding livestock and poultry.
– Aquaculture
– Food processing
– Distribution and retail food
CPV has a closed multidisciplinary production system according to 4F model "FEED-FARM-FOOD – FOOD OUTLETS" is a strength of CPV in producing high quality
and safe food for consumers.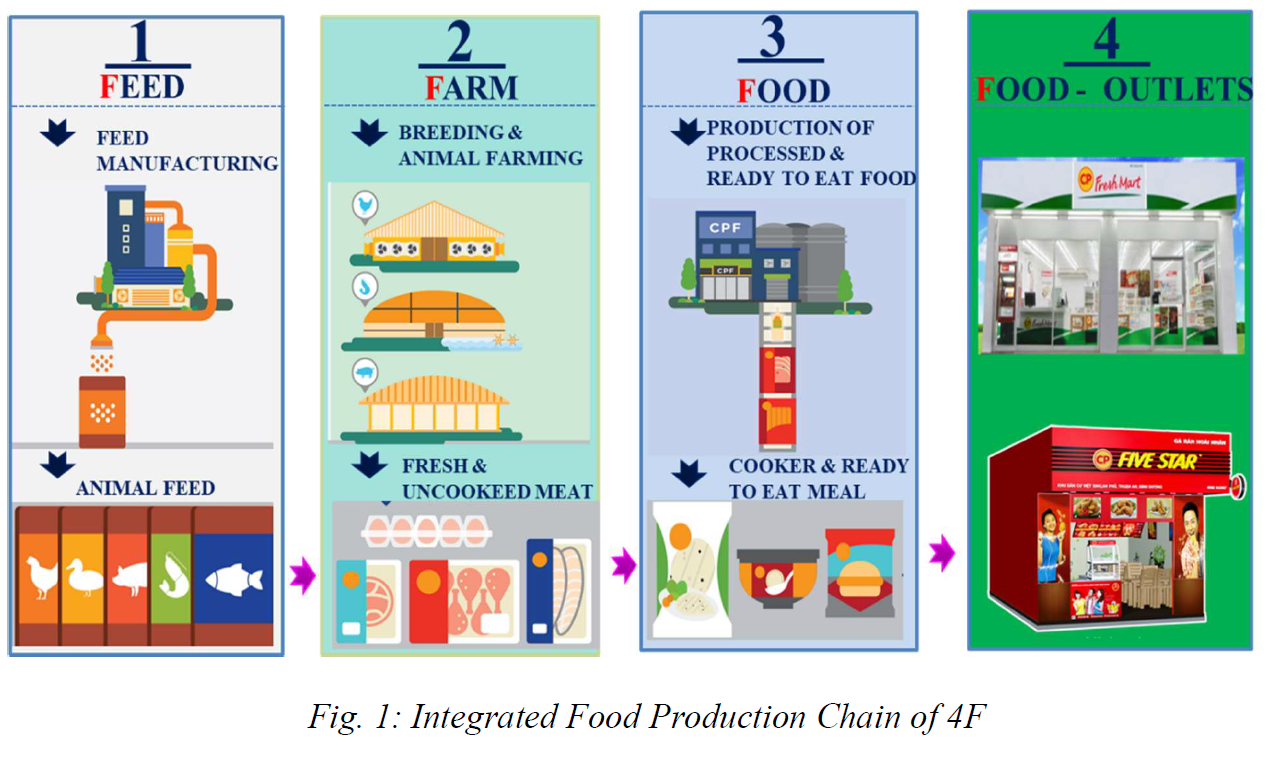 1.1.2 CPV Logo
Lotus is a symbol of greatness, love and sharing. Lotus is holy virtue, love, tolerance, kindness and nobility. Therefore, C.P. Corporation chose lotus as a symbol.
1.1.3 CPV Vision
"Kitchen of the World"
1.1.4 CPV Mission
C.P. invested in Vietnam with the mission:
1. Expanding the business of industrial and agricultural and closed foods.
2. Create growth potential towards world level
3. Leading in quality and safe food.
4. Promote initiatives and increase efficiency.
5. Focus on developing human resources.
6. Socially and environmentally responsible
1.1.5 CPV Values
C.P Corporation has built a working culture to encourage everyone to participate in work and make decisions based on trust, honesty, morality, and the desire to create value for society by communicating six core values of the C.P Group, including:
1. Three benefits towards sustainability: Benefits for the country, benefits for peoples and company benefits.
2. Speed and Quality
3. Simplification
4. Adapt to change.
5. Innovativeness
6. Integrity, honesty, reciprocity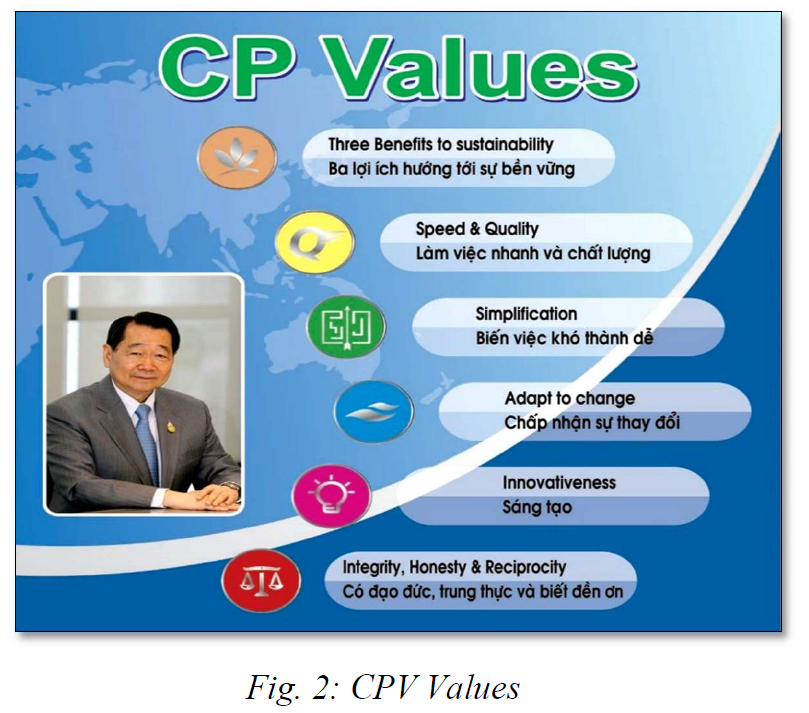 1.1.6 CPV Organization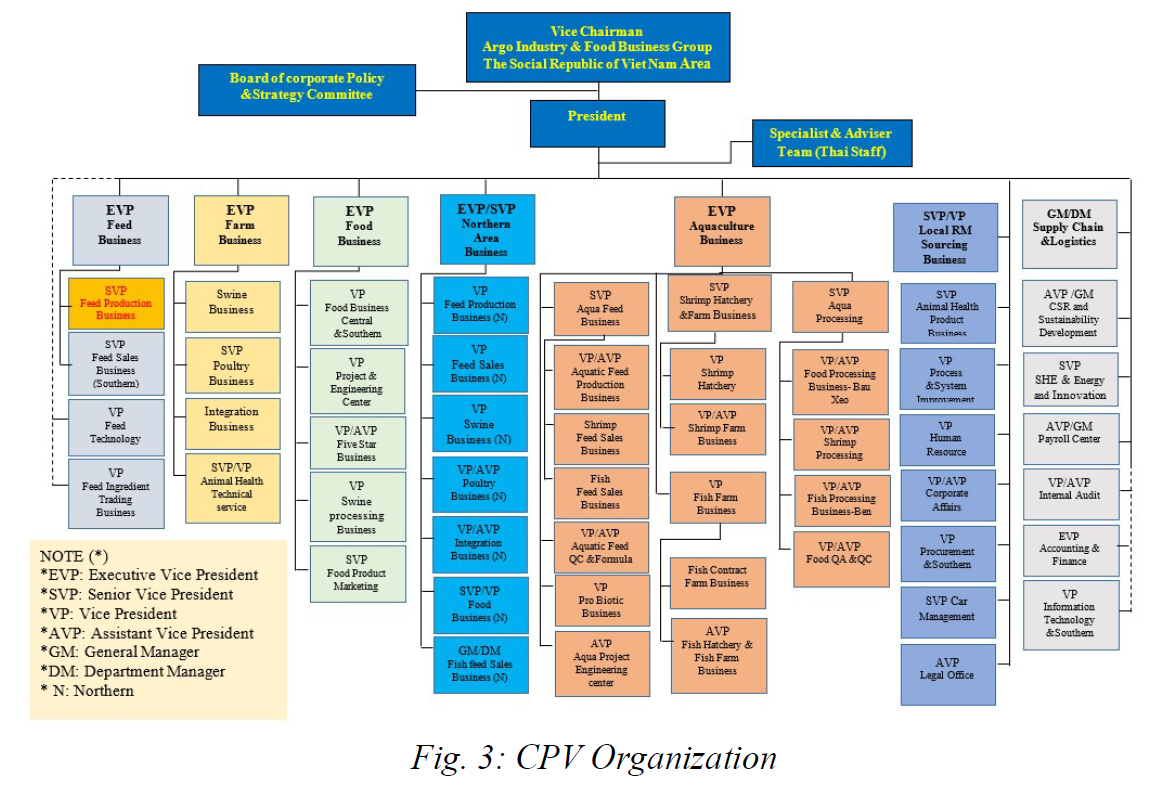 1.2 Feed Business Unit Profile
1.2.1 History


Animal feed production is the first in the integrated food production chain the 4F model of CP Vietnam. In 1993, CPV invest building the first animal feed factory in Vietnam at Bien Hoa Industrial Zone 2, Dong Nai Province.
Now, CPV is a pioneer and leader in production and sale of animal feed in Vietnam. The major products include cattle feed (pigs, beef cows, dairy cows), poultry feed (chicken feed, duck, quail), aqua feed (shrimp, fish). CPV produces various form of feed, such as concentrate, mash and pellet appropriate to the characteristics and development stage of each animal type. Products are distributed to farm and dealer systems across the country.
CPV's feed and aquatic products are produced from strictly controlled raw materials and has a modern laboratory system to control the nutritional value and the residue of banned substances in the raw materials.
1.2.2 Market share in Vietnam
In 2015, the market share of CPV accounted 21%, and increased to 25% in 2019.The trend of CPV market share increase year by year and now we are the lead of the animal feed industry Vietnam.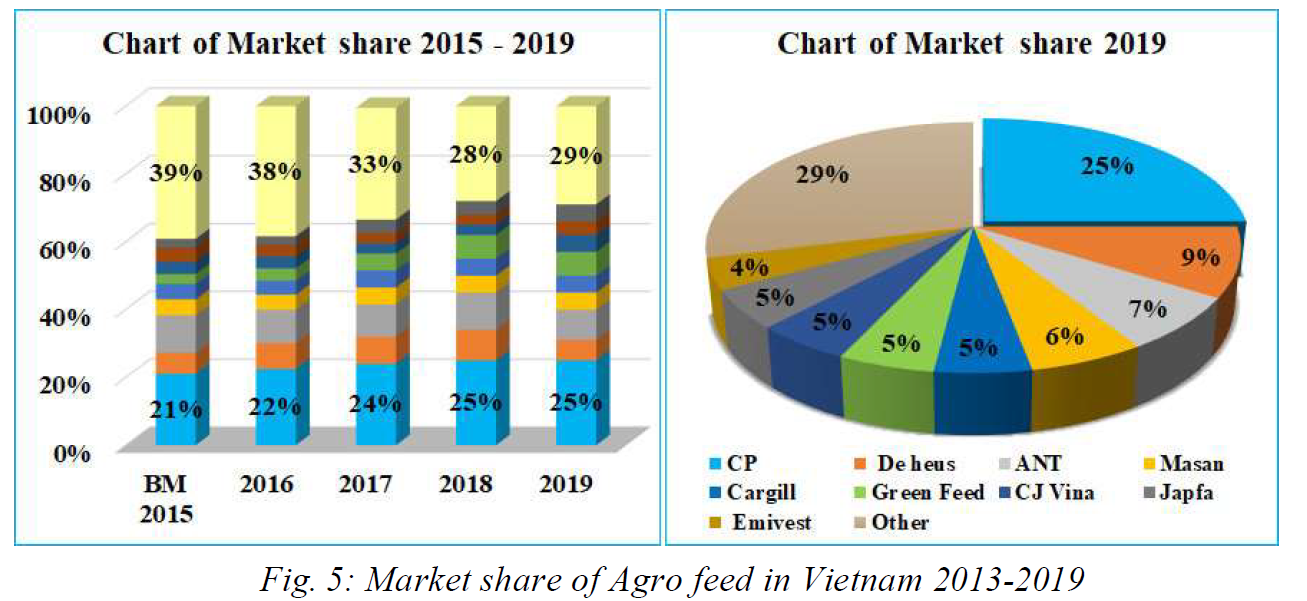 1.2.3 CPV Feed Business Unit Vision
"Agro Feed Manufacturer Leader in Vietnam"
1.2.4 CPV Feed Business Unit Policy
Product good quality and safety feed with competitiveness cost; increase feed capacity to support growth of integrated business Feed-Farm-Food with high technology, environmentally friendly and sustainable.
1.2.5 Feed Business Unit Strategy
 Implement TPM (Total Productive Maintenance) to increase production efficiency, reduce production cost, develop knowledge and skill for employee.
 Create standard systems (ISO and HACCP) to provide good quality, safety feed, customer satisfaction service and build safety-healthy workplace, friendly
environment.
 Create continuous improvement system (3i) to increase competitiveness
1.2.6 Feed Business Unit Organization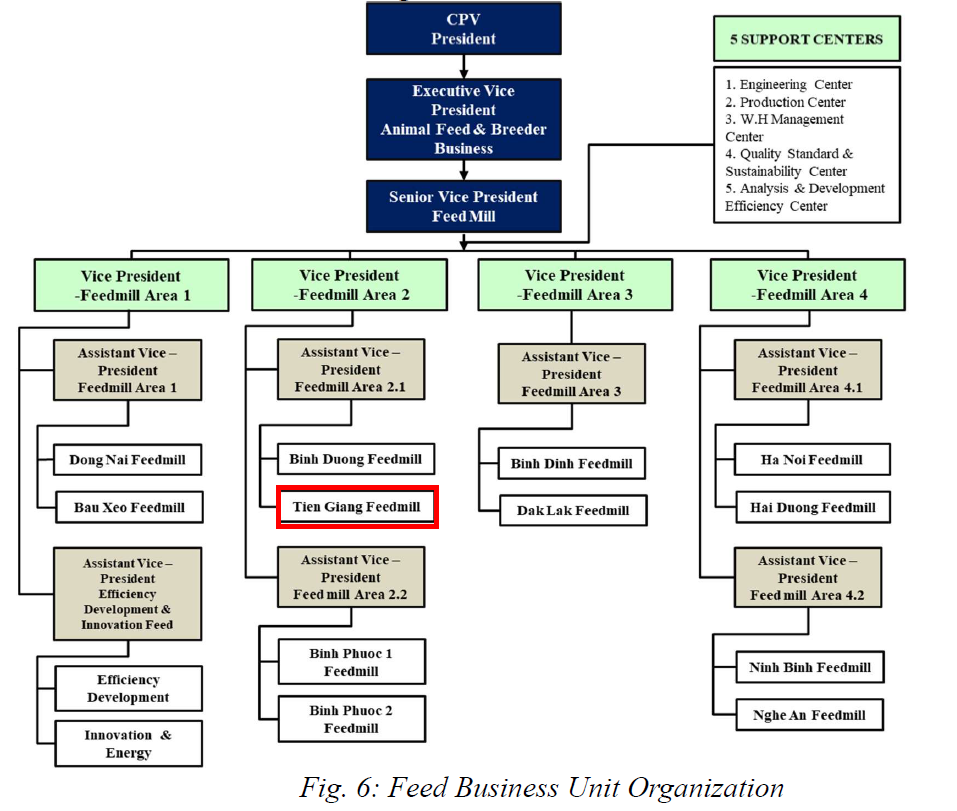 1.2.7 CPV Feed Mill in Vietnam
With policy of continuous development and expansion, we have built 8 plant spanning from North to South. In future, we will build the new plants. Currently, total capacity of CPV is 5,222,400 tons/year


1.3 Plant Profile
1.3.1 History of Plant
– Plant Name: C.P. Vietnam Corporation – Tien Giang Factory Branch
– Address: My Tho Industrial Zone, Trung An Award, My Tho City, Tien Giang Province.
– Area: 50,000 m2
– Construction: 01/2000
– Start Operation: 06/2001
– Product: Animal Feed
– Brands: HIGRO, CP, STAR, NUVO, BELL
– Production: 45,000 Ton / Month
– Employees: 168
1.3.2 Organization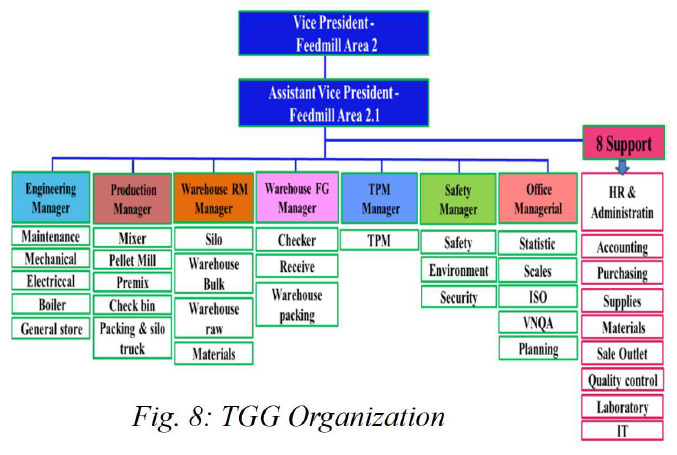 1.3.3 Work Force
C.P. Vietnam Corporation always focuses on training to developing skills and knowledge for employees at all levels. Especially, the development of Vietnamese managers at the management level in order to create opportunities for Vietnamese managers demonstrate their full potential, knowledge and management capacity in managing C. P's comprehensive business activities.


1.4 Main Product
Main product of the TGG factory is animal feed. The most of them is Pig feed account 64%, besides are other feeds (Chicken, Duck, Quail and Cow).
About feed shape, the most of them is pellets accounts 94%. Currently, we have two customer groups: direct farm 37% and dealer 63% with mainly packaging is bag, accounts 99.56%.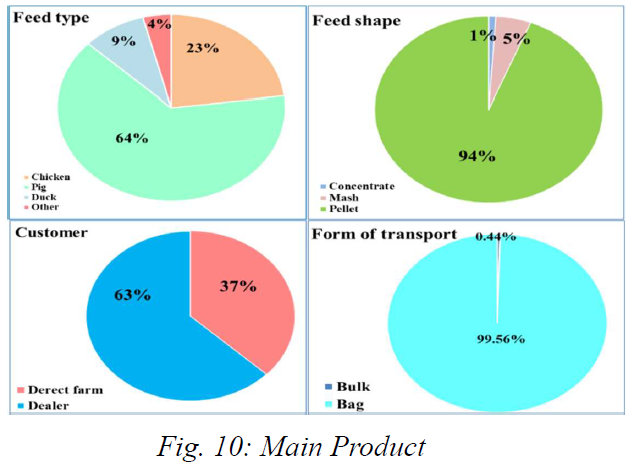 1.5 Production Process
The production system of the factory has 7 main processes including: Receiving, Storing, Raw material preparing, Mixing, Pelletizing, Packing, Delivery. In which the mixing process is the most important because it determines the consistency of the feed aswell as the high accuracy of nutrient content in the feed to suit each period of growing ofeach animal.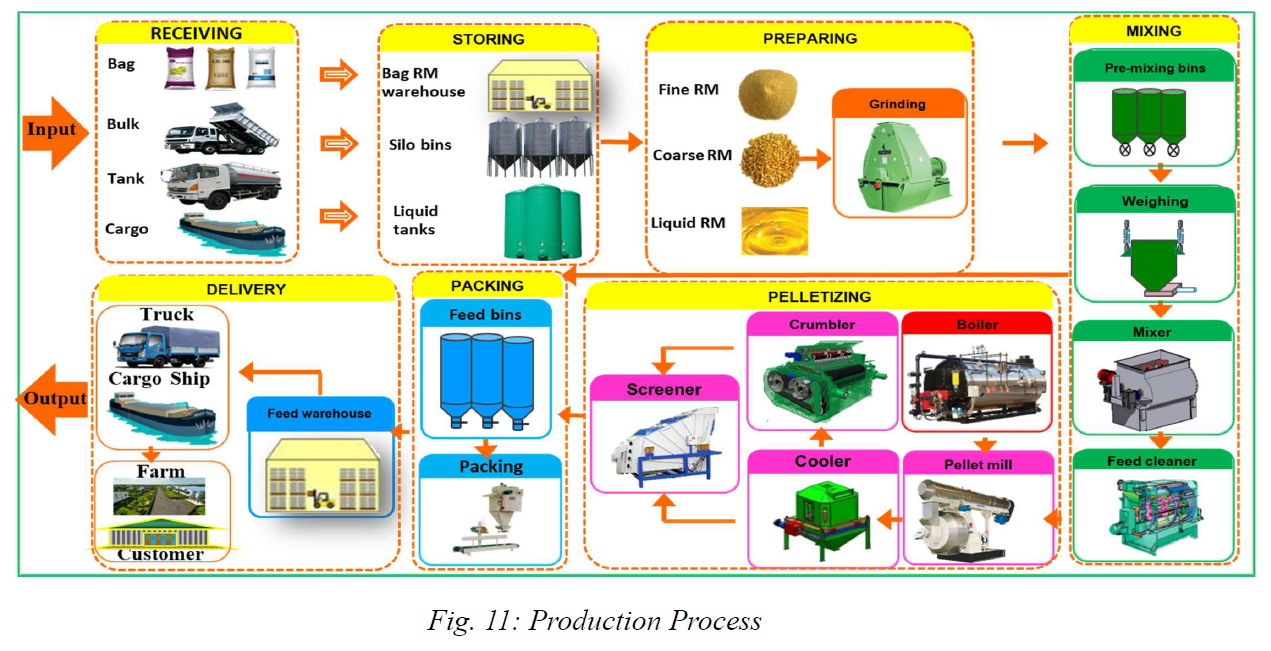 1.6 Main Machine
To implement the production system through the 7 processes above, there are 1016 machines in factory. Machines in Feed mill has been used for 20 years.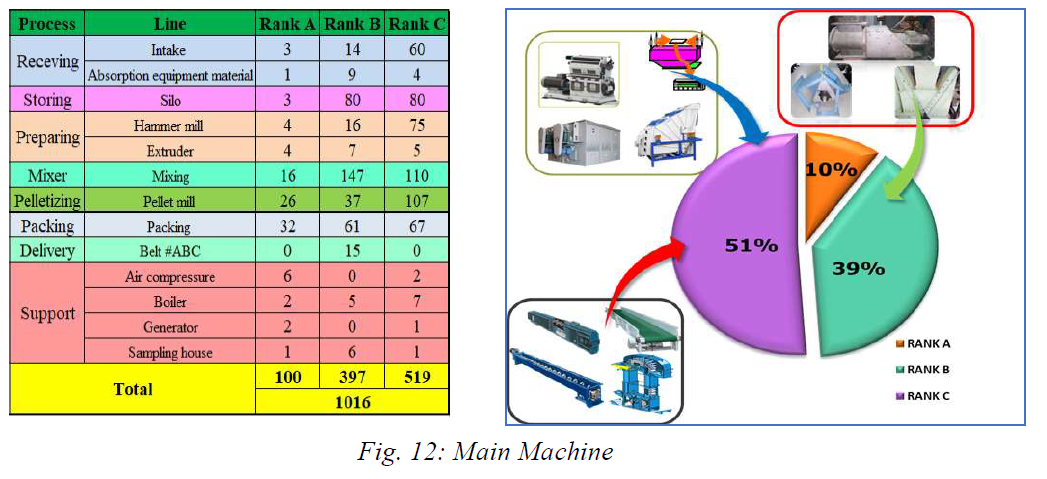 ---
2. Milestones on the journey of Manufacturing Excellence
C.P. Tien Giang was built in 2000 and start operating in 2001. In 2015 the factory achieved the system certifications such as ISO 9001, ISO 14001, ISO 22000 HACCP. It is the third feed mill of C.P Group when invested in Vietnam. Over 20 years of production and business, machinery of the factory has deteriorated which makes productivity not increased, product quality is not guaranteed, costs are not controlled. Besides that, the factory also exists 5Ds (Danger, Difficulty, Dirt, Down time AM, Defect In line) and 8 Leaks (Leak Feed, Leak Oil, Leak Liquid, Leak Pneumatic, Leak Steam, Leak Electricity, Leak Dust, Leak Raw material) occurs many times. Recognizing this problem, the top managers has implemented many policies, applied many systems but not yet resolved them.
After researching time, we release that TPM-JIPM is the most suitable. Therefore, in 2015, the company's Top Managers decided to implement TPM at Tien Giang factory with the following main objectives:
1. Maximize efficiency
2. Reduce production cost
3. Enhance product quality
4. Improve service
5. Ensure safety, good healthy workplace, friendly environment factory
6. Enhance staff ability
The top managers of the company always follow the progress of the TPM system, realizing that TPM activities of the Tien Giang factory has achieved positive results meet the policy objectives of the managers and decided to challenge the TPM Excellence Award- Category A
---
3. Benefits Achieved
3.1. Benefits Tangible
3.1.1. Accidents from 5 down 0.
3.1.2. Reduce defects from 0.19% down 0.002%
3.1.3. Cost savings 1,027,000 USD
3.1.4. 8,234 cases Kaizen
3.1.5. 48,467 Tags
3.1.6. 12,100 cases OPL
(Benchmark: 2015 – Present: 2020)
3.2. Intangible Result
3.2.1. The employee morale is improved, more self-conscious and comfortable
3.2.2. Happy working environment, sociable with other departments.
3.2.3. The company is more trusted by employees and customers.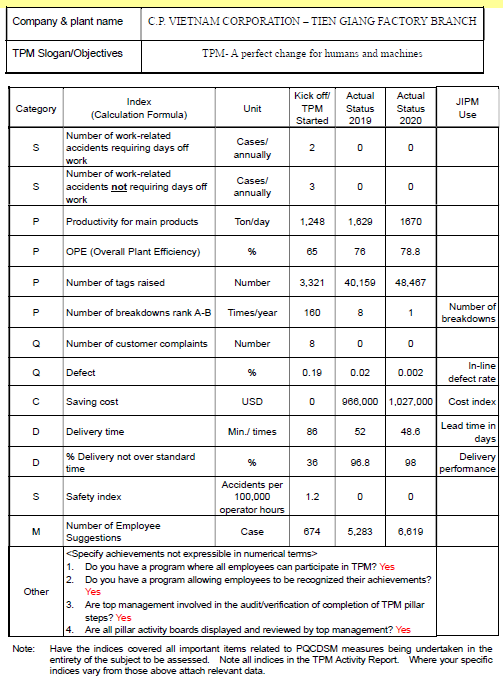 ---
4. Key of our Manufacturing Excellence
All consent of staff in factory combine with young human resources who they have level, research. This is they can apply knowledge of system for the job. Besides that, the support of leadership about spirit, human resources, cost that become more successful.
---