A.G. INDUSTRIES PRIVATE LIMITED Bawal-2
| | | | | | | |
| --- | --- | --- | --- | --- | --- | --- |
| year | category | company | plant | area | industry | movie |
| 2020 | Category A | A.G. INDUSTRIES PRIVATE LIMITED | Bawal-2 | India | – | – |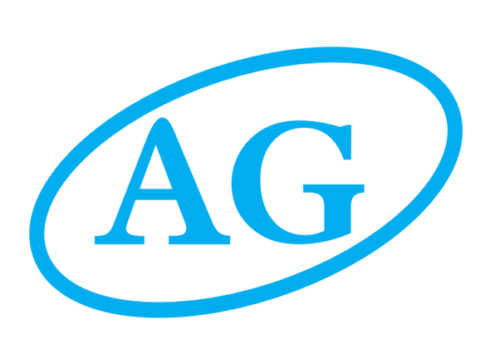 1. Organization Profile
1.1 Company, Plant/Factory Profile: –
Company started initially with the name of A.G. Industries Private limited in 1993 as a vendor of Hero-Honda Motors Limited.
The company's expertise lies in manufacturing a wide range of plastic components for the automotive sector. A.G.Industries has state-of-the-art manufacturing units in Gurgaon, IMT Manesar, Dharuhera, Bawal – 1, Bawal – 2 (Haryana), Haridwar (Uttarakhand), Halol (Gujarat), Chennai (Tamil nadu) and new plant set-up in Chittoor (Andhra Pradesh). Corporate office is located in Saket (New Delhi).
All the units are well equipped with modern machinery and boast of low power consumption machines and automatic material handling systems, to meet the International Standards of Manufacturing. Catering to automobiles and auto-ancillaries, the company's expertise lies in Plastic Molding, Plastic Painting, Steering Wheel, Decoration and Sub-assemblies. As an initiative towards upward integration, the company has diversified its existing product line to meet the growing demands of its esteemed customers. AG has set up a world class commercial tool manufacturing facility at Bawal.
Company also entered 4-wheeler automobile segment since 2013 by diversifying its products range.
• Steering wheel
• Air bag cover
• Radiator front grill & rear bumper assembly
• Resonators & its assembly
1.2 Company Vision, Mission & Core Values & TPM Policy:
– Vision
• Creating a world class manufacturing company by continuous learning & improving.
– Mission
• Ensure Customer satisfaction through continual quality improvement.
• Manufacture & sale automotive injection molding components to major OEM's.
• Provide opportunities for personnel growth.
• Involvement of all employees and inculcate team spirit.
• Achieve higher turnover & profitability.
• Ensure safety of employees.
– Core Value
• Dedication for delighted customers
• Enhance skill and Knowledge of employees by training and motivation
• Improve quality of life by environment protection
• Adopt higher level of ethical and social responsibilities
• Global thinking with local action
– TPM Policy
• We, at AG Industries Pvt Ltd Sector – 05 Bawal
Are Committed to Create and sustain world class manufacturing facility by adopting TPM as "Dare to Move Forward"
– IMS Policy
• Strive for total customer satisfaction, profitable business growth and commitment to the protection of environment including prevention of pollution, work related injury and ill health.
1.3. AGI Plant locations:
AG Group is having total 10 manufacturing facilities in India. Out of which 5 manufacturing plant located in Delhi NCR region. We are number one supplier for automotive plastic painted parts to Hero MotoCorp.
Our 4-plant adopted TPM methodology and Haridwar and Manesar plant awarded TPM excellence award in last years.
And two plants from bawal (Haryana) location successfully challenged JIPM excellence Award this year.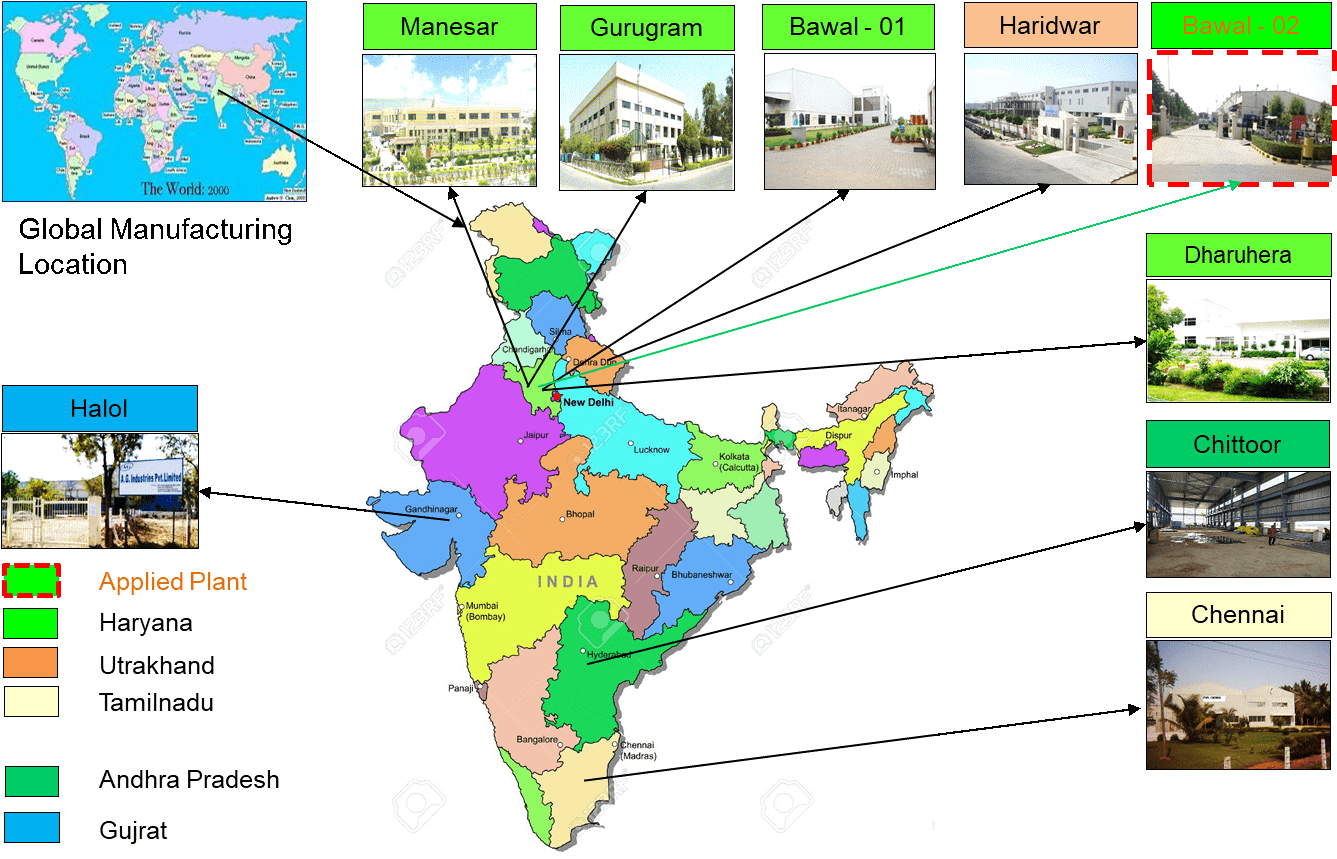 1.4. A.G. Industries Private Limited Bawal – Plant Profile: –
AG Industries Private limited Bawal – 2 (highlighted) by red color plant is situated in Bawal (Haryana), 90 Km from New Delhi (Capital of India). The foundation stone of this plant is laid in 2013, and total plant area is 40796 Sqm, plant is having 42 no's of JSW injection molding machines & world class PU painting facilities. Within the AG premises there are 2 no's of production units.
Mold shop unit is manufacturing molding components. In Paint Shop unit, painting application is done on molded components and supplied on assembly line for part assembly. Utility Facilities are common for all production departments.
1.5. Group Management Organization: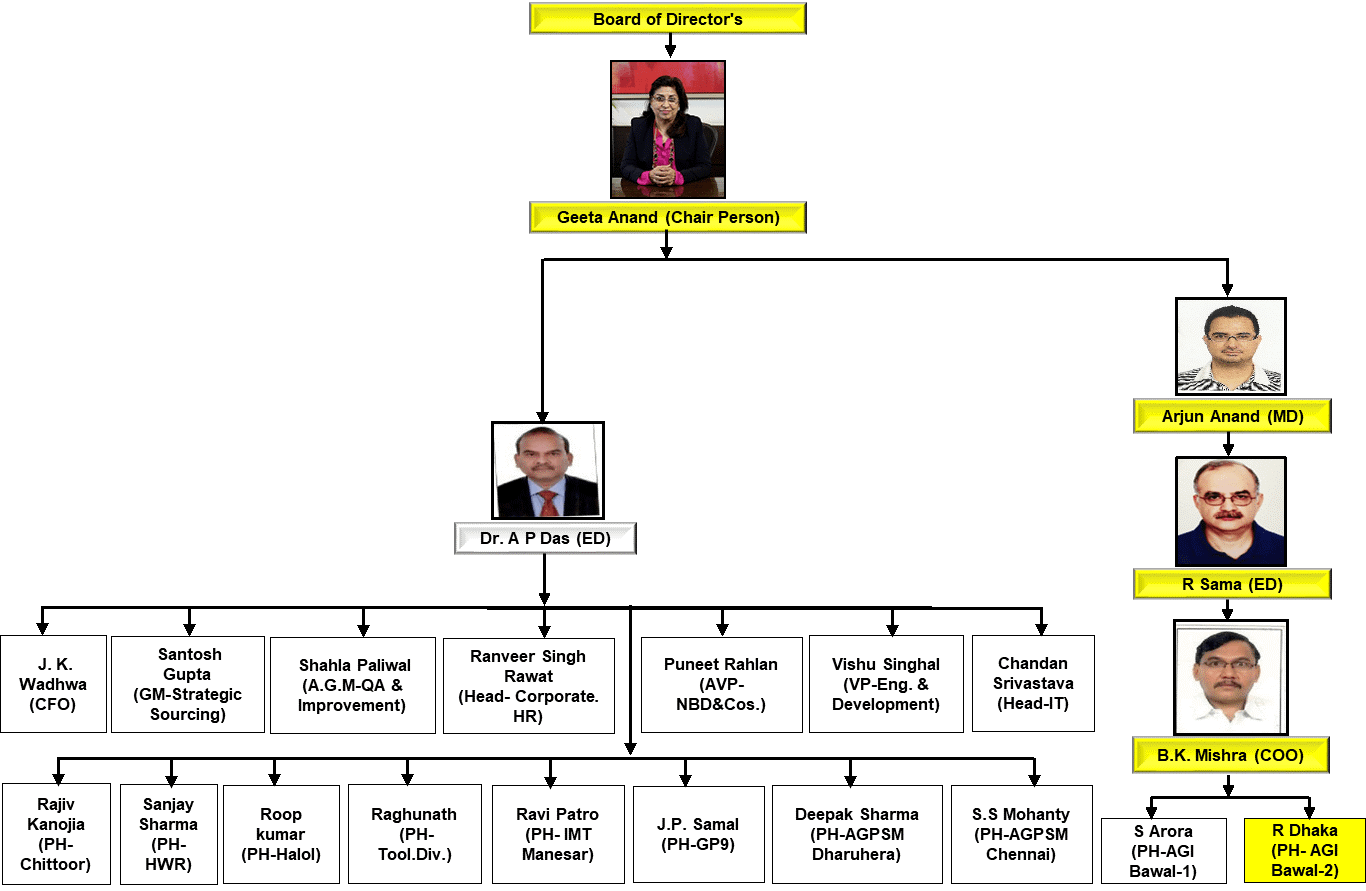 1.6. Plant Staffing Structure: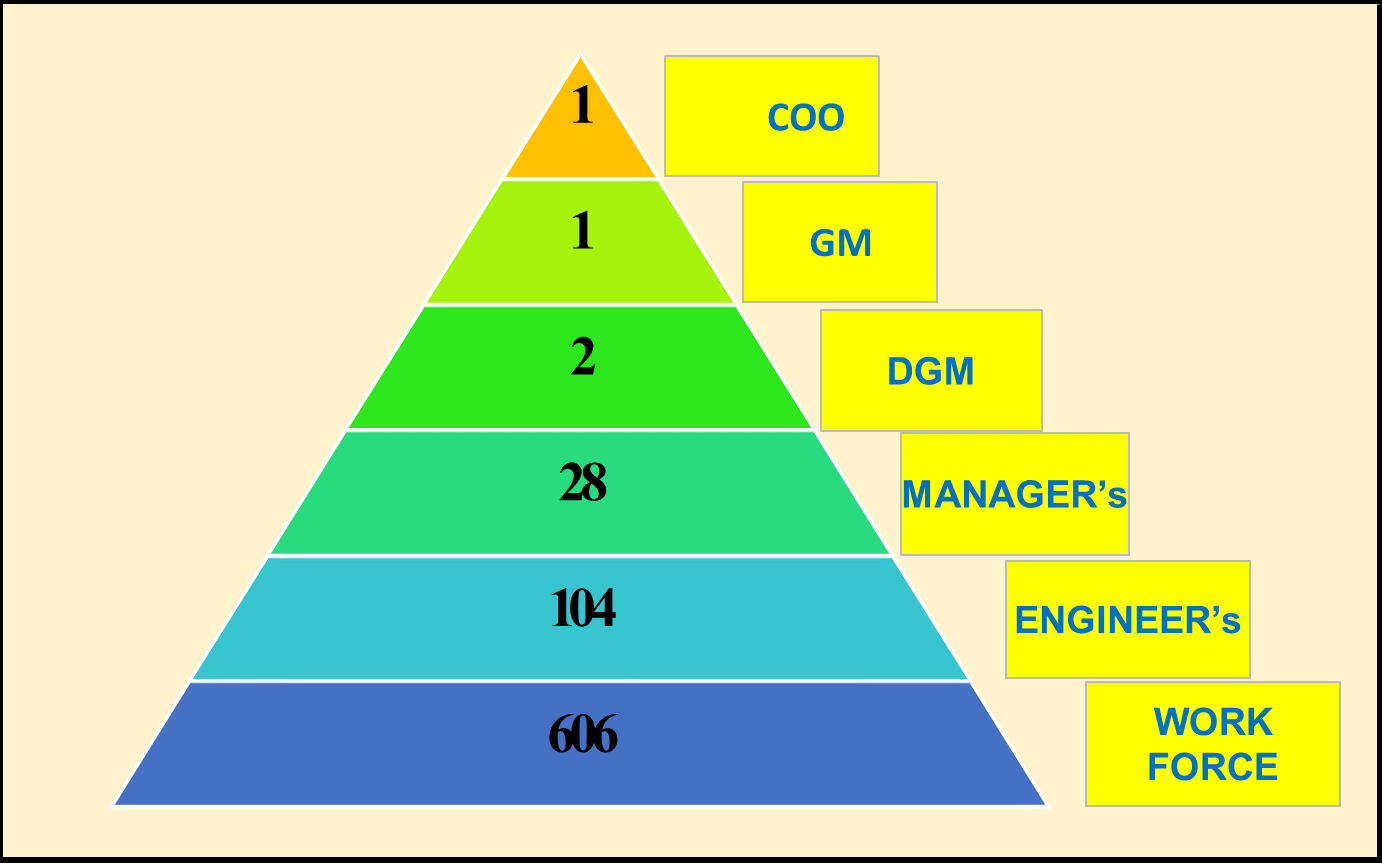 1.7. Process Technology:
Plant is well equipped with modern machinery like all JSW electric injection molding machines and world class PU painting facilities.
The Manufacturing process flow diagram is mentioned below. Standards of operation are being followed and monitoring on a continuous basis to ensure that desired results are achieved. At each of the process stage QA system is being followed.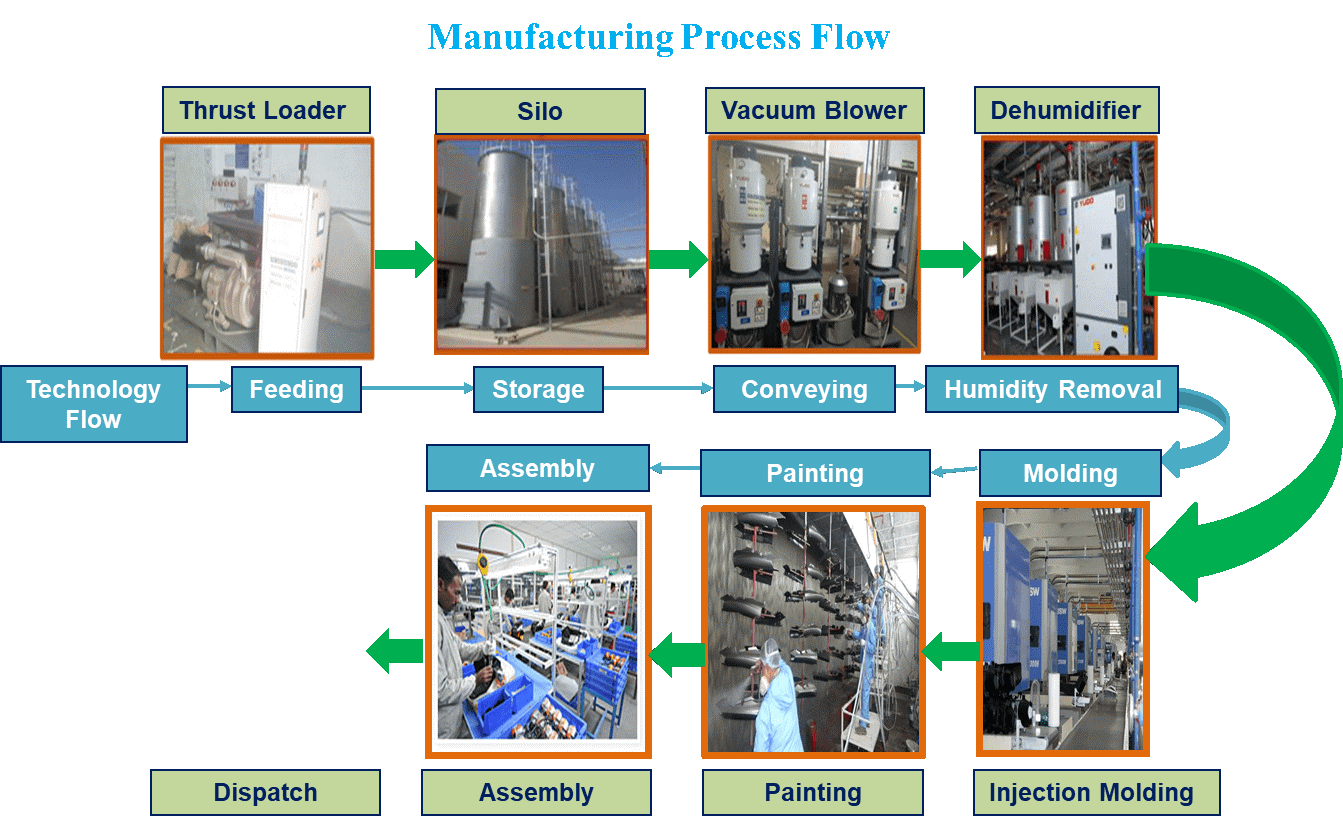 1.8. Product Range:
A.G. Industries Accredited by modern plastic component molder in the world & accredited by ICRA with rating AA. We are producing a list of two-wheelers, four-wheeler & general lighting plastic painted products.
The main product of the company are as per following.
1- Two wheeler – Front visor, side cover, front fender, inner cover assembly, air cleaner assembly, grip rear, wind screen, fuel tank, chain cover etc.
2- Four wheeler – Dab cover, resonator, radiator grill, side panel, and door trim LH-RH etc.
3- Lighting – outdoor light, down light, spot light, bulb.
– Two wheeler parts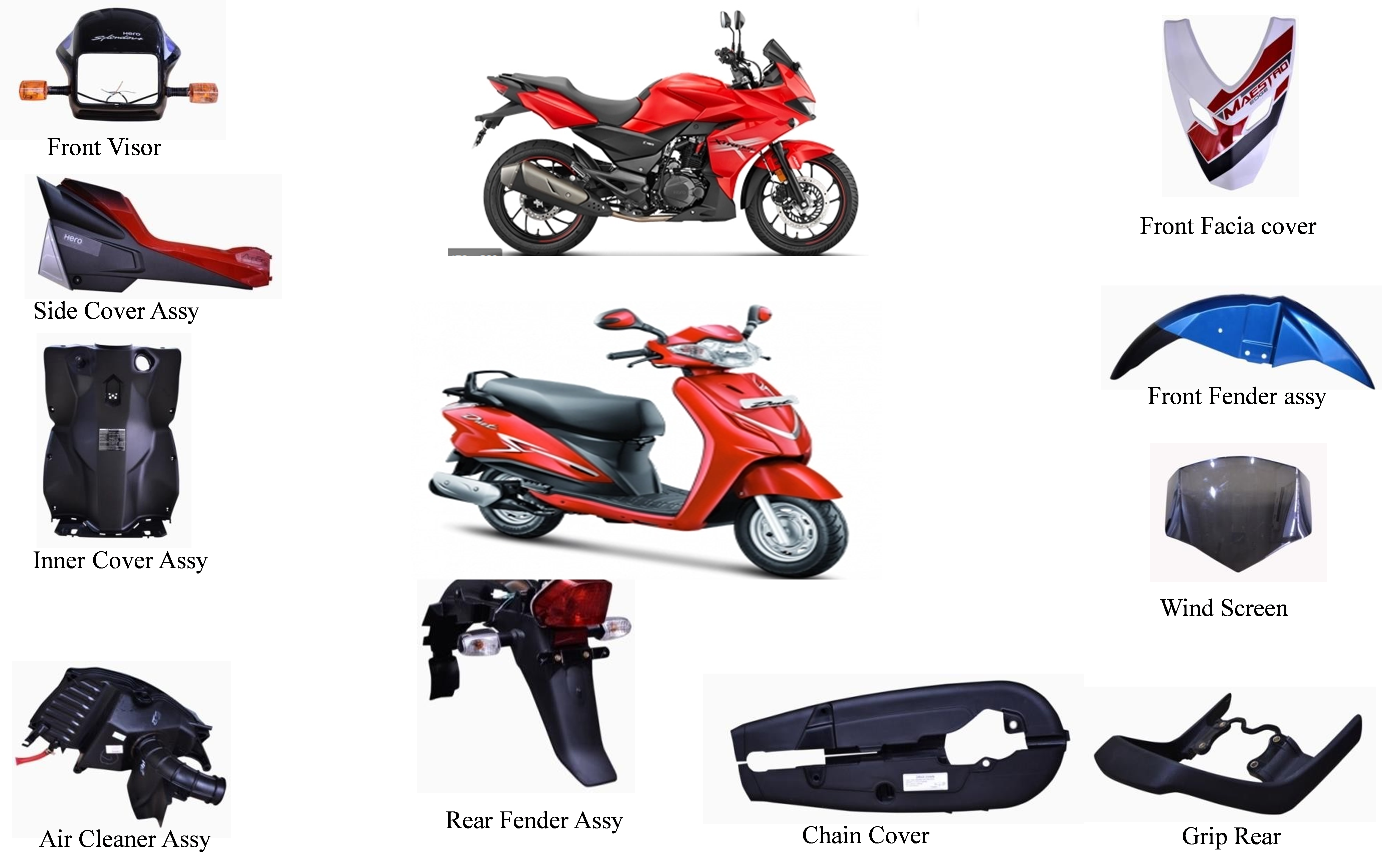 – Four-wheeler parts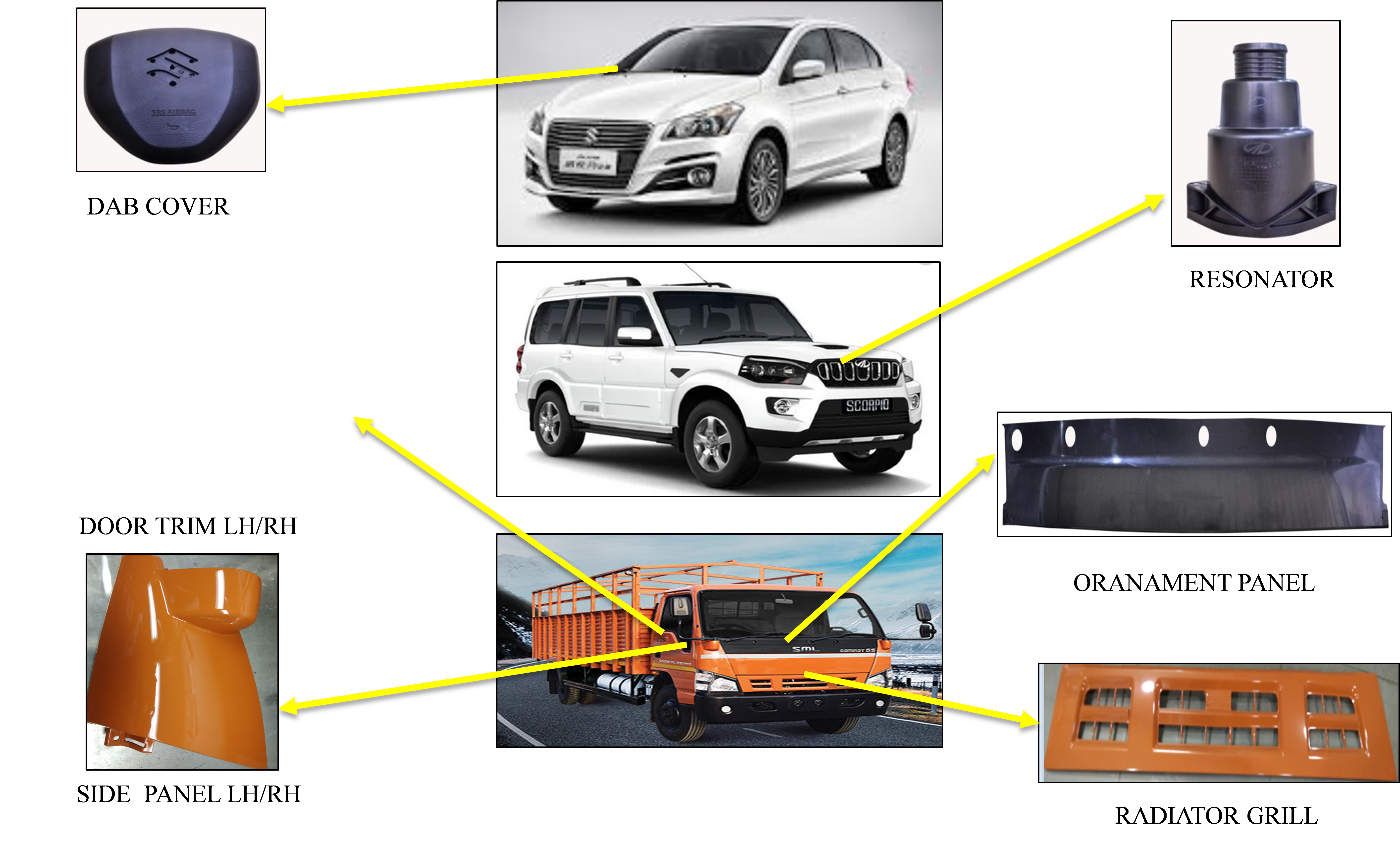 – General Lighting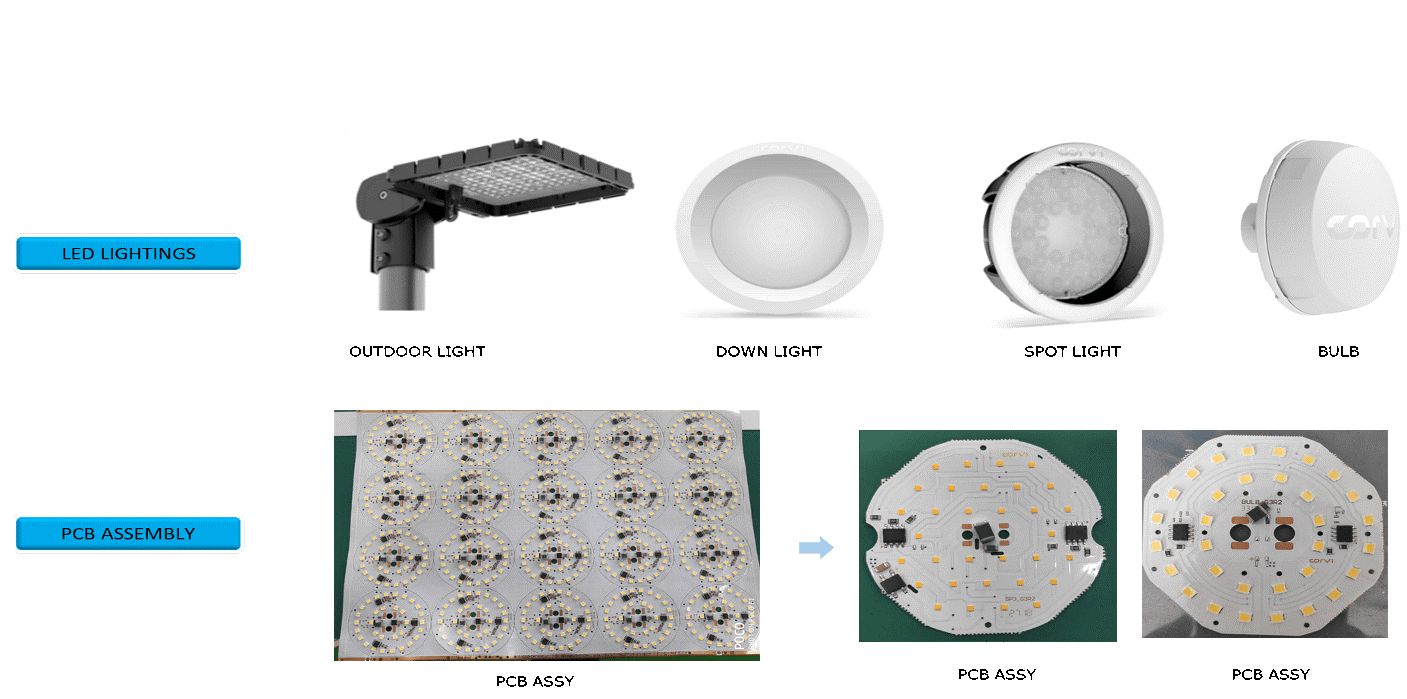 Our Major Customer is Hero MotoCorp approximate 93% business from Hero MotoCorp and other customer is SML, Nova, Ashimori, Corvi, Napino, and Mahindra & Mahindra etc.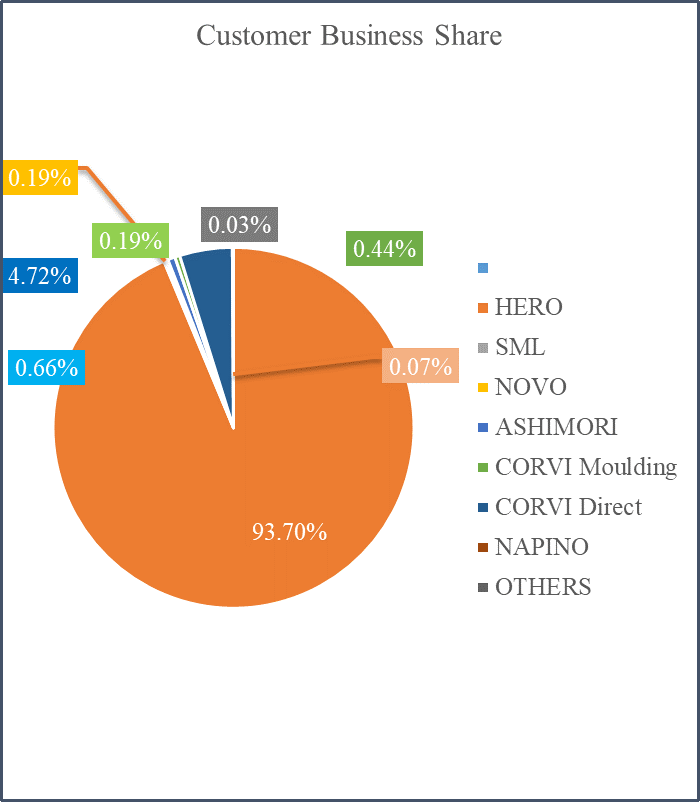 ---
2. Milestones on the journey of Manufacturing Excellence
Key performance indicators achieved at 2015 are bench mark for us
At that time following were the challenges:
• Team formulation and people development and establish a culture of respect of each individual.
• To establish quality system.
• Steep ramp up of production as per market demand.
• To be familiar with high end technologies.
• To maintain the health of equipment.
• Take care of environment & society.
• Avoid wastage in a quickly changing economic environment.
To meet the above challenges, Top management decided to adopt the world class operational excellence tool "TPM".
We Are Committed to Create and sustain world class manufacturing facility by adopting TPM as "Dare to Move Forward"
Through Committed & Involved employee force
1. Excel customer expectations by delivering product & services.
2. Achieve Manufacturing excellence.
3. Achieve
1- Zero Breakdown
2- Zero Accident
3- Zero Defect & Rework
4. Share Knowledge & develop skill among all functions.
5. Create a safe & pleasant work place.
We identified 850-ton injection molding machine and paint booth as manager model machine. We engaged a TPM Consultant Mr. Yuvaraj Sithiyan from GCCI. He is regularly visiting to us.
In the meanwhile, manger model machine helped us to get experience of practicing TPM along the development of TPM trainer's beforeTPM kickoff. A structured approach was followed to create 8 pillars TPM promotion committee, pillar sub committees. A full time TPM secretariat was created to coordinate the plant wide TPM promotion activities under the leadership of Plant Head.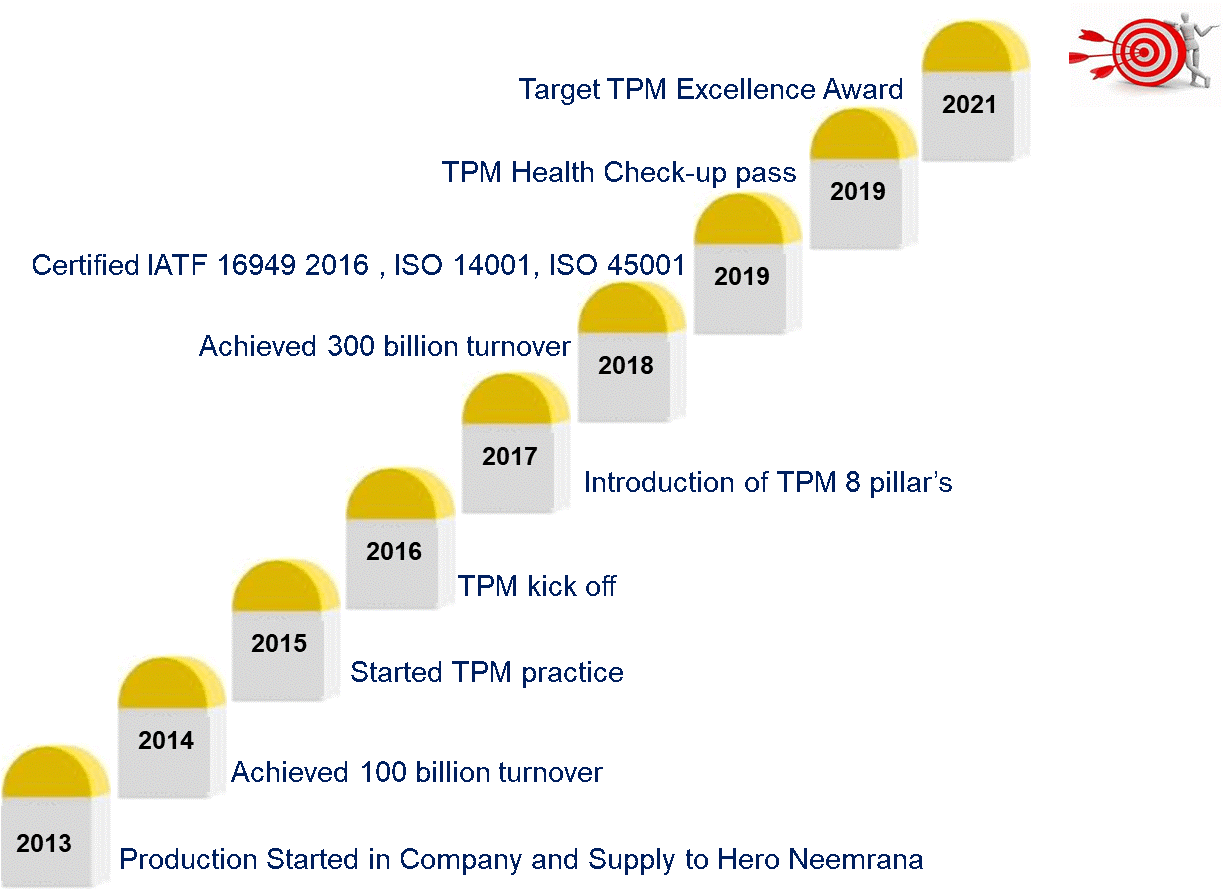 ---
3. Benefits Achieved
3.1. Tangible benefits: – Tangible benefits are observed due to improvement in following PQCDSM.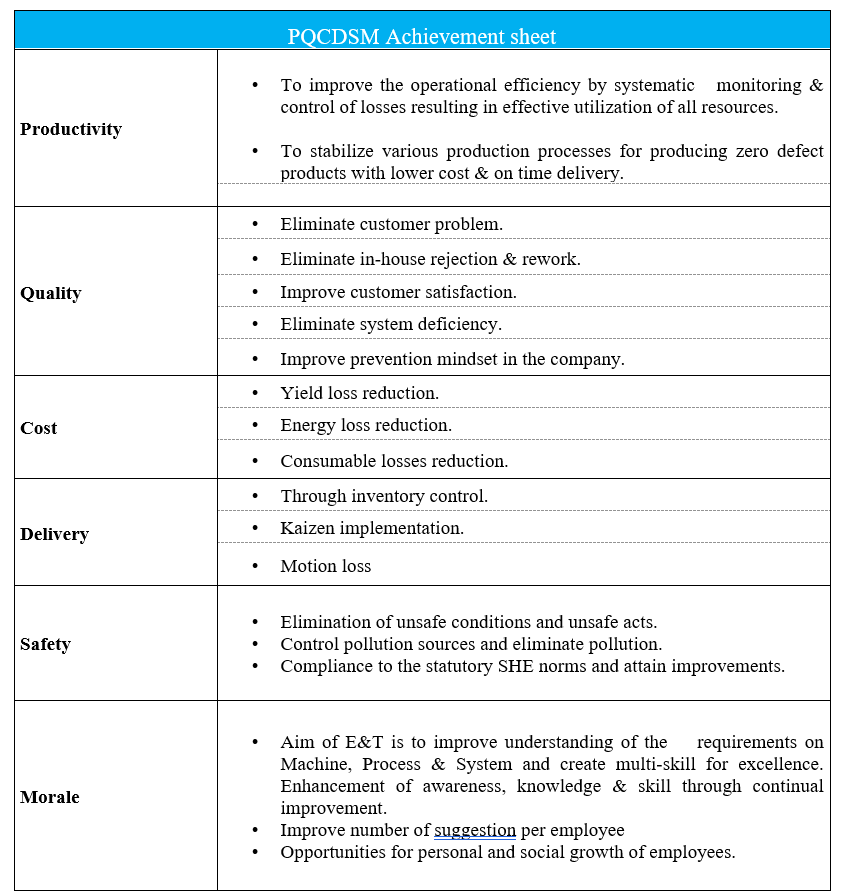 3.2. Intangible benefits: –
Understanding TPM in right spirit and practicing it day to day over 5 years, has brought significant changes in work culture, system orientation, analytical approach and flexibility.
 Changing in Attitude
• Positive attitude in employees with mindset from "I operate, you maintain to "I operate, I maintain and I control.
• It has given them a way to work efficiently and effectively.
• Achieve Full self-management.
 System Orientation
• Simplifying the process
• Well defined system for maintenance spare management, Quality maintenance and production management.
 Analytical approach
• TPM has helped employees to develop an eye for abnormality capturing.
• Ability to approach root cause and solutions.
• Various techniques have been adopted (Why-Why, FTA, ECRS, SMED, Loss-Cost Matrix etc.)
 Flexibility
• Enhanced employee's flexibility (Multiskilling, multitasking)
---
4. Key of our Manufacturing Excellence
4.1. Experience Gain from TPM Journey: –
We started using TPM methodology to improve our plant efficiency. We realized that organizational analytical and problem-solving ability has improved. People are observing in depth, taking bigger challenges and ownership of their machines and enhance their basic maintenance skills to take care of the Equipment & Process by themselves.
All employees have improved their problem-solving skill, systematic and analytical thinking and realized the value of kaizen. This has positively affected on their works and the company.
• High level of automation of processes to get higher productivity.
• Zero discharge plant to support environment.
• Formulating predictive maintenance system towards zero breakdown.
• Reduction of wastages through effective utilization of resources.
• Proactive approach to ensure safety systems and enhance safety culture.
• Energy efficient equipment's with VFD controls.
• Improve capability of operators through level up and multiskilling training.
• Innovation and product modification to achieve customer unstated expectations.
• Flexible and easy responsiveness to change and implement change initiatives.
• Optimizing the raw material inventory.
• Vertical storage system in raw material stores.
• SCADA systems for monitoring the process.
• Reduction and elimination of in process quality defects using PM analysis.
• New product development lead time reduction.
• Reduction of wastages through effective lean concepts.
4.2. TPM Award Assessment Achievement Sheet: –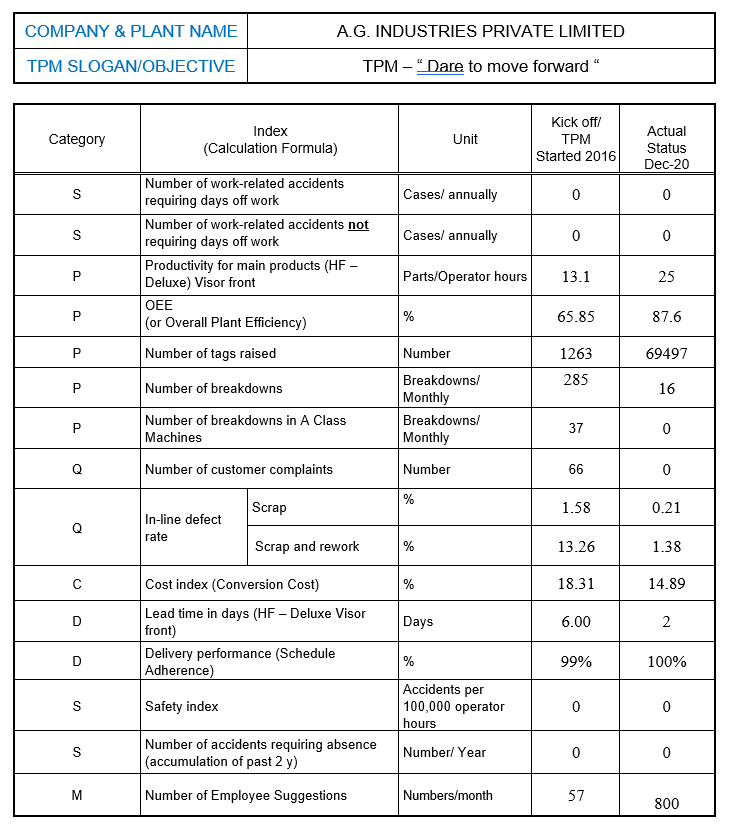 4.3. Future Plan: –
• Challenge Consistency award in 2023.
• Micro analysis to achieve & sustain four zeroes as per our TPM policy.
• Specialized kaizen team for continuous improvements.
• SWOT analysis & policies review to improve market leadership.
• Enhances customer list to overcome the single customer threat.
• Marketing pillar development for better forecasting of business scenario.
---