AG INDUSTRIES (BAWAL) PRIVATE LIMITED
| | | | | | | |
| --- | --- | --- | --- | --- | --- | --- |
| year | category | company | plant | area | industry | movie |
| 2020 | Category A | AG INDUSTRIES (BAWAL) PRIVATE LIMITED | – | India | – | – |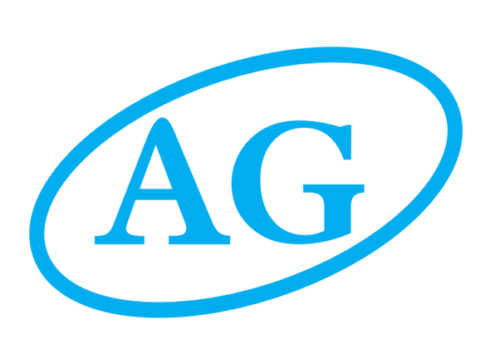 1. Organization Profile
1.1 Company, Plant/Factory Profile:
Company started initially with the name of A.G Industries Pvt. Ltd. 1993 as a vendor of Hero Honda Motors Limited.
The company's expertise lies in manufacturing a wide range of plastic components for the automotive sector. A G Industries has state-of-the-art manufacturing units in Gurgaon, IMT Manesar, Haridwar, Halol, Dharuhera, Chennai and Bawal plant I & Bawal Plant II and new plant set-up in Chittoor. Corporate office is located in Saket (New Delhi).
All the units are well equipped with modern machinery and boast of low power consumption machines and automatic material handling systems, to meet the International Standards of Manufacturing. Catering to automobiles and auto-ancillaries, the company's expertise lies in Plastic Molding, Painting, Steering Wheel, Decoration and Sub-assemblies. As an initiative towards upward integration, the company has diversified its existing product line to meet the growing demands of its esteemed customers. AG has set up a world class commercial tool manufacturing facility at Bawal. Company also entered 4-wheeler automobile segment since 2013 by diversifying its products range.
 Steering wheel
 Air bag cover
 Radiator front grill & rear bumper assembly
 Resonators & its assembly
1.2. Company Vision, Mission, Core Values & TPM Policy
– Vision
 Creating a world class manufacturing company by continuous learning & improving.
– Mission
 Ensure Customer satisfaction through continual quality improvement.
 Manufacture & sale automotive injection molding components to major OEM's.
 Provide opportunities for personnel growth.
 Involvement of all employees and inculcate team spirit.
 Achieve higher turnover & profitability.
 Ensure safety of employees.
– Core Value
 Dedication for delighted customers
 Enhance skill and Knowledge of employees by training and motivation
 Improve quality of life by environment protection
 Adopt higher level of ethical and social responsibilities
 Global thinking with local action
– IMS Policy
 Strive for total customer satisfaction, profitable business growth and commitment to the
protection of environment including prevention of pollution, work related injury and ill
health.
– TPM Policy
 We at AG industries (Bawal) Private Limited are committed to creating and sustaining world class manufacturing practices by adopting TPM as way of life, involving all our employees.
1.3. AG Plant Location
AG Group is having total 10 manufacturing facilities in India. Out of which 5 manufacturing plant located in Delhi NCR region. We are number one supplier for automotive plastic painted parts to Hero Moto Corp. Limited Our 4-plant adopted TPM methodology and Haridwar and Manesar plant awarded TPM
excellence award in last years.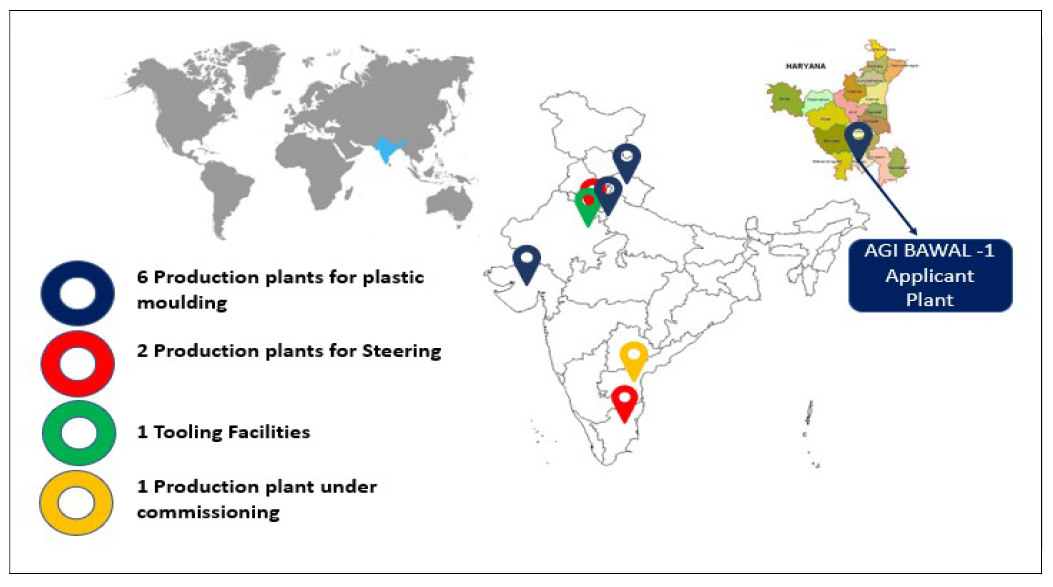 1.4. AG Industries Plant Location & corporate structure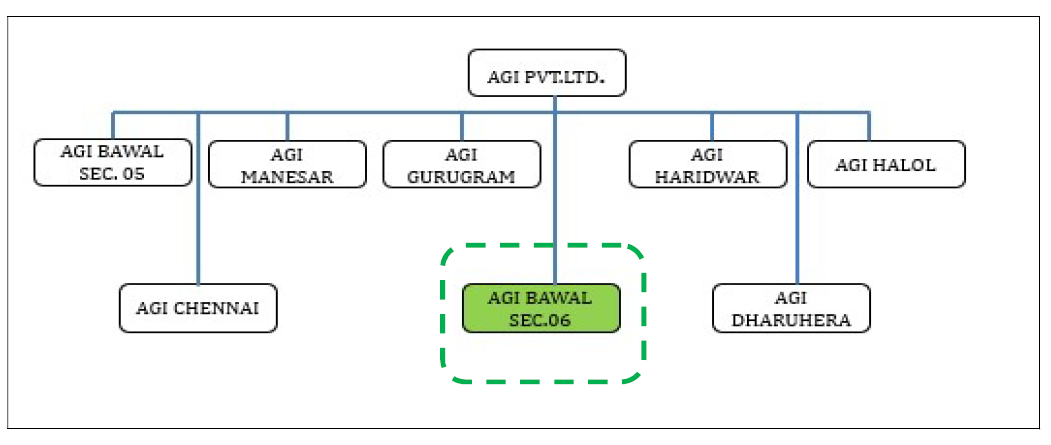 AG Industries (bawal) Plant (Highlighted) is applying for JIPM-TPM Excellence Award – Category A – 2020 AG Industries (Bawal) Private limited – 1 Highlighted plant is situated in Bawal (Haryana), 90 Km from New Delhi (Capital of India). The foundation stone of this plant was laid in 2009, and total plant area is 21600 Sqm, plant is having 34 no's of JSW injection molding machines & world class PU pain shop facilities.
1.5. Product Range of AGI (Bawal) plant is as below: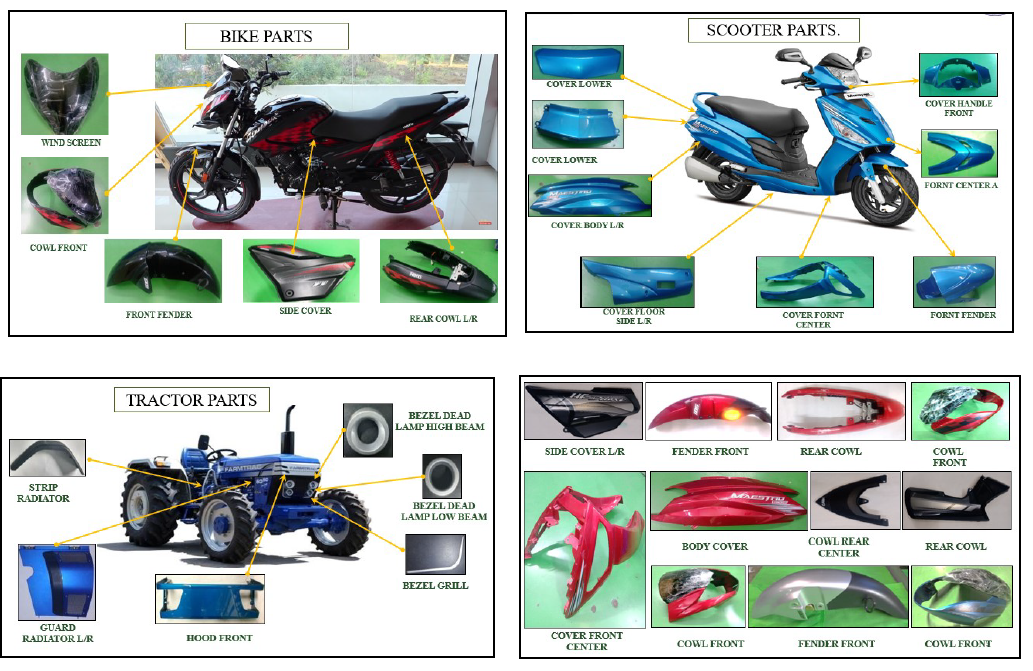 1.6. Management Organization Structure: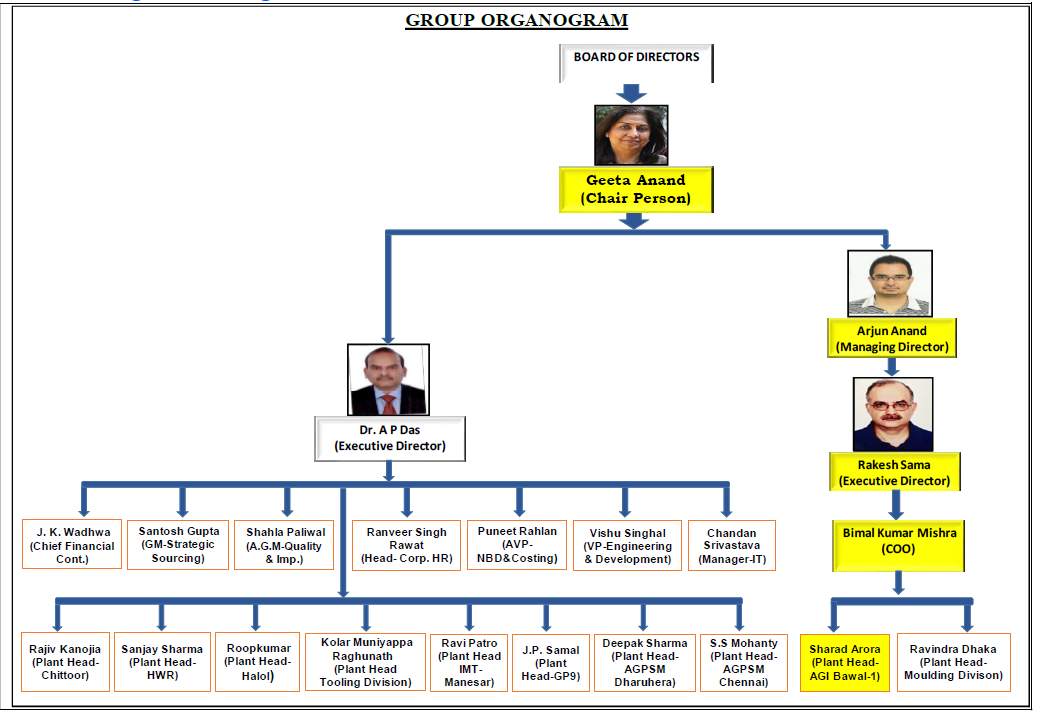 1.7. Plant Staffing Structure: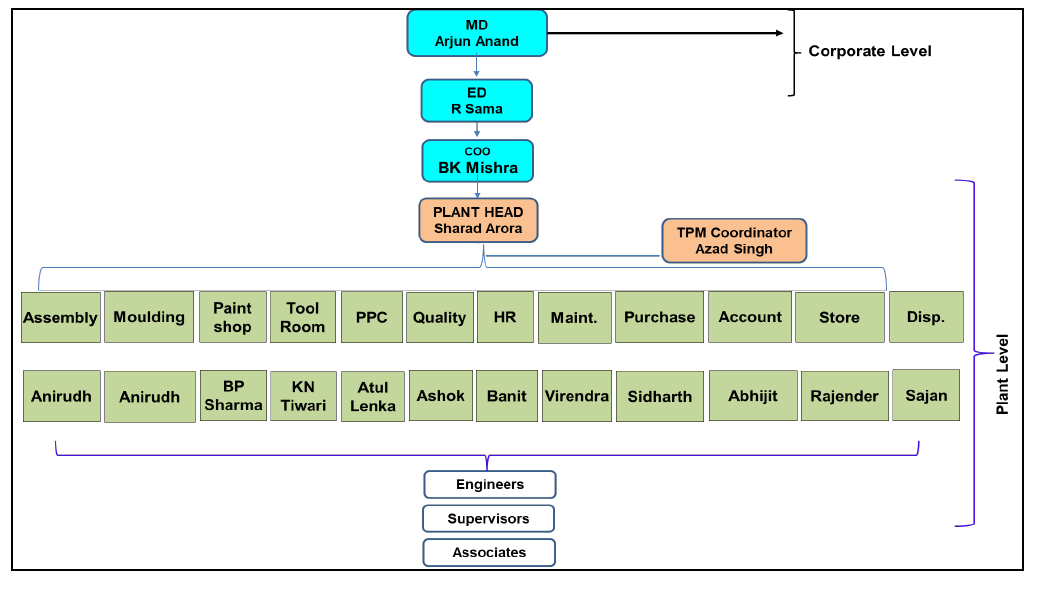 1.8. Plant Staffing Pillar Structure: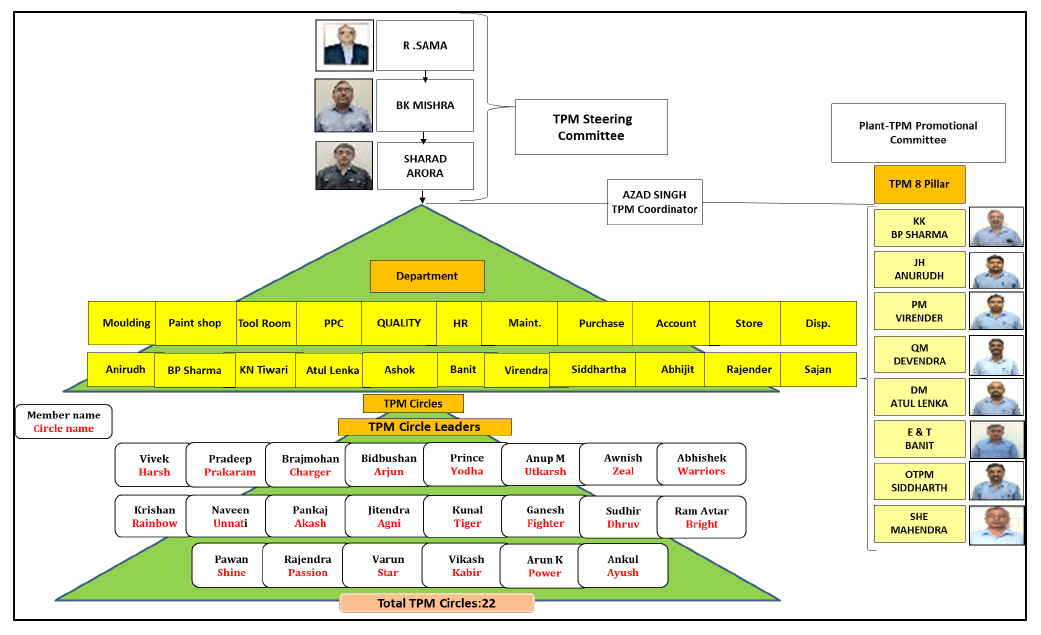 1.9. Process Technology:
Plant are well equipped with modern machinery like all Ferromatic & TOSHIBA injection molding machines and world class PU painting facilities.
The Manufacturing process flow diagram is mentioned below. Standards of operation are being followed and monitoring on a continuous basis to ensure that desired results are achieved. At each of the process stage QA system is being followed.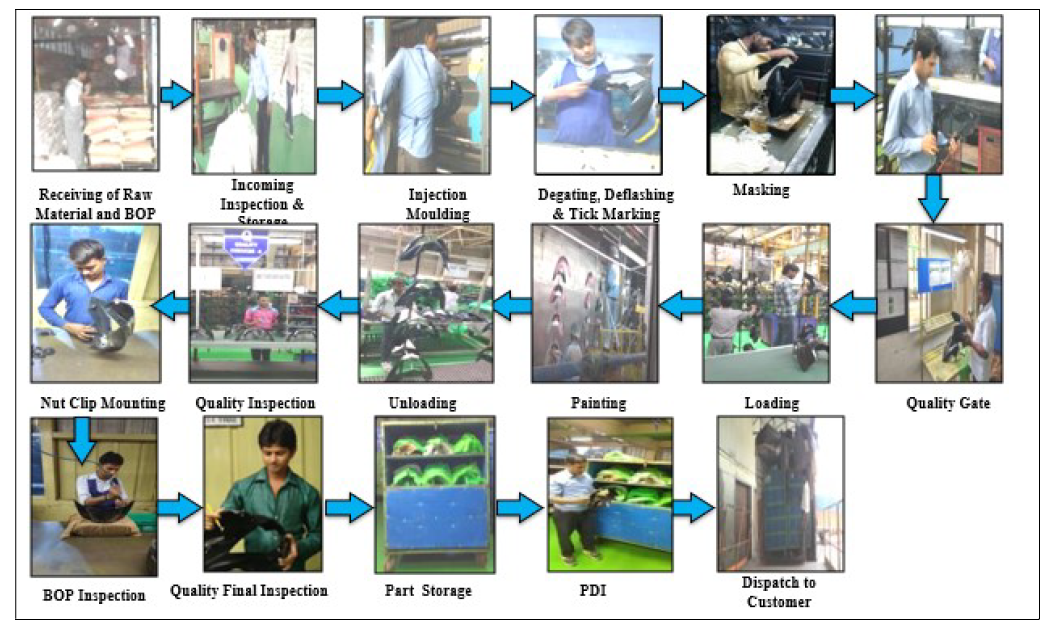 ---
2. Milestones on the journey of Manufacturing Excellence
2.0. Plant Equipment: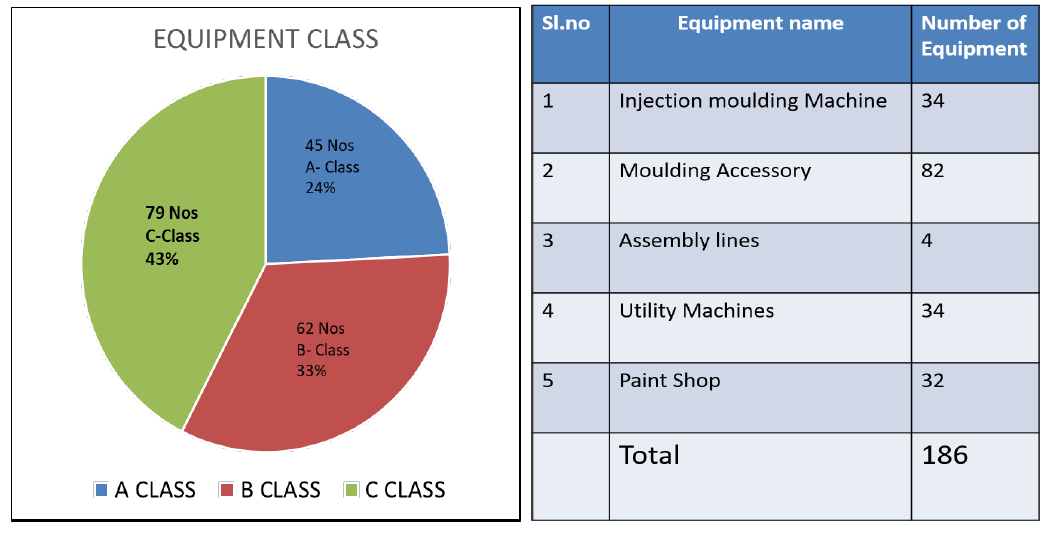 2..1 Reason for adopting TPM as Company Policy: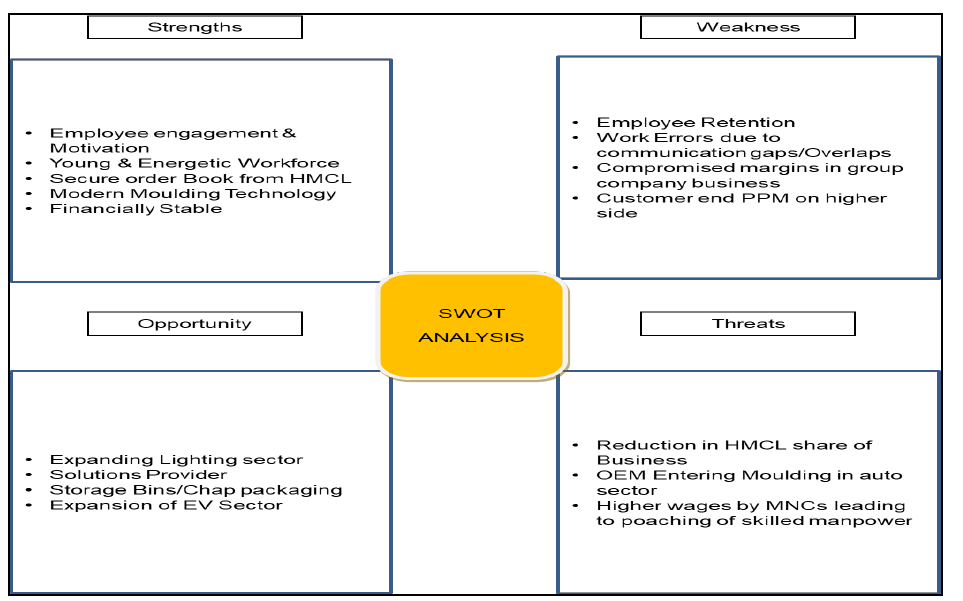 1.To encash the opportunity and combat threat we have institutionalized the TPM as way of life in AGI Bawal Plant and to be competitive in terms of QCD.
2. Meeting stringent quality requirements from customers
Further other reasons for introduction of TPM as a policy of management are as follows:
(i) Total employee involvement: By implementation of TPM, involvement of all employees is achieved. Every employee from P2P (President to Peon) are involved in TPM activities and each one finds an environment in which they can enhance their skills and can work for common objective.
(ii) Horizontal Deployment of Best practices: TPM is a tool which gives us a platform to bring new level of improvements. We have introduced a mechanism of Horizontal deployment of established practices and learning accrued during journey of TPM excellence of other group plants.
(iii) Zero Orientation: TPM aims at making losses ZERO i.e. Zero breakdowns, Zero defects, Zero accidents, Zero Environmental pollution etc. We have digested that ZERO loss is achievable.
(iv) Preventive Philosophy: The philosophy of TPM is not to take actions after something has happened but prevent them before they happen.
(v) Changes people: People working in JIPM TPM culture, are full of Enthusiasm, zeal and motivated to challenge any type of difficult task. TPM has the ability to bring out hidden capabilities in a person. By enhanced capabilities operators can improve their equipment & working environment at their own.
(vi) Gemba – Gembutsu based approach: TPM emphasis on actual site and actual item.
Gemba analysis is more effective than doing analysis in office discussion. Operators do kaizens based on idea not only by logical reasoning.
(vii) Analytical techniques: TPM has evolved good and simple analytical tools like Kaizen, Why – Why Analysis, PM Analysis, FTA, VA/VE, Cost loss and lost cost tree etc. These tools are based on principles and rules laid by JIPM.
(viii) Step by Step approach: TPM has adopted step by step approach for each Pillar, which are easy to understand and implement. Results achieved by following step by step approach are sustainable.
(ix) Development of Equipment and Process competent operators: In TPM after upgrading knowledge and skill level of operator, basic maintenance activities of PM is transferred to operators thereby strengthening the concept of Jishu Hozen. By doing this operator become equipment competent and followed by process competent operator
2.2 -Milestones & Future Plan of AGI BAWAL Plant.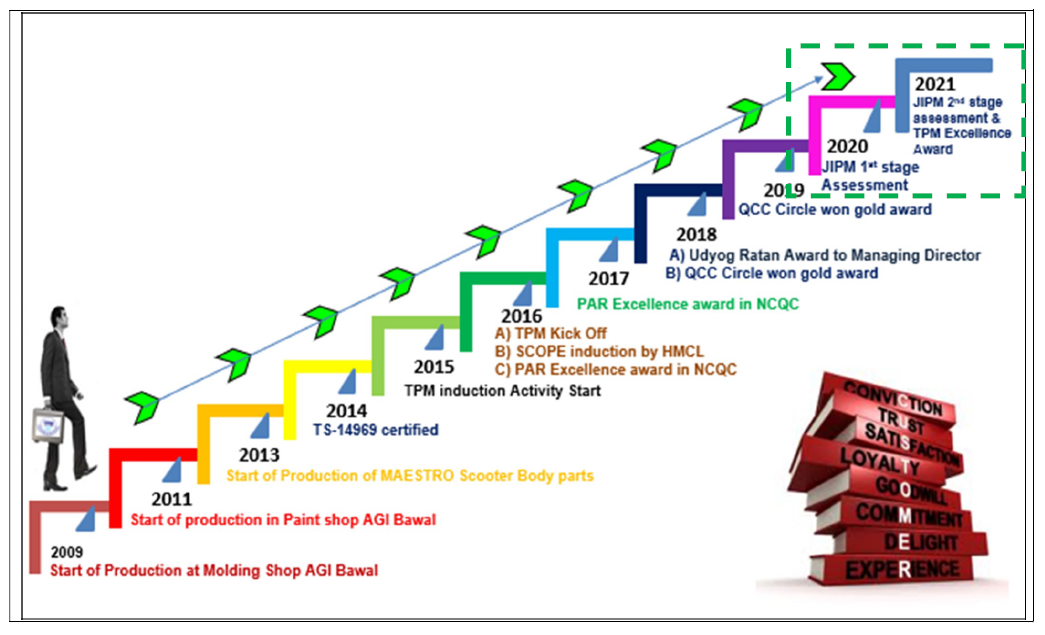 ---
3. Benefits Achieved
3.0 – Benefit Achieved:
By adopting TPM as a way of work culture in AGI BAWAL plant, we were able to achieve below tangible & intangible benefits.
3.1 Intangible Benefits:
Understanding TPM in right spirit and practicing it day to day over 5 years, has brought significant changes in work culture, system orientation, analytical approach and flexibility.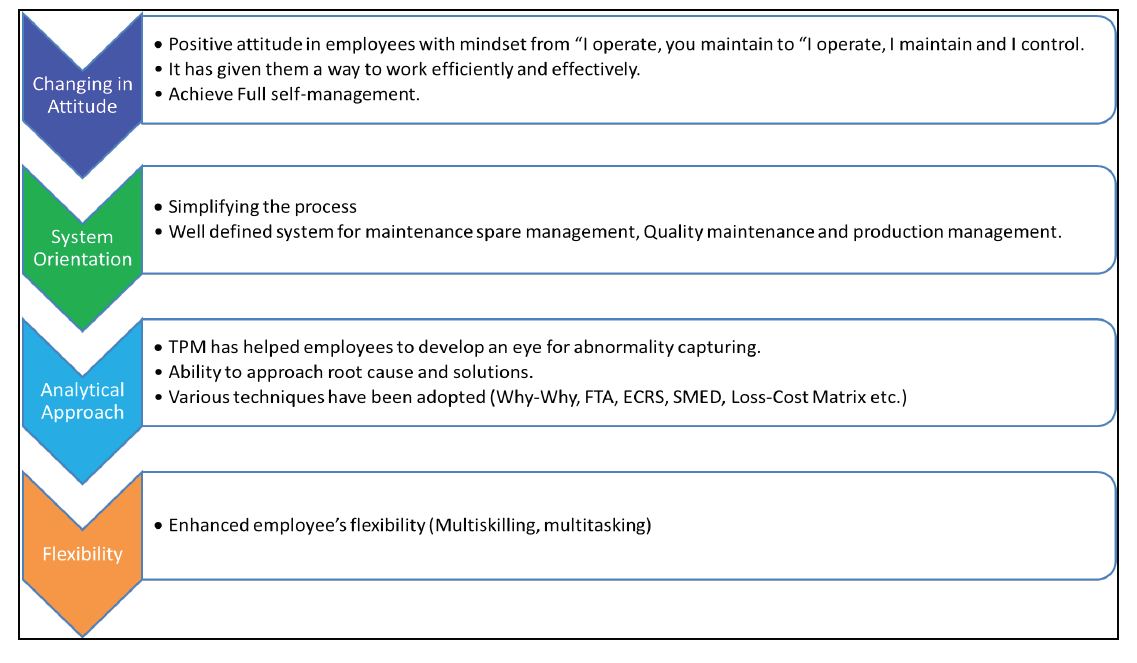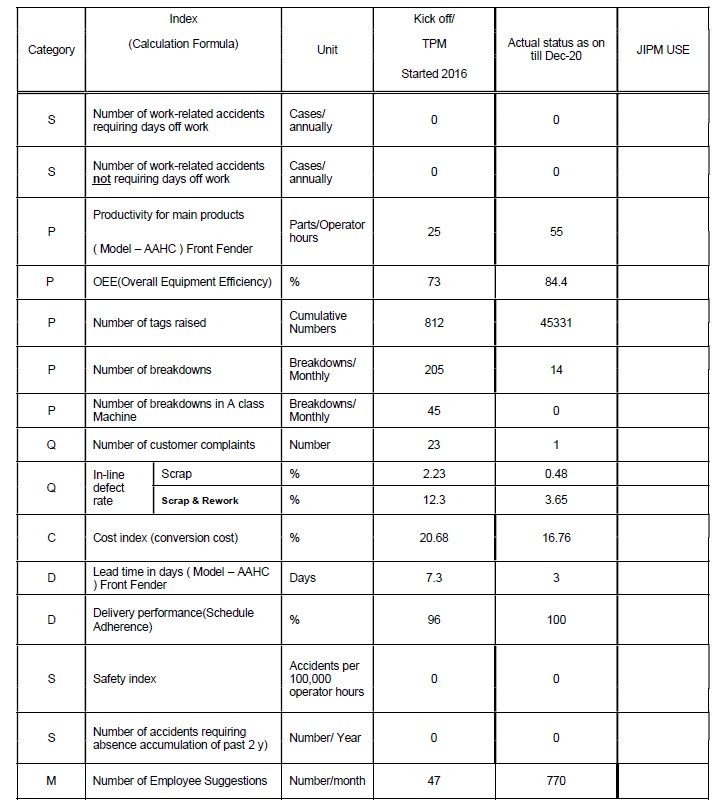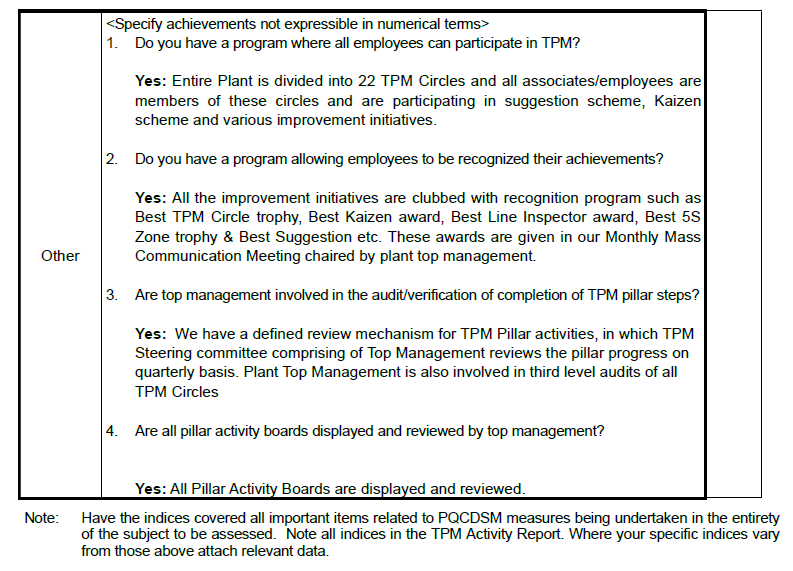 ---
4. Key of our Manufacturing Excellence
4.0 – Key of Our Manufacturing Excellence in future
4.1 Lowest manufacturing cost
4.2 Deskilling of all processes
4.3 100% Poka Yoke for defect systems
4.4 100% FIFO in all storage systems
4.5 100% automated material handling system
4.6 Indigenisation of development activities for reducing cost and lead time
4.7 Development of suppliers with TPM learning to provide cost benefits
4.8 Proficiency in new technology products
– CSR Activity: –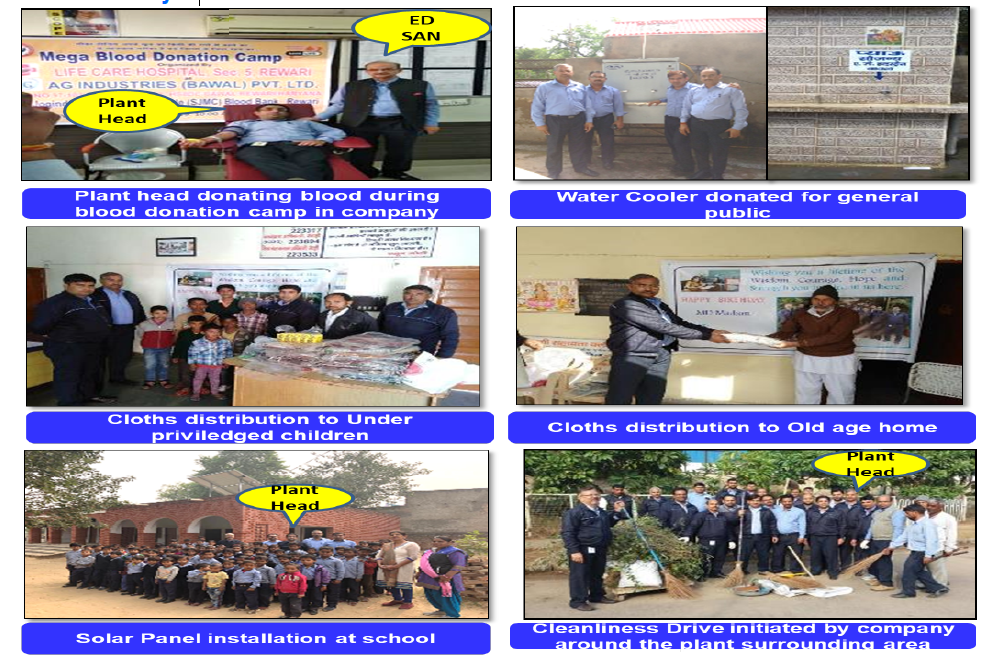 – TPM Promotional Activity-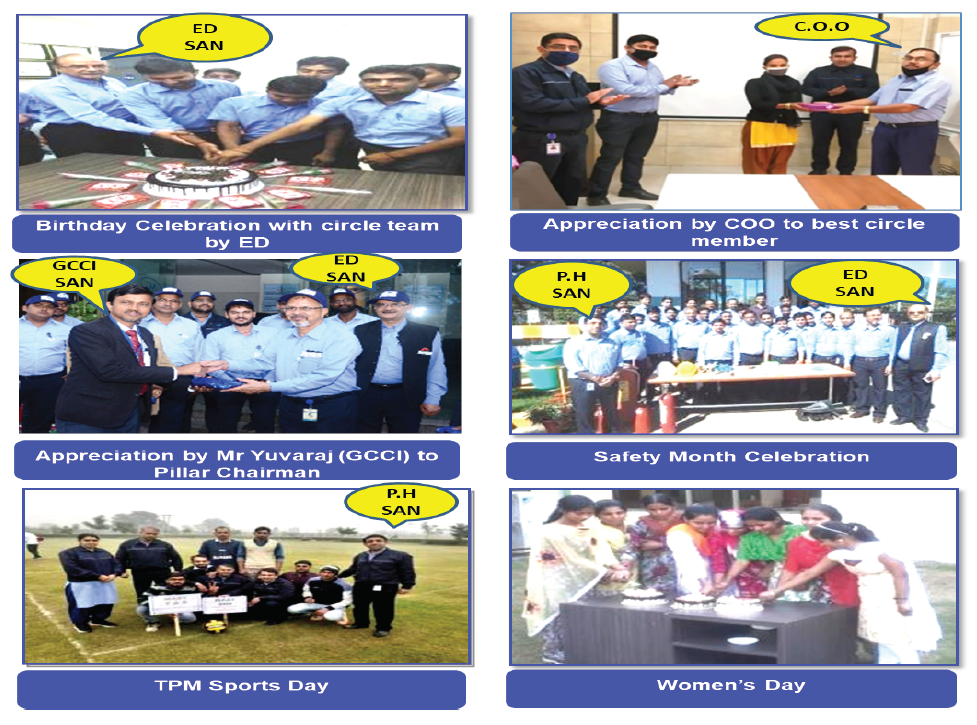 – TPM Award & Reward Activity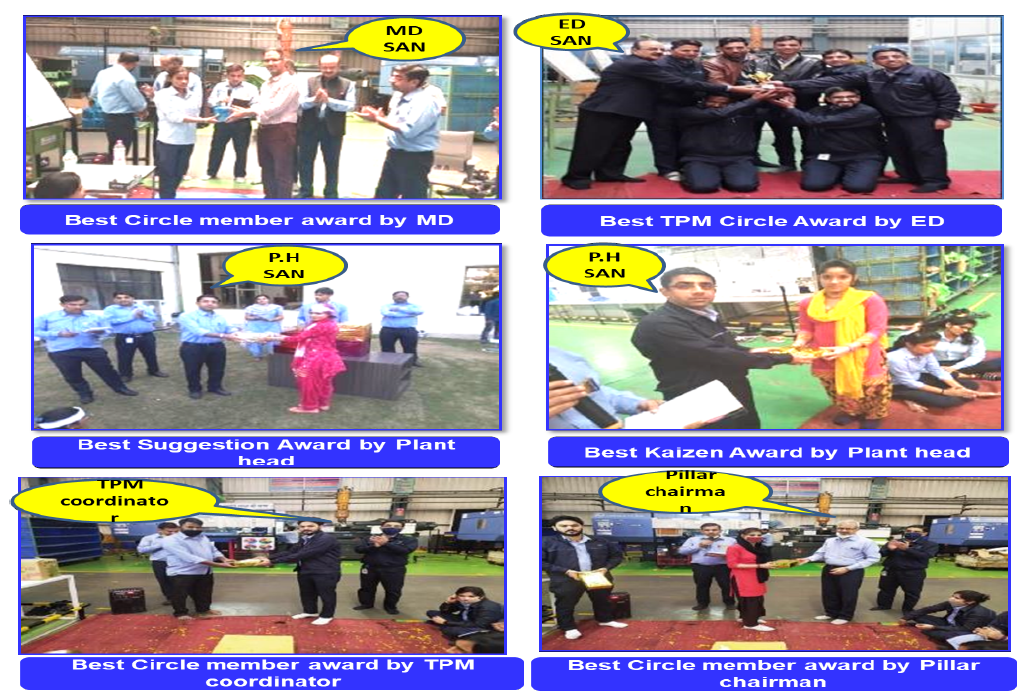 ---