Tetra Pak Closures France Chateaubriant
| | | | | | | |
| --- | --- | --- | --- | --- | --- | --- |
| year | category | company | plant | area | industry | movie |
| 2020 | Consistent | Tetra Pak Closures France | Chateaubriant | France | – | – |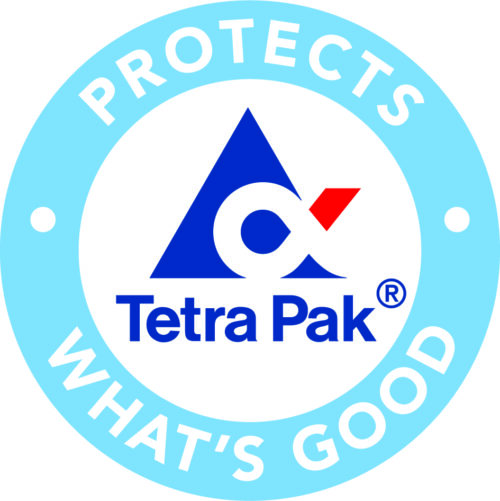 1. Organization Profile
– Company presentation
Tetra Pak is one of three companies in the Tetra Laval Group – a private group that started in Sweden. Tetra Pak is a multinational food packaging and processing company that provide safe, innovative and sustainable products to hundreds of millions of people in more than 160 countries around the world. With more than 25,000 employees based in over 160 countries, we believe in responsible industry leadership and a sustainable approach to business. Our motto, "PROTECTS WHAT'S GOOD", reflects our vision to make food safe and available, everywhere.
The company offers packaging, filling machines and processing for dairy, beverages, cheese, ice-cream and prepared food, including distribution tools like accumulators, cap applicators, conveyors, crate packers, film wrappers, line controllers and straw applicators.
Tetra Pak products are divided into 3 main categories:
1) Packaging
Carton packaging range for consuming fresh products. Below the Package portfolio & an example of filling machine.



2) Processing
Solutions and processing equipment for dairy, cheese, ice cream, beverages and prepared food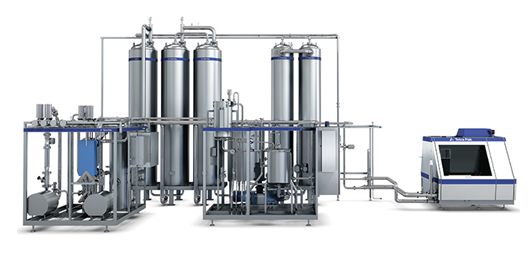 3) Services
Maintenance Services, Parts, Consumables, Upgrades, Plant Components, Training Services, Automation Services, Installation Services and Expert Services
– Our plant within the organization: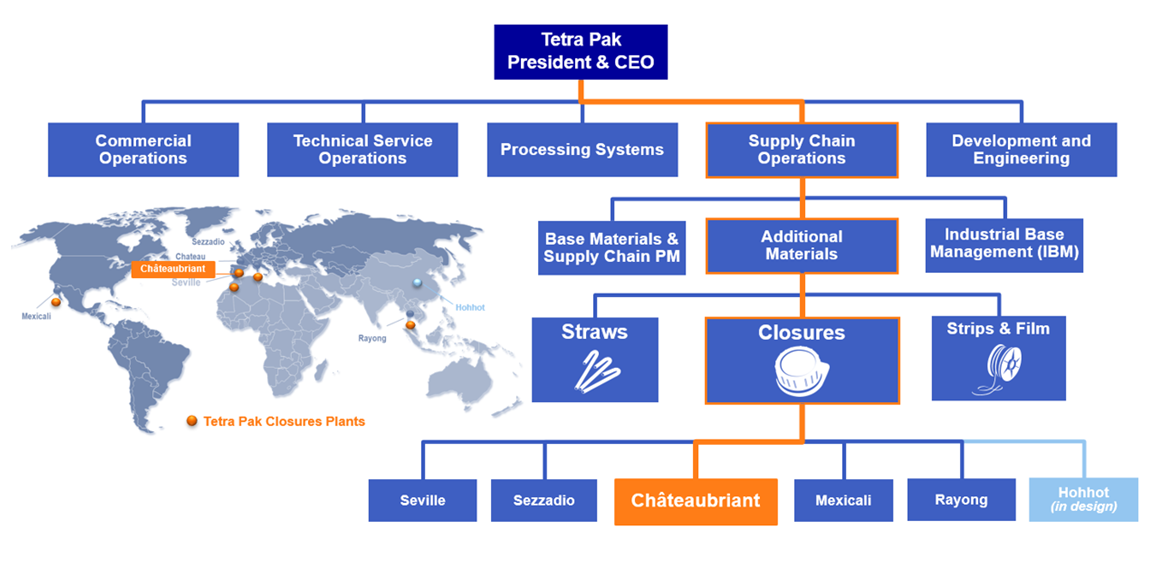 The plant of Chateaubriant, in France, is one of the 5 Closures up and running plants in the world.
– Plant profile
Our plant was founded in 1962, in the city of Chateaubriant, located on the west coast of France, in the Loire-Atlantique. The plant is operating 7 days a week, 24h/24h, with 94 employees. The management and staffing structure is (with the number of employees/department):



We produce 4 different plastic caps products, composed by one, two or three parts.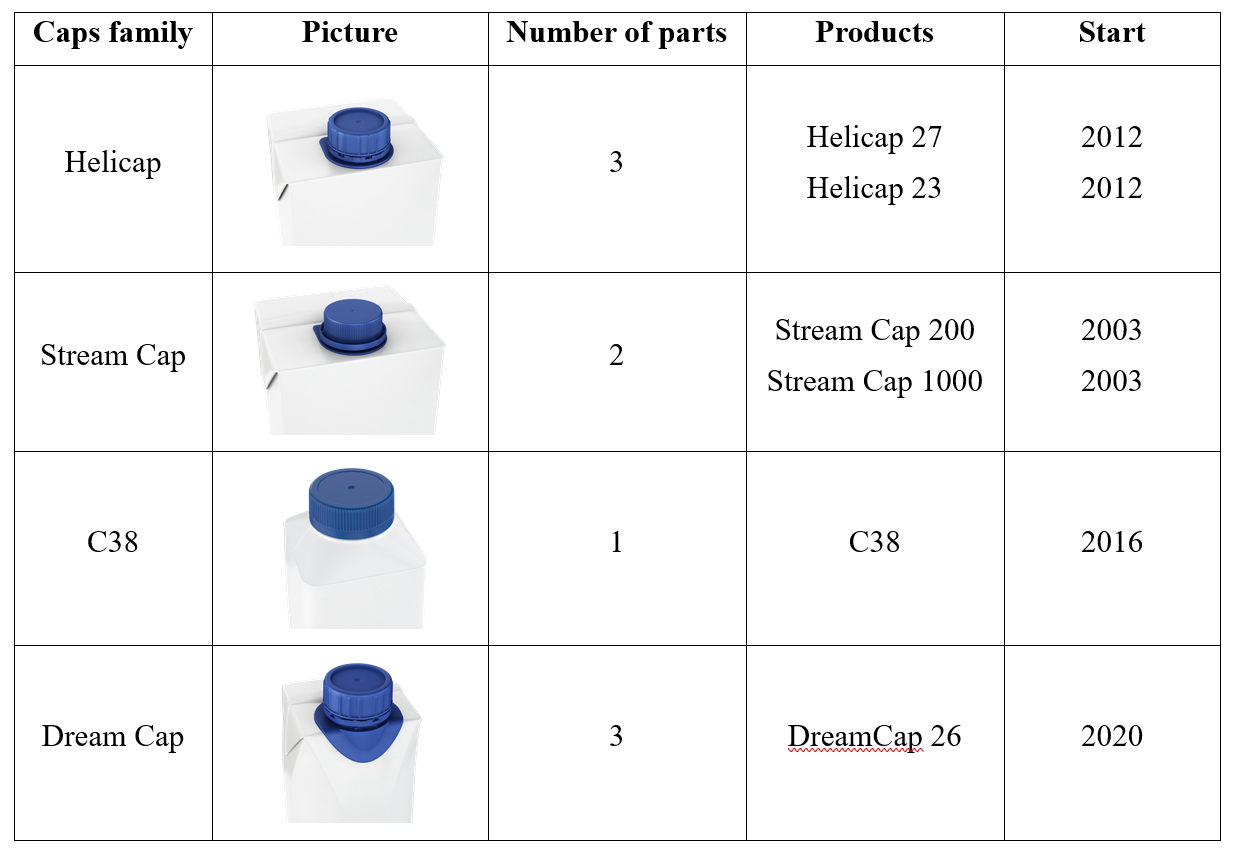 The production area contains 19 production lines, driven by operators. One line is composed by:
– 1, 2 or 3 plastic injection moulding machines (one machine per part);
– Downstreams (conveyors and cameras)
– One assembly machine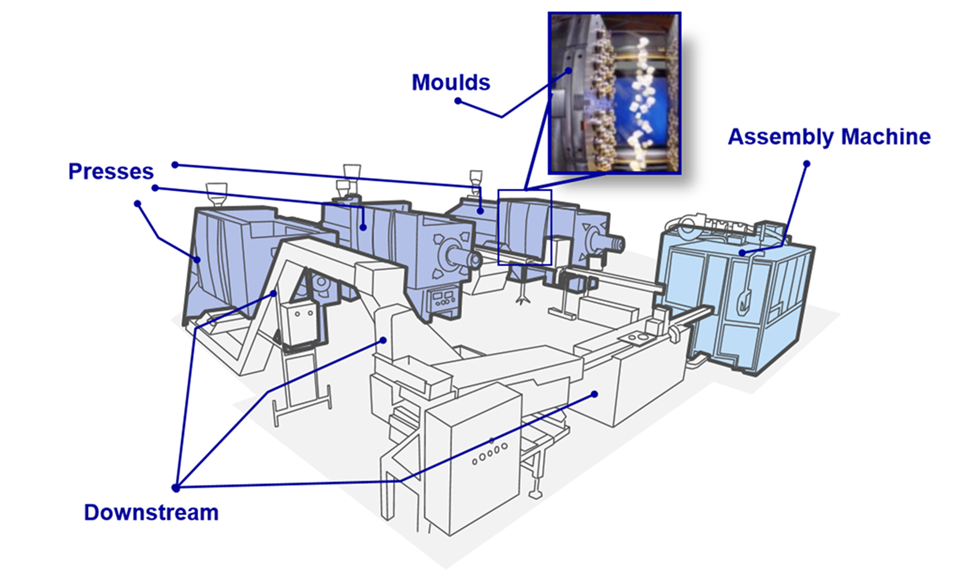 The raw material is a combination of plastic granules (Polyethylene or Polypropylene) and master batch granules (dye and Polyethylene).
The overall process flow is:


---
2. Milestones on the journey of Manufacturing Excellence
We started our World Class Manufacturing journey in the beginning of 2013 to support all the changes on going at that time:
• Huge production increase needs due to caps shortage for Tetra Pak customers;
• Full speed deployment of the new Helicap lines;
• Integration of the Factory to the Tetra Pak Supply Chain Operation.
In order to maintain a high level of performance despite these changes, both in terms of quality and cost, we decided to engage ourselves in this program of operational excellence, supported by Tetra Pak.
We first set the foundations with the 5S, and then started pilot improvement teams. From the end of 2013, we started the pillars, with the support of Tetra Pak central team. They were launched gradually from 2013 to 2015, starting with the pillars: Autonomous Maintenance, Planned Maintenance and Focused Improvement in 2013.
In the first quarter of 2014, Tetra Pak central team started to audit us every quarter, following the standard WCM audit process. This audit consists in an entire evaluation: plant, pillars and teams, with recommendations for the next quarter.
Since the beginning of 2016, the Autonomous Management Organization has changed to fit with the new shift organization:
– 1 pilot line team, driven by our process engineer
– 5 AM teams, corresponding to the 5 production shifts
In 2017, we received our TPM Excellence Award ending our WCM Expansion Phase.
From 2017 we began the WCM Consistent Phase, where we focus on the maintain part of the improvement process. We are working to maintain our standards in order to enhance our results.
---
3. Benefits Achieved
– Tangible results
All our main indicators have improved since we started WCM journey.
First with our Safety Index, that has decreased by 85% since 2013. Any serious accidents occurred since 2013. The quality also has improved: our customer complaints have reduced by 95%. Our OEE is improved by 28% thanks to solid actions for breakdowns reduction and increased knowledge of our production process. We are also improving our costs, thanks to the reduction of the 16 TPM losses (equipment, labour & resource consumption). Our Transformation Cost (Cost Index without Material) has decreased by 17%. Finally, our Delivery Performance has increased by 42%.
– Intangible results
In the same period, we also note some improvements that are difficult to measure.
The first one is people satisfaction. Every 2 years, a survey is performed in each Tetra Pak plant. The results for Chateaubriant are very good as we have improved, between 2013 and 2019, in all items, in particular within the Communication aspects, where we had an increase of 17%.
The second one is involvement. Through the AM process, we also enhance responsibility and ownership of the production staff.
At the end of September 2019, 100% of the operators has been involved in at least one WCM activity. The aim is to involve more and more them when it comes to more autonomous task like drive an improvement team or drive a root cause analysis.
Another major change is also the mindset of production staff. Before WCM, the main belief was "Produce as much as we can". Thanks to WCM, all of our employees know that we improved our performances because we put safety and quality first.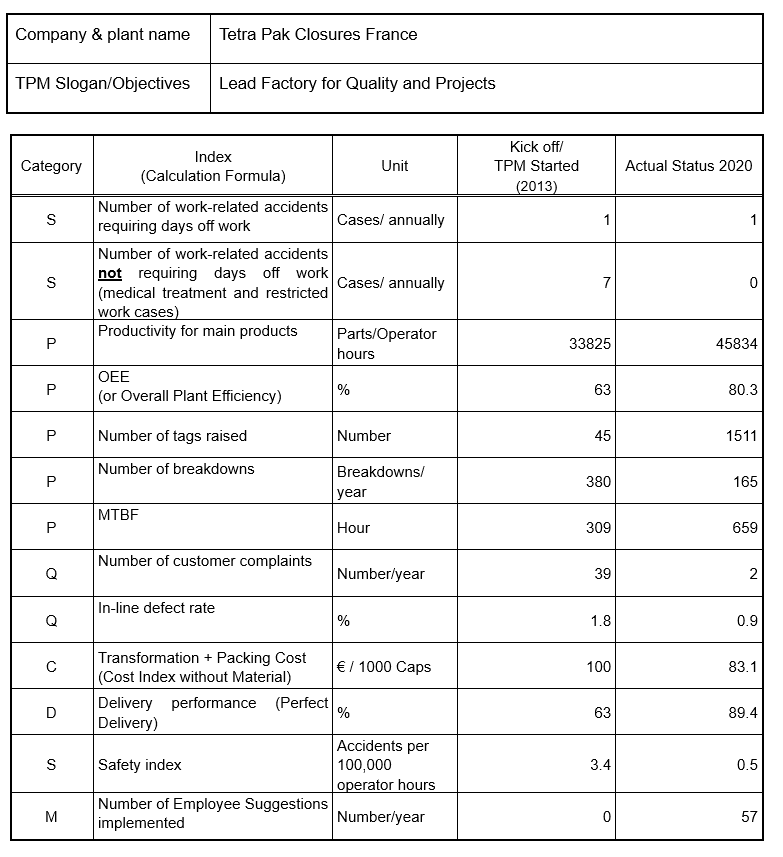 ---
4. Key of our Manufacturing Excellence
Through the experience gained so far in our WCM journey, we have defined the main axis in our manufacturing program for the future:
• People development and empowerment in Autonomous Maintenance with autonomous inspection and standardization,
• Improve even better the quality of our problem analysis involving more and more operators, consolidate the use of advanced tools,
• Excel in the Project management expertise as enabler for Chateaubriant future growth
These items will grant the sustainability of our results and ensure the consistency of our improvement process.
---