Sigma Alimentos Sigma Alimentos Congelados SA de CV, Linares Plant
| | | | | | | |
| --- | --- | --- | --- | --- | --- | --- |
| year | category | company | plant | area | industry | movie |
| 2020 | Consistent | Sigma Alimentos | Sigma Alimentos Congelados SA de CV | Mexico | – | – |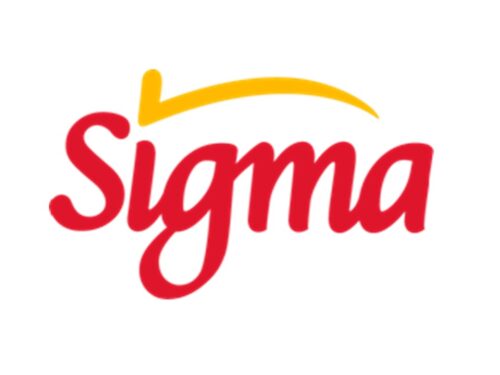 1. Organization Profile
1.1. ALFA
ALFA is a company that manages a diversified business portfolio. Its roots go back to the end of the 19th century, when the first industries were established in Monterrey, Mexico. ALFA is made up of 5 business units: Alpék, Newpek, Alestra, Nemak and Sigma, companies that are of great importance worldwide. It was founded in 1974 by a group of businessmen led by Don Roberto Garza Sada. ALFA operates in 29 countries with 136 plants and employs more than 83,400 people. In 2019, Alfa obtained revenues of US$17,538 million, in which Sigma Alimentos participated with 37%. The % of sales of the 5 groups is represented in the following chart.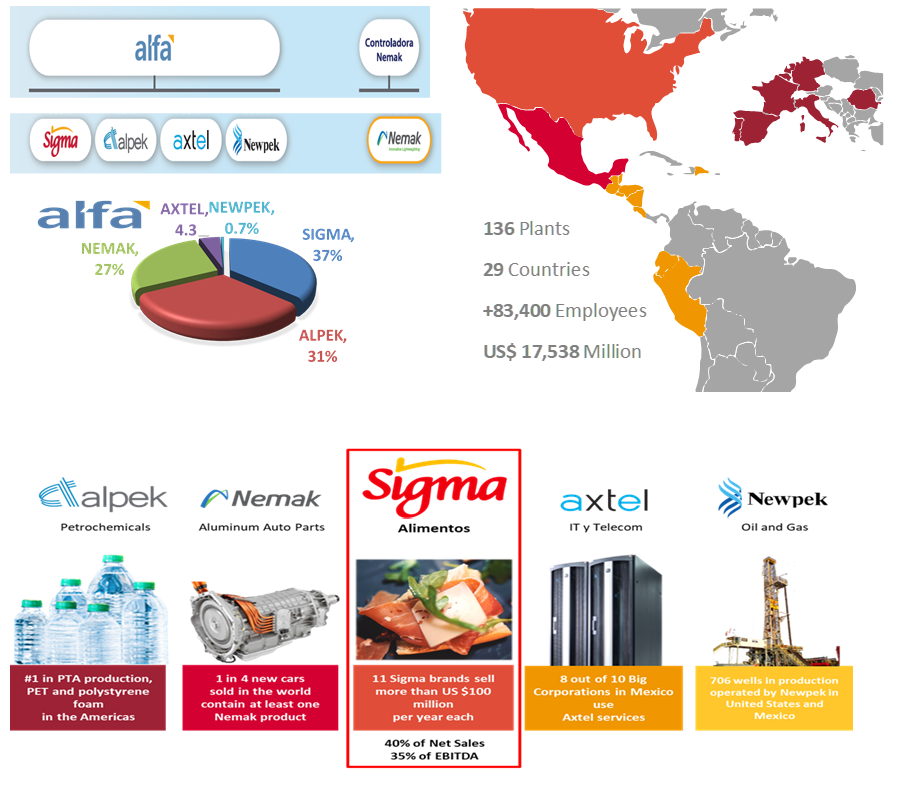 Sigma Alimentos is a Mexican company that was acquired by the ALFA group in 1980. At first, it only manufactured sausages and in 1990 it entered the dairy business.
Today, Sigma Alimentos operates 70 plants in 14 countries, 25 of which are in Mexico. It has more than 45,000 employees, as well as more than 45 highly recognized brands in Mexico, Latin America, the United States and Europe, including El Cazo Mexicano, the leading brand of taquitos in Mexico, as well as the brands of the Menú del Sol, with a large presence in the U.S. with taquitos and burritos.
The following is a description of the main brands, which with these Sigma Alimentos is a leader in the production and distribution of frozen and refrigerated foods in Mexico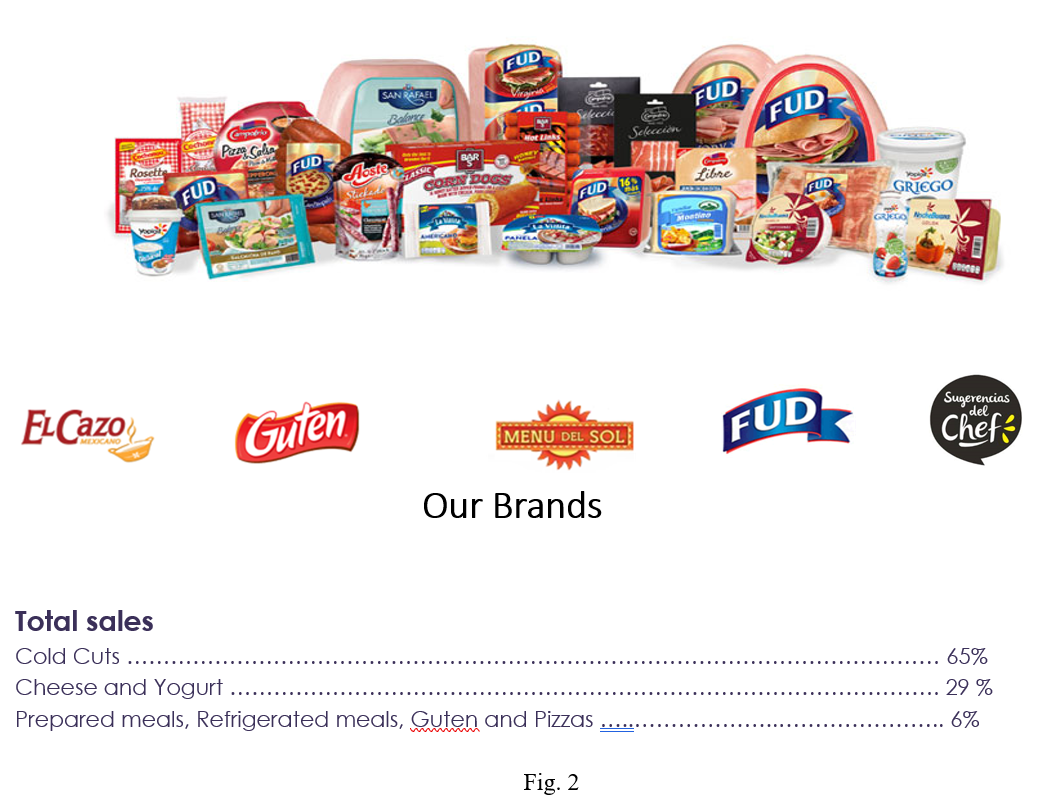 1.2. Our plant
Our plant is in the town of Linares, in the state of Nuevo León, Mexico; strategically located close to the USA border and the Monterrey International Airport. It has an installed capacity of 1,949 tons with a utilization percentage of 30%, and it is certified with the BRC (British Retail Consortium) code, with "AA" rating, allowing us to export to the USA and Europe covering the required regulations.



The plant works with 3 production shifts five days a week, with 300 employees where 57% are men and 43% are women. 70% Basic schooling, 30% Technical Schooling.
We work in 5 lines to produce 80 SKU; we have flexible lines where we can change s, flavors or forms to satisfy the needs of our consumers.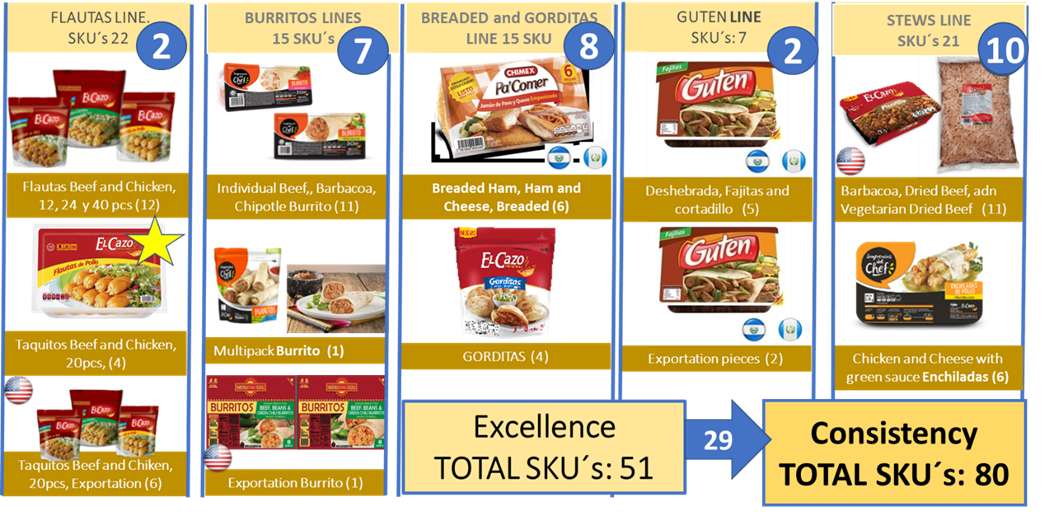 We have a TPM 9 pillars structure that allows us to manage from the Manager and Headships to the line operators.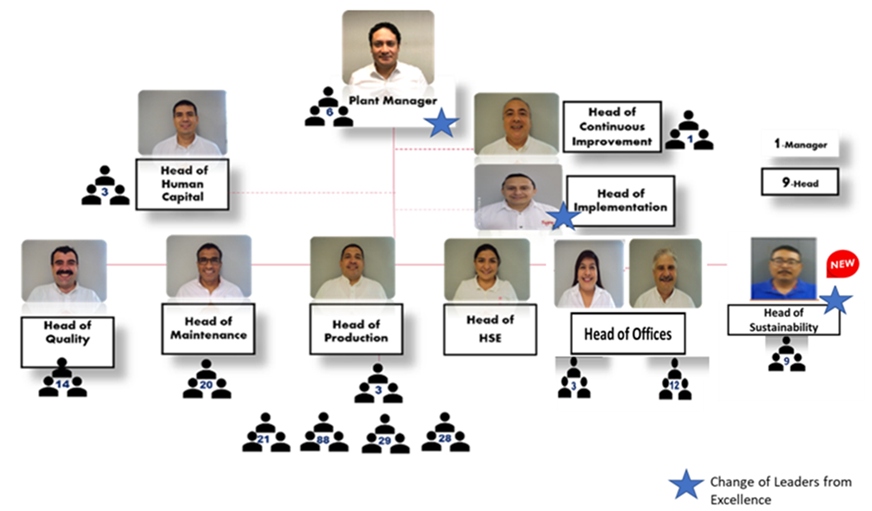 ---
2. Milestones on the journey of Manufacturing Excellence
2.1. We detected weaknesses in our processes, such as low productivity due to artisan processes and high waste in our lines. When working in a food plant with strict cleanliness controls, we have humid environments that cause accelerated deterioration to our equipment, with which we struggle every day. All these factors contribute to losses in different fields.
That is why we chose TPM as our continuous improvement management system, finding in this system a methodology that allows us to visualize and attack losses in our business in an efficient and orderly manner, thus contributing to improve the profitability of the business.
This way, at the end of 2012 we started our training in TPM, and by mid-2013 we started with 4 pilot teams where the management staff actively participated in each of the pilot teams, thus understanding the methodology and showing our operators that the TPM would be a powerful tool for the improvement of our plant. During 2013 and early 2014 we had the training of the Planned Maintenance teams (plant technicians) and the introduction of TPM to all operators, and we explained that they would now be an important part of the TPM system and that they would be called "Autonomous Maintenance".
By June 21, 2014 we did our Kick Off, with all the staff of the plant participating with great enthusiasm in the games, competitions and performances, all focused on reinforcing the recent knowledge acquired during the induction to TPM, in a team work environment.
From then until now, the TPM system has allowed us to understand, attack, improve and eliminate the different causes of our biggest losses, as well as to improve the appearance of our areas and equipment, increase the operators knowledge on their equipment, and work in a better environment, where safety is very important. We also let our collaborators know that they are the most valuable part of the TPM system, which has led to a change of culture in our collaborators, and we are proud to see that the new personnel embraces that culture.
Now, after obtaining the TPM Excellence Award in 2018, the TPM system has become ingrained in our way of working. The culture changed and we are moving forward; there is still a long way to go, but we firmly believe that by using the TPM methodology, we will manage to be a World Class plant.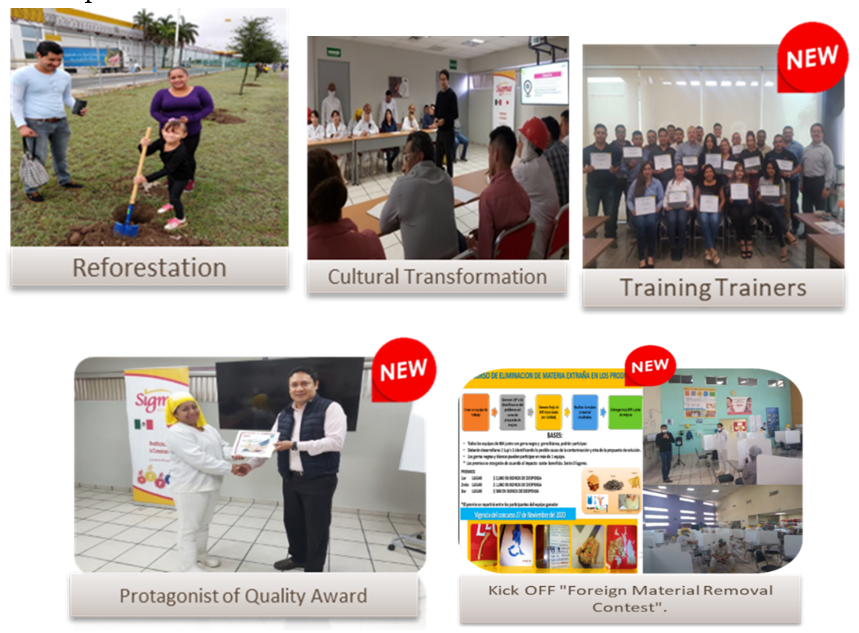 ---
3. Benefits Achieved
We have reduced quality failures by more than 98% and quality complaints by 96%, and breakdowns have decreased by 91.6%; the efficiency of our plant increased more than 54% (OEE) since we started with TPM, so we improved the On-Time In-Full (OTIF) compliance by almost 23.2%. 100% of our staff participates in TPM.
Now we have more efficient staff, which identifies, manages and eliminates their losses; the staff is happy to have no breakdowns, they work as a team with MP, thus generating a good working environment. Areas look cleaner and neater, and we have managed to have equipment with zero breakdowns. As the equipment and people are more efficient, we were able to eliminate sources of dirt, which in addition to eliminating the deterioration of the equipment, allowed us to eliminate many cleaning activities, so the staff is now focused on improvement activities or projects that give value to the company.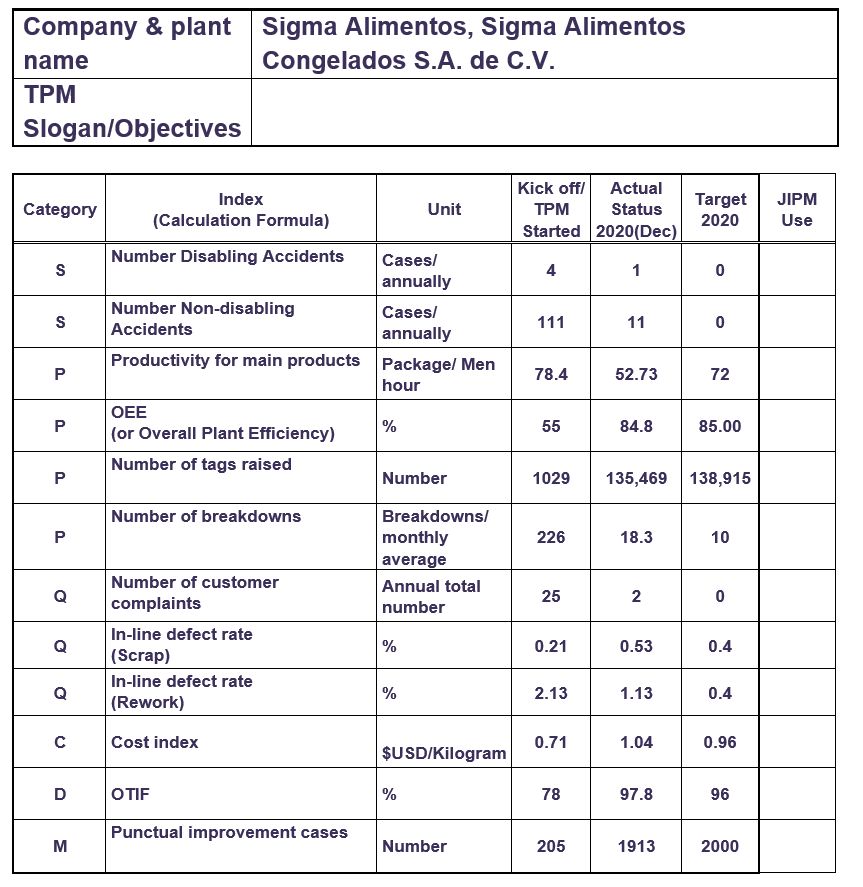 ---
4. Key of our Manufacturing Excellence
The TPM has given us a clear vision of what we want to be: a world class company, and the key to achieving this is continuous improvement at all levels of our plant, in the training of our staff using new teaching technologies which allow our employees to be better workers but also better people; in Early Management, which is a very important part of our plant as it is a strategic plant for SIGMA in the ready meals division due to the market's constant requirement for new products, the development of this pillar and its interaction with the other pillars will be essential to achieve our objectives: World class quality. We believe that to be competitive worldwide we must achieve the same quality standards that the best companies in the world have. And finally, Ecology and Sustainability shall be a very important pillar that guides our decisions, since we will have a commitment to leave a better world for future generations.
Future Plans:
• Involve more departments in the supply chain
• Actively involve Marketing
---