Case-1 Karakuri Kaizen Exhibition in Thailand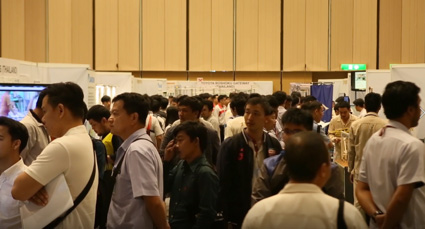 Introduction
The Karakuri Kaizen Exhibition (referred to below as the "Karakuri Expo") first held at the Nagoya Congress Center in March 1993, and since then has been held continuously up to its 23rd occasion in 2018. What originally started in Nagoya as an event to be held biennially, eventually, from 2000, turned into an annual event held alternately between Tokyo (turned to Yokohama in recent years). Visitor numbers have gradually increased, and it now proudly attracts the most visitors out of all the events of our organization, with numbers surpassing 10,000. In recent years, both visitors and exhibits from overseas have increased and the explanatory notes distributed by exhibiting companies have started to have English versions available.
Meanwhile, from FY2014 our organization began holding the "Monodzukuri Test" certification exam in Thailand. As is mentioned several times, it is a reviewed version of the Autonomous Maintenance Certification Exam aimed at overseas applicants and, after the announcement of results, a ceremony to award the certificates is held. Since FY2016, along with this ceremony, an associated lecture has also been held, and from time to time when examples of Karakuri Kaizen were shown they have proved popular.
Due to this rise in demand from overseas, it was decided to hold for the first time a Karakuri Kaizen Exhibition beyond Japan's borders, and Bangkok was chosen as the host city due to our organization's experience of activity in Thailand.
Event overview
Date
February 14th (Thurs) & 15th (Fri) 2019
Location
The Bangkok International Trade & Exhibition Centre (BITEC)
Exhibition Space Bhiraj Hall 3 / Lecture Hall Amber 1-3
Sponsors
Japanese Embassy in Thailand, Thailand Ministry of Industry,
Japanese Chamber of Commerce, Bangkok
Total no. of visitors
3,323 (2 days combined)
No. of exhibiting companies
27 companies and groups
No. of exhibited works
87
The event space, BITEC, is located in an exceptionally convenient area that allowed for easy access from the center of Bangkok via the BTS train line, and it is also the space used for METALEX, the largest metalworking and machine tool trade exhibition in the ASEAN region. Our event used both an exhibition space (Bhiraj Hall 3) for displaying the Karakuri Kaizen creations and a lecture hall (Amber 1-3) where various lectures took place.
The exhibiting companies (Figure 1) are all Japanese-managed, and many of them are also related to those firms that have exhibited works at Karakuri Exhibitions in the past in Japan. However, there are some companies of which the Asia Karakuri Expo is their first opportunity to exhibit.
Two companies that exhibited this time, and who also exhibited before at Karakuri Expos in Japan, were Siam Toyota Manufacturing and Toyoda Gosei (Thailand). At the 23rd Exhibition (held on the 25th and 26th of October, 2018), Siam Toyota Manufacturing's "Cylinder Block Slipper Removal Device" won the award for Best Idea. A video that explains about both of these company's Karakuri creations has been published on our organization's website, with permission from them, so for those interested please take a look. (http://www.jipm-topics.com/karakuri/thailand/)
In addition, thanks to the large number of companies exhibiting, visitor numbers largely surpassed expectations. We acknowledge that this is the result of support from our sponsors, the Japanese Embassy in Thailand, Thailand's Ministry of Industry, and the Japanese Chamber of Commerce, Bangkok, as well as the exhibiting companies who spread word across to their acquaintance companies. We would like to take this opportunity to express our gratitude to all of them.
(Figure 1: Exhibiting companies in alphabetical order)
AISIN AI (THAILAND) CO., LTD.
Aisin Takaoka Thailand Group
Aisin Takaoka Foundry Bangpakong Co.,Ltd.
Siam AT Industry Co.,Ltd.
Thai Engineering Products Co.,Ltd.
The Nawaloha Industry Co.,Ltd.
The Siam Nawaloha Foundry Co.,Ltd.
Auto Alliance (Thailand) Co., Ltd.
AW (THAILAND) CO., LTD.
Calsonic Kansei (Thailand) Co., Ltd.
DAIKIN INDUSTRIES (THAILAND) LTD.
DENSO (Thailand) CO., LTD.
Hino Motors Manufacturing (Thailand) Ltd.
JATCO (Thailand) Co., Ltd.
JTEKT (Thailand) Co.,Ltd.
JTEKT Automotive (Thailand) Co.,Ltd.
Mazda Powertrain Manufacturing (Thailand) Co., Ltd.
Nabtesco Power Control (Thailand) Co., Ltd.
NISSAN MOTOR (THAILAND) CO., LTD.
NISSAN POWERTRAIN (THAILAND) CO., LTD.
Panasonic Manufacturing (Thailand) Co., Ltd.
SIAM AISIN CO., LTD.
Siam DENSO Manufacturing CO., LTD.
SIAM TOYOTA MANUFACTURING CO., LTD.
THAI YAMAHA MOTOR CO., LTD.
TOKAI RIKA (THAILAND) CO., LTD.
TOYODA GOSEI(THAILAND) CO., LTD.
TOYOTA BOSHOKU FILTRATION SYSTEM (THAILAND) CO., LTD.
TOYOTA BOSHOKU GATEWAY(THAILAND) CO., LTD.
TOYOTA BOSHOKU SIAM METAL CO., LTD.
TOYOTA MOTOR THAILAND Co., Ltd.
YAMAHA MOTOR PARTS MANUFACTURING(THAILAND) CO., LTD.
The opening ceremony
The Asia Karakuri Expo was held across two days, with the first day kicking off with the opening ceremony, which featured a keynote address and ribbon-cutting ceremony.
The keynote address, with the theme of "Strengthening foundations with 3 pillar activities to reach the top global level in quality and cost", was delivered by President of Siam Toyota Manufacturing, Yuji Hiraoka, and President of DAISIN, Thanin Leegomonchai. The 3 pillar activities undertaken by Siam Toyota Manufacturing consist of standardized work, process management and autonomous maintenance, and since the appointment of President Hiraoka, they have been tackling these in earnest and have seen significant results. In addition, activities and results expanding to suppliers such as DAISIN were also talked about via video presentation.
Many participants showed a high level of interest, and although over 400 seats were arranged for the lecture hall, the keynote was so well attended that some had to stand and watch.
After the keynote address, the event moved to the front of the exhibition space, and the ribbon-cutting ceremony was held while surrounded by a great crowd of visitors. For the cutting of the ribbon, nine individuals took part representing the companies and organizations that have supported the opening of the Asia Karakuri Expo, and speeches were given by Hiroshi Kawamura, Deputy Minister of the Japanese Embassy in Thailand, and Chairat Liangsupong, Chief of the Factory Bureau in the Ministry of Industry.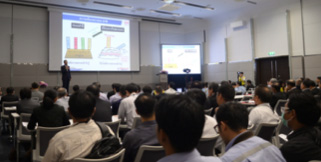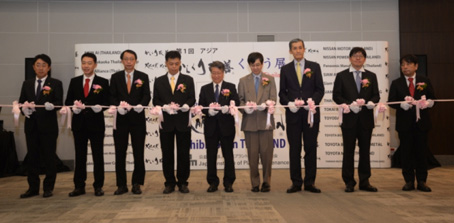 (The ribbon-cutting ceremony. From left: Shuji Itou, Chief of Manufacturing Operations at Thai Yamaha Motor; Akkarapol Kaewpinit, Manufacturing Managing Director at Nissan Motor (Thailand); Apinont Suchewaboripont, Vice President of Toyota Daihatsu Engineering & Manufacturing; Chairat Liangsupong, Chief of the Factory Bureau in the Ministry of Industry; Sojiro Tsuchiya, Chairman of JIPM; Hiroshi Kawamura, Deputy Minister of the Japanese Embassy in Thailand; Yuji Hiraoka, President of Siam Toyota Manufacturing; Thanin Leegomonchai, President of DAISIN; and Tomoaki Shiromizu, Chief of Tarui Factory of Nabtesco Power Control Company)
The exhibited Karakuri creations and lectures
As mentioned in Figure 1, the Asia Karakuri Expo featured exhibits of 87 creations from 27 different companies. Many creations were of the conveyance/transportation category, however, because each company showcased differently-moving devices that made use of different mechanisms, each were met by crowds of people gathering around to listen attentively to the explanations of how they worked.
This being the first time the exhibition was held overseas, each company had to think carefully about what work to exhibit, and while some were horizontally expanded from those in Japan, original works were also present, and there was promise that the level of Karakuri Kaizen in Thailand will advance further from here on in. Seeing that some companies had called in instructors from Japan to help speed up their "Kaizen" for the event, and others had worked on improving their methods of presenting and explaining the creations, we got the impression that, for exhibiting companies, participating in the Asia Karakuri Expo has led to a revitalization in their work and an increase in motivation.
For many visitors as well, as this was the first time they were seeing the Karakuri Kaizen, they were shown teaching materials from several of the companies and were able to find out what kind of teaching those companies were implementing in-house. Additionally, across the two days, five companies each gave 20 to 30-minute presentations about their activities in relation to Karakuri Kaizen, so that visitors were able to deepen their understanding. Even though the lecture hall was slightly apart from the exhibition space, visitors showed great interest in the talks on how to undertake Karakuri Kaizen projects and how the works in the exhibition space came about, and a much greater audience than we imagined was in attendance.

Conclusion
It appeared that as many visitors came into contact with the Karakuri creations and found examples they could utilize in their own workplaces, they were surprised at the different ways the Karakuri worked through simple mechanisms, and it seemed their deep curiosity led them to pick up knowledge and become more motivated to try their own "Kaizen". Even if something on display didn't match their workplace exactly, if it can provide inspiration it may lead to an idea for a new development. Which is all the more reason why amalgamating a good number of exhibits for this event is of importance. Even though, as the event organizer, I began preparations anxious about procuring enough exhibits, in the end there were so many works exhibited that on the contrary I became worried about the lack of space, and thanks to the number of exhibits we had many people coming to the event.
During the event, I received positive comments from visitors, with several asking about when the next event will be held, and exhibiting companies expressing their wish to exhibit next time too and wanting us to contact them about it. While it was full of first-time experiences, I am very happy that people have taken away more knowledge of Karakuri Kaizen and the chance to utilize the mechanisms themselves, and I felt that a high anticipation and desire for Karakuri Kaizen in Thailand had emerged.